Being a writer for My VanCity is always a pleasure. I get to attend a wide variety of arts events that entertain, delight, educate, fascinate and amuse.  And sometimes I even get to indulge my taste buds!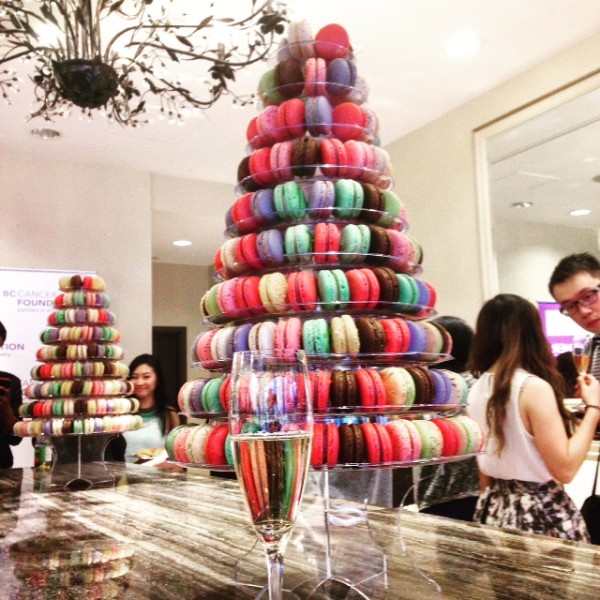 Such was the case earlier this month when I got invited along to Faubourg Paris on Hornby Street for an intimate reception to celebrate the funds raised for cancer research on Macaron Day in March.  
For the second year in a row, Faubourg Paris partnered with the BC Cancer Foundation, to raise funds and awareness for cancer research in British Columbia. On March 20, 2016 Faubourg offered its signature Parisian-style macarons for $1 each (half off the regular price), and matched every dollar of macaron sales with proceeds benefiting the BC Cancer Foundation.
Last year the beautiful French bakery sold 7,500 macarons and this year the goal was to top that by selling 10,000 in just one day across its three locations (Kerrisdale Village, West Vancouver and Downtown).  And succeed they did raising an impressive total of $20,000 for the BC Cancer Foundation.
Faubourg Paris' charming owner Franck Point and Lou del Gobbo, Interim President and CEO, BC Cancer Foundation officially announced the funds raised for life-saving research.
Faubourg Paris put on a lovely soiree for the announcement –   a veritable heaven for food bloggers! As well as enjoying elegant hors-d'oeuvres and pink champagne, attendees were wowed by the beautiful displays of colourful macarons.  The impressive structures were admired and photographed extensively before eventually being devoured by enthusiastic guests!