Quartets combine to conquer Mendelssohn's iconic String Octet in concert of chamber masterworks
Koerner Quartet closes its 2015/16 season with up-and-coming Houston-based ensemble, The Rolston String Quartet, June 5, 7:30pm at the Vancouver Academy of Music's (VAM) Koerner Recital Hall.  Each quartet will showcase monumental chamber works by Haydn and Debussy in an exhilarating display of virtuosity, joining forces for the conclusion – Mendelssohn's brilliant String Octet.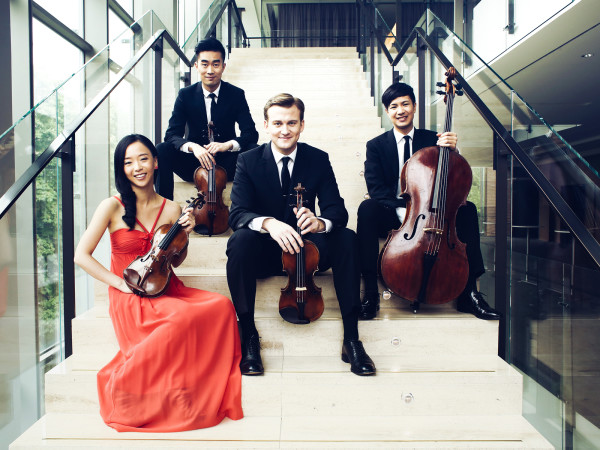 "We have proudly followed the success of the acclaimed Rolston String Quartet since its formation by Vancouver Academy of Music alumnus, Jonathan Lo," says Koerner Quartet cellist and Vancouver Academy of Music (VAM) Executive Director Joseph Elworthy. "In a program varying from crisp and convivial, to intricate and adventurous, Vancouver audiences will be treated to the talent of these prodigious young string players for the first time. We look forward to sharing the stage with the respected quartet for our season finale demonstrating the intense commitment and mutual admiration of our two ensembles."
With a blended sound well beyond their years, The Rolston String Quartet continues to make a mark on North America's chamber music scene. Named after Canadian violinist Thomas Rolston, the group began in 2013 at the Banff Centre for the Arts' Chamber Music Residency. The current ensemble-in-residence at Rice University's Shepherd School of Music includes accomplished members Luri Lee (violin), Jeffrey Dyrda (violin), Hezekiah Leung (viola), and Jonathan Lo (cello).
Comprised of graduates from Juilliard School, New England Conservatory, Peabody Conservatory, and the Glenn Gould School, The Rolston String Quartet have performed at such prestigious venues as the Kennedy Center in Washington, DC, Harris Hall in Aspen, Colorado, and Mazzoleni Hall in Toronto. This ensemble have also collaborated with renowned pianists Gilbert Kalish and Jon Kimura Parker, as well as celebrated conductor/choreographer Mark Morris.
Opening the concert will be The Rolston String Quartet with String Quartet Op. 77, No. 1 by Franz Joseph Haydn, considered the "father" of this musical genre. One of Haydn's last compositions for string quartet, thought to be among his most polished and playful contributions, this work begins and ends with a frenzied burst of energy, whisking listeners along with dance-like fluidity.
The Rolston String Quartet's members will then swap seats with Koerner Quartet who will take to the stage performing Impressionist Claude Debussy's only String Quartet, Op. 10. The musicians will gracefully drift from grandiose movements to delicate exchanges in this masterpiece, which boasts the composer's trademark shimmering textures.
The finale will bring all eight members together for Felix Mendelssohn's String Octet, Op. 20. This triumph of chamber repertory, which the German born composer wrote at the tender age of 16, makes extraordinary use of each instrument's capacity. Elegantly balancing symphonic and intimate moments, the work will soar from dizzying heights of complexity to deceptively simple motifs revealing the collective ensembles' musicality to the highest degree.
About Koerner Quartet (koernerquartet.com)
Comprising four of Canada's most esteemed musicians – Nicholas Wright (violin), Jason Ho (violin), Byron Hitchcock (viola), and Joseph Elworthy (cello) – Koerner Quartet is known internationally for its nuanced interpretive style. Founded in 2012, Koerner Quartet is ensemble-in-residence at the Vancouver Academy of Music, where its members balance performing with their dedication to sharing the joy of chamber music with aspiring musicians. Koerner Quartet directs annual chamber music seminars in Vancouver and Hong Kong, in addition to numerous educational outreach initiatives in conjunction with performances throughout North America, Europe, and Asia.  Frequently heard on live broadcasts for CBC, BBC, Radio Europe, Hong Kong Radio 4, and NHK, Koerner Quartet has received critical acclaim for its 2013 album of string quartets by Ravel and Bartók. The quartet is named in honor of one of the founders of the Vancouver Academy of Music, Ms. Iby Koerner.
LISTING INFORMATION
Koerner Quartet presents:
KQ Meets Rolston String Quartet
Date:
Sunday, June 5, 2016 at 7:30pm
Ticket prices:
$18 Adults, $15 Students & Seniors
Address:
Koerner Recital Hall at Vancouver Academy of Music
1270 Chestnut Street
Vancouver, BC V6J 4R9
Box Office:
Website:
photo credits: Tianxiao Zhang