New ensemble-in-residence and enhanced performance space set to further Academy's legacy of musical excellence
Vancouver Academy of Music (VAM) is thrilled to announce its new ensemble-in-residence, Koerner Piano Trio (KPT), alongside plans for an extraordinary $1-million renovation of the Academy's beloved Koerner Recital Hall – the largest fundraising effort undertaken by VAM in 40 years. Comprised of acclaimed musicians & VAM faculty leaders Nicholas Wright (violin), Joseph Elworthy (cello), and Amanda Chan (piano), KPT's first public season will run November 2016 to June 2017. The trio will then continue VAM's tradition of musical excellence at the revitalized Koerner Recital Hall, which begins construction in July 2017 with an anticipated completion date of November that same year.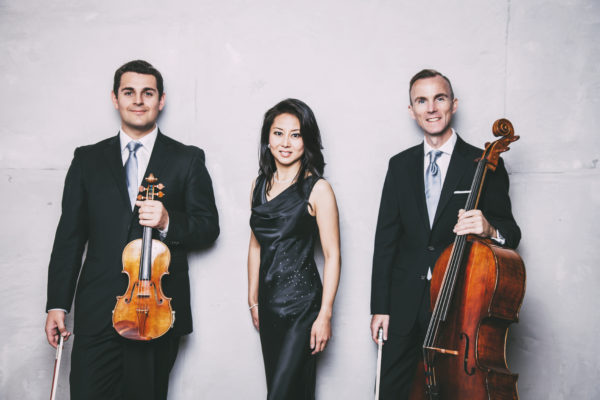 "As long-time peers and artists committed to our craft, with a mutual love for chamber music, KPT looks forward to launching its inaugural season of lesser-known masterpieces offered by the piano trio canon, from captivating seminal works by Mozart and Mendelssohn, to hidden musical treasures by Jean Coulthard and Germaine Tailleferre," says Koerner Piano Trio cellist and VAM Executive Director Joseph Elworthy. "We are eager to unearth these often overlooked gems for audiences in one of the city's most intimate concert settings, Koerner Recital Hall – our transformed home following the milestone renovation of our namesake performance space."
KPT evolved from the former Koerner Quartet, and includes previous Quartet members Elworthy, VAM alumnus & Yale graduate – named a Fellow of The Royal Conservatory of Music – and UK-born Wright, an award-winning violinist and graduate of the Royal College in London who currently serves as VAM Violin Co-Department Head. Bringing their shared performance experience to this esteemed trio, Elworthy and Wright are joined by Amanda Chan, recently appointed Department Head of Piano at VAM. Chan is a highly sought-after concert and ensemble pianist, and has earned countless national and international awards throughout her distinguished career.
Named after Iby Koerner (1899-1983), a devoted arts advocate and founder of VAM, KPT will further VAM's legacy as a culturally rich cornerstone of the community in the fully upgraded Koerner Recital Hall. The 300-seat Koerner Recital Hall, which has welcomed such luminaries as Dr. Shinichi Suzuki, Aldo Parisot, and Yo-Yo Ma, will receive a list of extraordinary enhancements. Among the modifications will be a striking new foyer, an elegantly restored stage and interior, new theatre seating, backstage area, and new green room to comfortably host all guest artists.
Koerner Piano Trio's 2016/17 Season includes: 
Illuminating Mozart & Mendelssohn, November 20, 2016 at 2pm 
KPT will open the season with Mozart's theatrical Piano Trio in B-flat Major, showcasing the dynamic counterbalance of violin and cello with keyboard. Performing Estonian composer Arvo Pärt's Mozart-Adagio, a minimalist ode to the classical master of its title, KPT will offer a meditative interlude before concluding with Mendelssohn's lush & textured Piano Trio No. 1 in D Minor, Op. 49.
Wistful Reflections, February 12, 2017 at 2pm 
For this decidedly bohemian program, KPT will begin with Haydn's Hungarian folk-inspired Piano Trio No. 39 in G Major, Hob. XV:25. Next, KPT will uncover the seldom-performed Lyric Trio by West Coast new music pioneer Jean Coulthard. For the afternoon's finale, KPT will pull audiences into the dark and dizzying fantasia of Dvorak's Piano Trio No. 4 in E Minor, Op. 90 'Dumky'.
Reveries of France, June 4, 2017 at 7pm
In the final concert of the season, KPT will celebrate a few of France's finest composers, starting with Gabriel Faure, performing his Piano Trio, Op. 120, known for its melodic richness and subtle phrasing. KPT will then move to the more obscure Piano Trio by Germaine Tailleferre, a ravishing yet whimsical chamber work by the member of famed French Les Six composers. Closing this sumptuous evening, KPT will share Maurice Ravel's shimmering Piano Trio in A Minor.
Tickets to the Koerner Piano Trio 2016/17 season can be purchased online at vam.ca.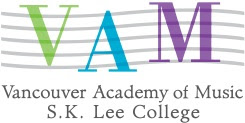 About Vancouver Academy of Music (vam.ca)
Founded in 1969, the Vancouver Academy of Music (VAM) is a non-profit institution that has been spreading a love of learning and musical excellence for generations of aspiring musicians. Located minutes away from downtown, VAM's spacious facility features teaching studios, expansive classrooms, a library, and two recital halls – all set against the scenic backdrop of Vanier Park. VAM's fundamental purpose is to explore the transformative power of music through fostering an inclusive learning environment led by a team of devoted faculty with strong professional backgrounds. From Early Childhood Education to adult learning, VAM delivers world-class music education to students of all ages and abilities. In addition to private lessons and class instruction, VAM students engage with world-renowned visiting artists in master classes, cooperate with other national and international music education organizations, and participate in numerous performances and competitions.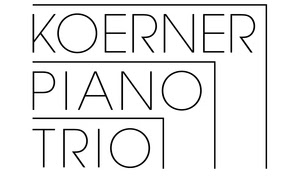 About Koerner Piano Trio (koernerpianotrio.com)
Dedicated to the integration of educational initiatives into the world of professional music performance, Koerner Piano Trio celebrates its inaugural season in 2016/17 as Ensemble-in-Residence at the Vancouver Academy of Music. Comprising three musicians and educators of international acclaim – Nicholas Wright (violin), Joseph Elworthy (cello), and Amanda Chan (piano) – Koerner Piano Trio carries out its educational mandate through numerous outreach initiatives and performances, sharing the joy of chamber music with aspiring musicians and avid audiences. The trio is named in honor of one of the founders of the Vancouver Academy of Music, Ms. Iby Koerner.