Ladies and gentlemen, start your grills! The Similkameen is about to name a new Similkameen BBQ King! The annual Similkameen BBQ King event will be held on Saturday, July 9th from 5-9pm at the historic Grist Mill & Gardens in Keremeos.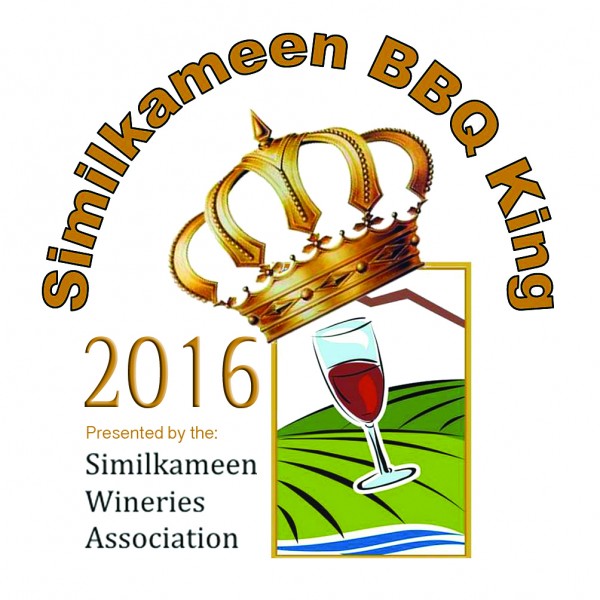 Caroline Cottrill, President of the Similkameen Wineries Association says, "We invite you to enjoy an extraordinary evening with award-winning Similkameen wines and ciders and distinguished chefs who are vying for the title of Similkameen BBQ King/Queen 2016. This truly unique Similkameen wine and food experience is a competition where our featured chefs will create dishes using organic ingredients from local farmers in the heart of Canada's organic capital. This year, each chef will create a unique dish from a broad basket of goods that will provide great variety for our guests."
Cottrill continued, "Our small bite competition was such a hit last year we have expanded from 3 to 6 competitors which provides a great opportunity to showcase our local talent."
Wine tastings will also be available from 10 Similkameen wineries and our cidery throughout the event.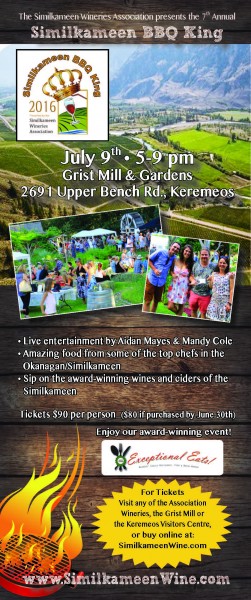 Similkameen BBQ King competing chefs are: 
• Adair Scott, Executive Chef, Watermark Beach Resort
• Shayna Merritt, and Josh Shulman, Shayna & Shulman Culinary Adventures/Smugglers Smoke House
• James Holmes, Chef Partner at Craft Corner Kitchen
Small bites competing chefs are: 
• Rick Chaicomdee, Benja Thai
• Kirsten Steele, The Wrong Turn
• Traci and Brian Russell, Branding Iron
• Andrew Wurz and Stéphan Cantavénéra, Tree To Me
• Harker family, Harker's Organics
• Chris Mathieson, The Grist Mill and Gardens
"We are also pleased to be including Jr. Chefs from the Okanagan Chefs Association who will work with the BBQ King competitors. This provides a great opportunity for Jr. Chefs to gain experience in a top-notch competitive event," added Cottrill.
A panel of judges will choose winners for 4 awards and guests will vote for the People's Choice award.
Live entertainment will be provided by the amazing Aidan Mayes and Mandy Cole, described as "powerful and soft, edgy and smooth". This Penticton based duo is a crowd pleaser.
There will also be a silent auction that is a partial fundraiser for the Grist Mill, which is a Heritage BC site. Cottrill expanded, "we are thrilled to help raise funds and awareness for this beautiful facility in Keremeos."
Tickets are $90 and can be purchased at any of our member wineries, at the Keremeos Visitor Centre, the Grist Mill, Tree To Me or online at www.similkameenwine.com/events. Complimentary shuttles are available from Summerland, Penticton, Princeton, Hedley, and Osoyoos.
A beautiful sunny day, amazing food, award-winning wines and ciders from the members of the Similkameen Wineries Association, live entertainment, a fun photo booth, a gorgeous venue and a silent auction with fantastic prizes. Sounds like a delightful way to spend a beautiful Similkameen summer evening.
The Similkameen is one of the hot spots for grape and fruit wine and cider in British Columbia, Canada. It was named by enRoute Magazine as one of the world's 5 Best Wine Regions You've Never Heard Of! The Similkameen Wineries Association is a collective of 10 wineries and a cidery located in the Similkameen Valley including Cerelia, Clos du Soleil, Corcelettes, EauVivre, Forbidden Fruit, Hugging Tree, Orofino, Robin Ridge, Rustic Roots, Seven Stones and Twisted Hills Craft Cider. For more information on the Similkameen Wineries Association or any of its fine award-winning wineries and cidery, visit www.Similkameenwine.com, call 250.499.6776 or follow them on Facebook, Twitter, Instagram and YouTube.
For further information, please contact:
Sara Crockett
Marketing Director
Similkameen Wineries Association
250.499.6776
info@nullsimilkameenwine.com