Oyama has convenient and delicious culinary options to complement summer.
*      FIREWORKS – Fitting pairings for the national displays:
o   July 23 – the Netherlands – Dutch smokie & Goudabrat
o   July 27 – Australia – Lamb bratwurst with Australian Shiraz & Lamb Prosciutto
o   July 30 – USA – Texas Bison bratwurst & Kansas BBQ bratwurst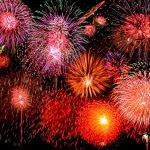 *       BBQs – 40-50 types of fresh sausages including over a dozen smoked varieties.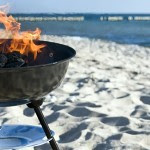 *       PICNICS – Patés, terrines, salamis, prosciuttos, & more. Famous handmade British Pork Pies are the ultimate ready-to-eat picnic treat.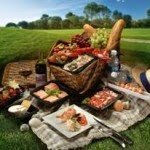 *       OUTDOOR  ACTIVITIES – Prepare for day hike or camping trip with pepperoni, Landjager, and Bierbeisser.
*       ON THE GO – Oyama hams, turkey, and premium cold cuts make easy and delicious sandwiches.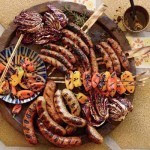 Back by popular demand….Chili Cheese Brats and Pulled Pork Sausages only for the B.C. Day and Labour Day long weekends. Order in advance.
Charcuterie & Wine Pairings with Kurtis Kolt
Kurtis Kolt is a Vancouver-based freelance wine consultant, presenter and writer who has a weekly wine column in the Georgia Straight and often presents seminars at wine festivals and beyond.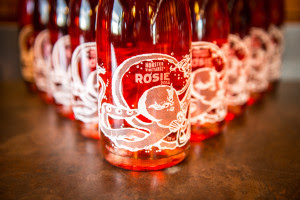 "We've finally splashed in to summer, so this month I'm thinking we'll go pink! Let's start out the theme with Oyama's Jambon de Bayonne, a French style of prosciutto that's cured with spices and air-dried on the bone, then aged for a minimum of eight months. It has a wonderful, buttery texture and light, nutty elements with hints of citrus and red fruit. My wine choice to wash down all of this deliciousness is the 2015 Rosé from Monster Vineyards on British Columbia's Naramata Bench. Composed mainly from Merlot and a tiny splash of Malbec, it has a concentrated, cherry-like hue, and exudes plenty of stone fruit flavours like apricots, nectarines and some delightful notes of grilled peaches on the lengthy finish. Just as prosciutto-wrapped peaches make for such a spot-on combo, this jambon and Rosé go together so well – it'll be more than just a summertime fling."
You can pick up the Jambon de Bayonne at our counter. 
The Monster Vineyards 2015 Rosé is available at BCLDB stores ($15.99)
Oyama Sausage Co.
1689 Johnston Street #17, Granville Island Public Market, Vancouver
Open Daily 8:30am – 7:00pm
About Oyama Sausage Co.:  John and Christine Van Der Lieck opened Oyama Sausage Co. in 2001.  Located in Granville Island's Public Market, the shop carries a wide selection of fresh sausages and handmade pâtés, as well as cured salamis and hams.  John, whose ancestry includes five generations of Dutch and German charcuterie makers, has cultivated partnerships with local farmers and suppliers to ensure he works with only the best ingredients.  He experiments with fusions between traditional charcuterie (including recipes that have been in his family for generations) and international cuisine, drawing from the rich diversity of food cultures in Vancouver to create modern and exciting flavour combinations that reflect the multicultural mosaic of the city.
Follow Oyama on Facebook and Twitter.