HIV/AIDS charity teams up with Lucky's Doughnuts for another sweet Pride Day fundraiser in celebration of Pride, Lucky's Doughnuts has teamed up with HIV/AIDS charity A Loving Spoonful to create the second-annual charity doughnut: Layers of Pride.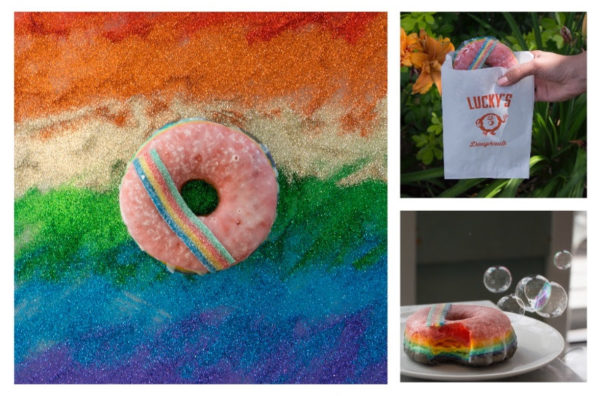 Created by Colter Jones of Lucky's Doughnuts, the Layers of Pride doughnut is a rainbow-layered vanilla-bean-glazed doughnut, topped with a candy ribbon that represents the rainbow of the Pride flag.
The limited-run Layers of Pride doughnut will be available during the Pride Parade on Sunday, July 31 for a minimum $5 donation at A Loving Spoonful's gathering point at the Denman St. BMO Branch (958 Denman St.) from 11:00 am to 2:00 pm.
100% of proceeds from the sale of the Layers of Pride doughnut will benefit A Loving Spoonful's meal programs for men, women and children living with HIV/AIDS in the Lower Mainland.
This is Lucky's Doughnuts fourth partnership with A Loving Spoonful. In February 2016, the company joined forces with the charity to create the hugely successful Valentine's Day doughnut. In 2015, they collaborated on a Pride doughnut and a Dining Out For Life Doughnut, all off which raised much-needed funds for the organization's healthy meal delivery programs.
ABOUT LUCKY'S DOUGHNUTS
In the summer of 2012, 49th Parallel launched Lucky's Doughnuts, because, really, what goes better with coffee than a French Cruller, an Old Fashioned or an Apple Fritter?
The brains (and tastebuds) behind the operation belong to Colter Jones. He created our original recipes and continues to amaze customers with exciting and unexpected flavour combinations, taking doughnuts from the everyday to extraordinary.
Lucky's Doughnuts are made fresh from scratch throughout the day, using only the finest natural ingredients and are available exclusively at the 49th Parallel Cafés at 2902 Main Street and at 2198 West 4th Ave. in Kitsilano. www.luckysdoughnuts.com
Lucky's Doughnuts Layers of Pride Doughnut
When: July 31, 2016
Where: Available for purchase at the Denman St. BMO Branch (958 Denman St.) from 11:00 am to 2:00 pm
Price: Minimum $5 donation