To be honest, I had never been to Christ Church Cathedral, let alone for a concert, but it was a perfect venue for Thursday's Vancouver Bach Festival performance.
Thursday night was a performance of Bach Cello Suites by Beiliang Zhu. What a great performance with so many factors coming together to make it a memorable one.
The six Cello Suites, BMV 1007 to 1012, are suites for an unaccompanied Cello and Christ Church Cathedral is terrific venue for an intimate virtuoso artist such as Beiliang Zhu. The acoustics of the high church alcoves provides a wonderful sonic resonance with the artist front and centre encircled by the audience on three sides.
Tonight's performance was set up beautifully in a pre-concert chat with Artistic and Executive Director Matthew White. We learned about Beiliang's upbringing in China, the move to North America and her time at Juilliard in New York. She joined the school not long after they received a $25 million plus endowment that allowed Juilliard to attract some of the best stars in the world in early period instruments. Beiliang commented that her years there were the best of her life. Surrounded by exceptional talent in both the faculty and student body, she participated in a period full of light, hope and inspiration that catapulted her skills to new unexpected levels.
But what indeed was the best about her talk was her genuineness and authenticity. What captured me was her description on how she feels during her performances and the way she connects with the music, her instrument and the audience. She becomes possessed, the music is self-medicating. She allows her own imagery and imagination to further her interpretation and artistic expression. She says, "I look into my own world and see things that I might not otherwise see. I hear things that didn't come just from the Cello."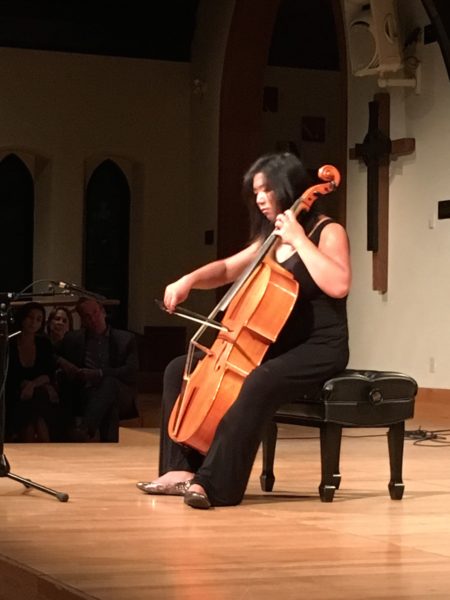 When the program began, the audience was immediately drawn in. The pre-concert chat gave you have a sense of who this artist is and you wanted to share with her the musical experience. The program was billed as an "extraordinary journey" and Beiliang Zhu picked us up and took us on that tour.
The Cello Suites are considered to be among the most profound of all classical music works. They are some of the most frequently performed and recognizable solo compositions ever written for Cello. They are remarkable in that they achieve the effect of implied three- to four-voice counterpoint and polyphonic music in a single musical line.
The softer tones of the Cello make these suites somewhat unique compared how we usually hear Bach. Her stated goal is to bring people together to appreciate the same things at the same time. Beiliang Zhu is very talented. She accomplished this goal with a sold out crowd on Thursday night and combined with the intimacy of the setting, it was a special performance. As an audience member, you were there in the moment.
Beiliang Zhu is a past winner of the Leipzig International Bach Competition and the new principal cellist of the Pacific Baroque Orchestra.