This fall, Vancouver TheatreSports™ League (VTSL) engages in its own election parody with Trump Card – Winner Takes All playing Thursdays through Saturdays at 7:30 pm, September 28 through November 19 at The Improv Centre on Granville Island.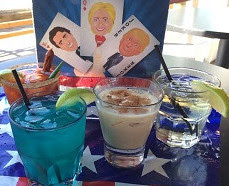 Requisite for any high-stakes game is a well-stocked bar with great cocktails to celebrate the winners or help console the losers. Paul Belsito, Manager of VTSL's Neil Macrae Bar & Lounge, has upped the ante on this particular election match with the creation of four special cocktails. Value-priced at only $8, these limited-edition drinks are available to VTSL patrons only during the run of Trump Card – Winner Takes All.
Joker Juice: Honey Jack Daniel's and Tonic. Brash and unexpected — if you don't like this drink, you're fired!
King Caesar: A made-in-Canada classic — Vodka, Clamato juice, bitters, Worcestershire and lime. Alright, eh.
Blue State: Tequila Reposado, Blue Curacao, lemon juice. This very democratic variation of the Margarita will appeal to a wide-variety of people.
Chocolate Putin:  Dark Chocolate Crème de Cacao, Zubrowka Vodka and Bailey's Irish Cream. Mother Russia would approve.
In addition to these specialty cocktails, the Improv Centre's bar also stocks a full range of wines, beers and spirits starting from $6. Added bonus – theatre patrons can take their beverages into the theatre to enjoy during the performance.
Picking a leader was never so enjoyable.
About VTSL's Neil Macrae Bar & Lounge
Tucked away at the back of VTSL's The Improv Centre on Granville Island (1502 Duranleau Street), the fully-licensed Neil Macrae Bar & Lounge is a convenient place for theatre patrons to meet for pre or post-show drinks. The Neil Macrae Bar & Lounge is open for theatre patrons Wednesday through Sunday evenings from 6:30 pm. For more information on Vancouver TheatreSports™, The Improv Centre and the Neil Macrae Bar and Lounge visit www.vtsl.com.
Vancouver TheatreSports™ appreciates the support of its season sponsors: City of Vancouver, CMHC Granville Island, The Georgia Straight and The Granville Island Hotel.