Burnaby's Christophe Bonzon, owner of Chez Christophe Chocolaterie Patisserie (4717 Hastings Street), was recently appointed to premium French chocolate Cacao Barry's prestigious International Ambassadors Club. He joins more than 100 pastry chefs and chocolatiers from over 20 countries with this invitation-only honour, and just the fourteenth Canadian.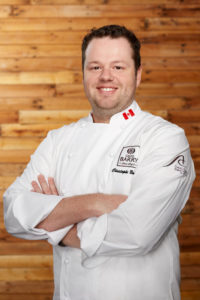 "We can proudly announce, that Christophe Bonzon, high skilled pastry and confectionery chef and owner of the pastry shop Chez Christophe in Vancouver, B.C., is now part and member of the prestigious Chocolate Ambassadors Club, under the Cacao-Barry brand," says Philippe Vancayseele, Technical Director, Chocolate Academy Canada. "Due to his high professionalism and trendy approach in the world of chocolate, skilled in taste and balancing ingredients combining Premium Cacao-Barry couvertures, we are convinced Christophe will be a key ambassador to open new opportunities for professional chefs in the near future. A warm welcome to our chefs community!"
Bonzon trained under some of Europe's best grand masters at Zurich's Chocolate Academy and in France. He came away with four out of five awards at the 2015 World Chocolate Masters Canadian Final in Montréal, Quebec, placing second at the podium. He also won Gold at the 2014 International Chocolate Awards World Final for the white chocolate Bonbons Ananas Avocat truffle.
"My love for chocolate and sweets really started when I was just eight-years-old and helping my mom and grandmother make truffles during Christmas," adds Bonzon, who opened Chez Christophe with his wife Jess Bonzon in 2013 and moved to the current larger location just last year. "It is a passion for me to create wonderful, beautiful, and edible works of art. To be named a Cacao Barry Ambassador is definitely a career milestone. It's impressive to be part of such a talented group of chefs. But above all, it motivates me to continuously improve and share my experience."
In this new role, Bonzon is expected to collaborate with other pastry chefs and chocolatiers to influence the world of pastry through innovation, artistry, and technical expertise.
Bonzon recently released his exclusive Halloween sculptures collection, featuring the classic pumpkin, ghost, scarecrow, and Jack-o-Lantern, ranging in price from $2.45 for lollipops to $35.95 for a large Devil Pumpkin. His anticipated holiday collection is expected to launch in November.
For more information about Cacao Barry, please visit www.cacao-barry.com.
For more information about Chez Christophe, please visit www.christophe-chocolat.com.
Chez Christophe 4717 Hastings Street, Burnaby, BC | Twitter: @Chez_Christophe | Instagram: @ChezChristophe | Facebook: /Chez-Christophe-Chocolaterie-Patisserie
About Chez Christophe
Award-winning pastry chef and chocolatier Christophe Bonzon brings a small taste of Switzerland to Canada at Chez Christophe Chocolaterie Patisserie with a wide collection that ranges from fine handmade chocolates, truffles, signature chocolate bars, artistic chocolate sculptures to specialty French maracons, viennoiserie, desserts, and cakes. Bonzon trained under some of Europe's best grand masters at Zurich's Chocolate Academy and in France. "The opportunities to transform are endless" and at Chez Christophe, you will find uniquely crafted creations made with passion and creativity.
Chez Christophe is located in Burnaby Heights at 4717 Hastings Street. For more information, visit www.christophe-chocolat.com.