Canadian Culinary Championships Competition #1 closes,
chefs prepare for final day of events.
The 2018 Culinary Championships closes off competition #1 with Chef Mike Robins, from Sous Sol in Winnipeg chosen by the 400 guests to receive the People's Choice award. Chef Robins created a dish with some of the following ingredients: cold smoked halibut cheek and salt spring mussels, juniper berry, chantrelle mushroom, lobster bisque and cashew cream to pair with this years' Mystery Wine 2016 Pinot Gris from Fort Berens Estate Winery in Lillooet, BC. The award does not affect the official judging scores to determine the 2018 Canadian Culinary Champion but it is a valuable win for Chef Robins.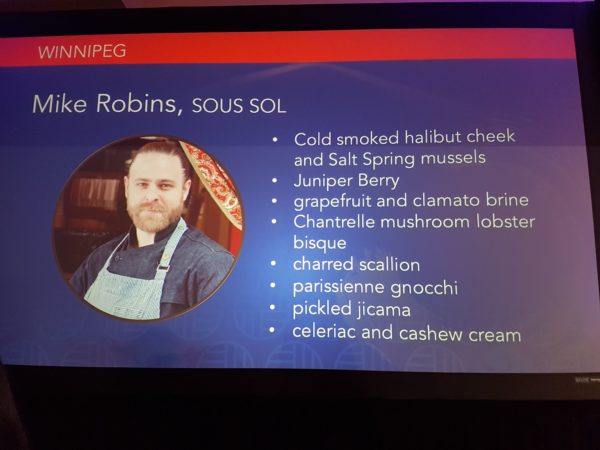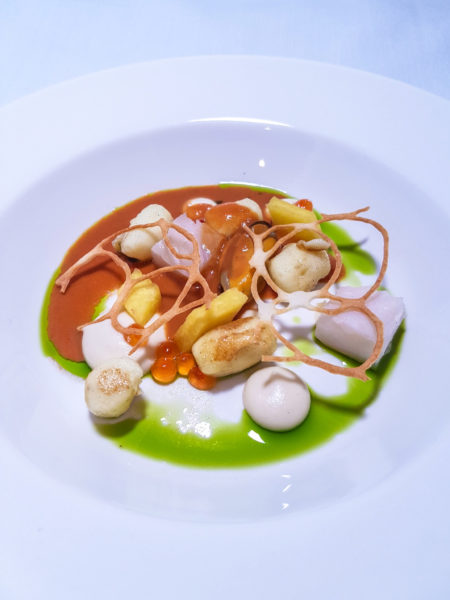 "This is a great feeling, and motivation as we go into the final day of competition," says Chef Robins.
The Mystery Wine Competition is the first competition in this culinary triathlon. The eleven competitors each won the Gold Medal Plates qualifying event in their respective cities and Thursday evening received a bottle of the unlabelled Mystery Wine. Chefs were then tasked with trying to identify what varietal the wine was and to create a dish that would pair well with the wine.  This morning Chefs went shopping in Kelowna.  The challenge was not only to present a dish that paired with the Pinot Gris wine but to also feed the 400 guests attending the event with a budget of $500. Some of the chefs are familiar with local suppliers and shops having visited the area in the past while others had not been to Kelowna before and arrived a few days early to explore the city and meet with suppliers.
David Lawrason, national wine advisor for Gold Medal Plates was instrumental in choosing the Mystery Wine for this year's competition. "The Pinot Gris from Fort Berens, an emerging wine region in Lillooet, BC was a wine that was discovered when I was part of a media tour last year. The goal each year is to select a wine that will challenge chefs, guests and keep everyone guessing."
Editor's note: Sam the Wine Teacher reviewed the Fort Berens Pinot Gris during a visit in 2016. "Pale straw with medium-light intensity. Well balanced with a creamy texture. Fresh cream, citrus, apple and white peach on the palate followed by a medium-plus finish. A well integrated Pinot Gris." Read the full review here.
New to the Competition was the addition of Gold Medal Pints. Five beers were featured tonight –  selected from 47 entries at the Gold Medal Plates events in the fall of 2017. Tonight Blonde from Dageraad Brewing received gold, Nectarous from Four Winds Brewing Co received silver and Peche Mortel from Brasserie Dieu du Ciel received bronze.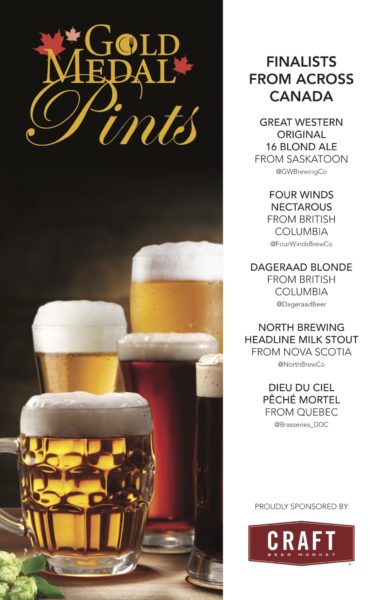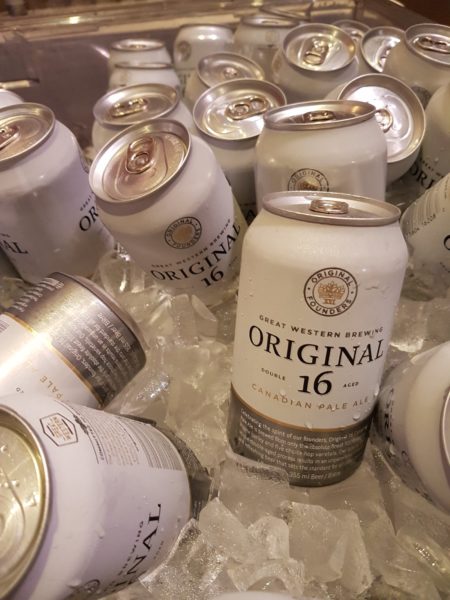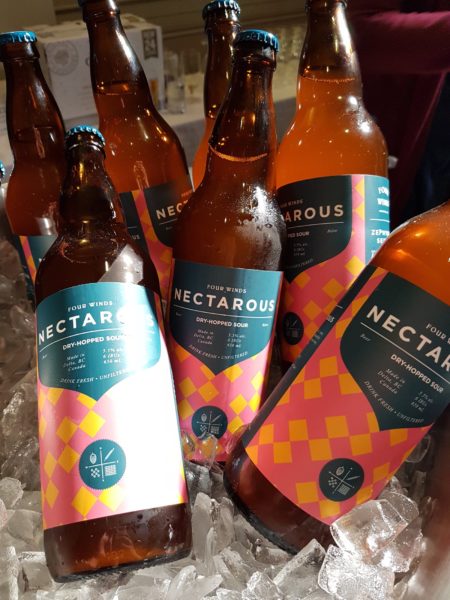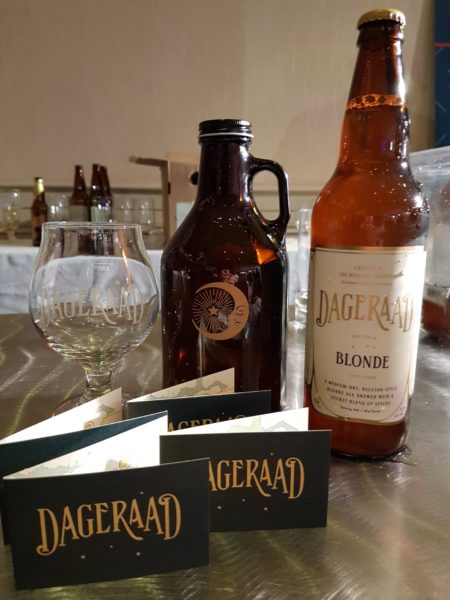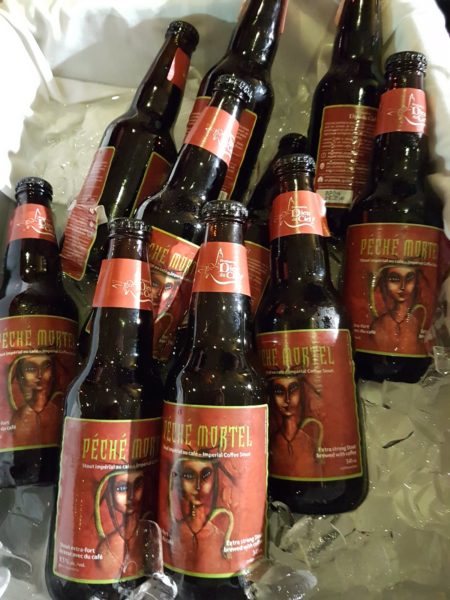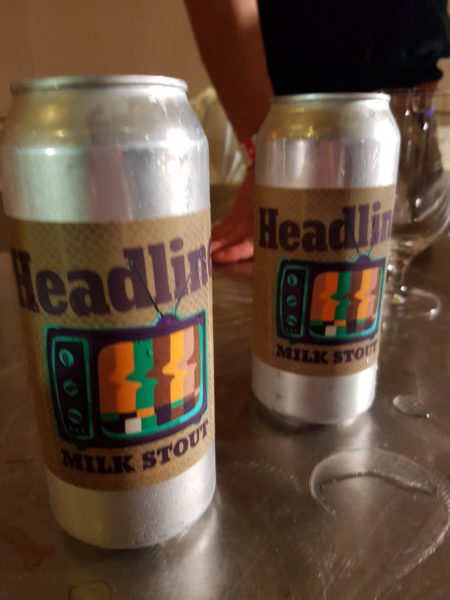 Stephen Beaumont, national beer advisor for Gold Medal Plates and co-author of the World Atlas of Beer had this to say about the beer competition, "We drank, we talked and all five finalists were very solid beers, we had a very hard time determining gold, silver and bronze, these were exceptional beers."
The competition continues Feb. 3rd when the chefs take part in the challenging Black Box competition at Okanagan College starting at 8 am and then they close off the two day competition with the Grand Finale at the Delta Grand Okanagan Resort.  On Saturday night, three chefs will be standing on the podium.
Chefs Competing at the 2018 Canadian Culinary Championships:
Alex Chen – Boulevard Kitchen & Oyster Bar, Vancouver, representing British Columbia
Shane Chartrand – SAGE, representing Edmonton
Blake Flann – BLAKE from Canmore, representing Calgary
David Vinoya – Wild Sage Kitchen & Bar, representing Regina
James McFarland – University of Saskatchewan, representing Saskatoon
Mike Robins – Sous Sol, representing Winnipeg
Lorenzo Loseto – George Restaurant, representing Toronto
Briana Kim – Café My House, representing Ottawa
Éric Gonzalez – L'Atelier Joël Robuchon, representing Montreal
Barry Mooney – Gio, representing Nova Scotia
Nick Jewczyk – The Fifth Ticket, representing St. John's
The Canadian Culinary Championships wishes to thank our presenting sponsor Deloitte, national sponsors The Globe and Mail, Big White Ski Resort, Borgo San Felice, Gold sponsor Valley First and regional supporters Okanagan College, Delta Hotels by Marriott, Okanagan College, Okanagan Chefs Association, Tourism Kelowna and Kelowna International Airport.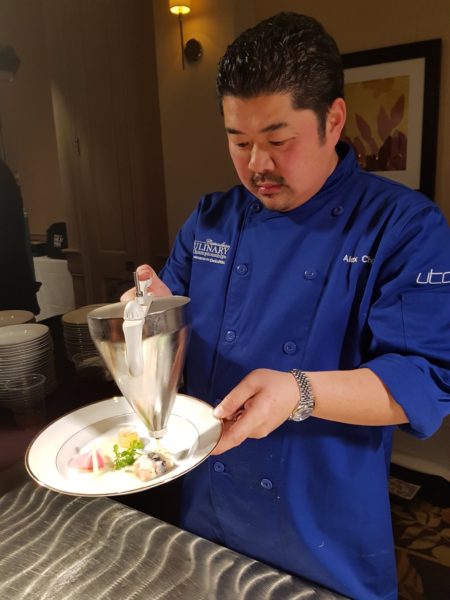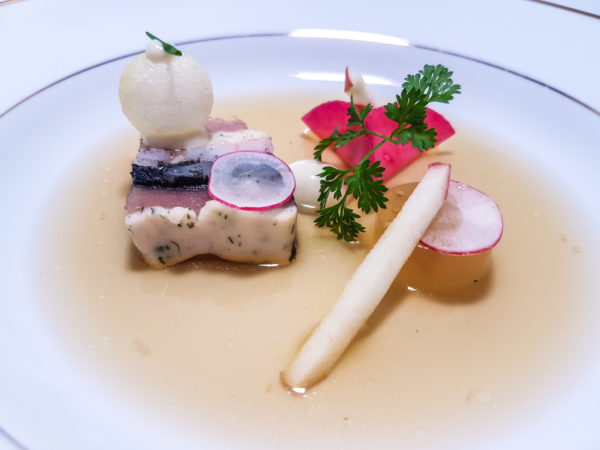 Official Website: www.goldmedalplates.com
Official Twitter and Instagram: @GoldMedalPlates
Official Hashtag: #CCC2018 #GMPProud
About The Canadian Culinary Championships
Net proceeds from the Canadian Culinary Championships are provided to the Canadian Olympic Foundation which supports Olympic athletes and high performance programs. Since 2004, Gold Medal Plates has generated over 12 million for Canada's Olympic athletes.
Gold Medal Plates
– Gold Medal Plates is the ultimate celebration of Canadian excellence in food, wine, beer, athletic achievement and entertainment.  Net proceeds from Gold Medal Plates are provided to the Canadian Olympic Foundation which supports Olympic athletes and high performance programs. Since 2004, Gold Medal Plates has generated over $12 million for Canada's Olympic athletes. For more information, visit the Gold Medal Plates website
www.goldmedalplates.com
Canadian Olympic Foundation –The Beneficiary of Gold Medal Plates
Daily training, year-round coaching, proper nutrition, breakthroughs in technology in sport science, national and international competitions, and state-of-the-art equipment are all essential in propelling our athletes to the top of the podium. The COF is a national charitable organization that raises funds to provide the Canadian Olympic Team and next generation athletes with the performance resources they need to succeed. The COF grants funds at the recommendation of Own the Podium. To learn more about the Foundation and the programs it funds, please visit
www.olympicfoundation.ca
.