Eleven of Canada's top chefs competed in a culinary triathlon Feb 2 and 3, with one goal, to win gold and stand on the podium as the Canadian Culinary Champion for 2018.  The 12th annual Canadian Culinary Championships took place in Kelowna, B.C. and the competitions were exciting for competitors, judges and guests.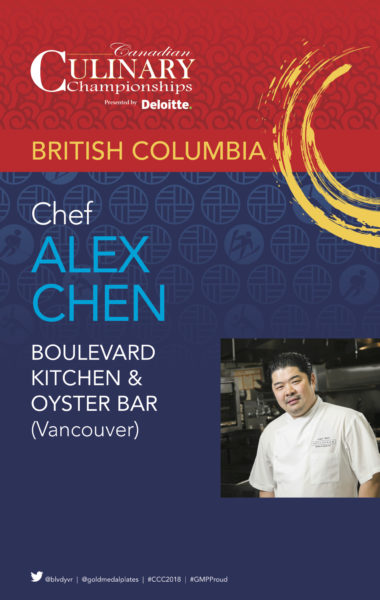 The new Canadian Culinary Champion representing British Columbia is Chef Alex Chen of Boulevard Kitchen and Oyster Bar in Vancouver who won with his finale dish "Parfait of Wild BC Shellfish, "chowder" northern divine caviar, bulls kelp "brioche" paired with Sea Star 2016 Ortega from Pender Island, BC. Chef Chen's response when he realized he won: "I feel great, I feel redeemed. We put in a lot of work this weekend and it worked out to be favourable for us. This feels so great for us." And his prize beyond the bragging rights is a trip to Africa or South America to see the Cacao Barry plantation and work with the chef there.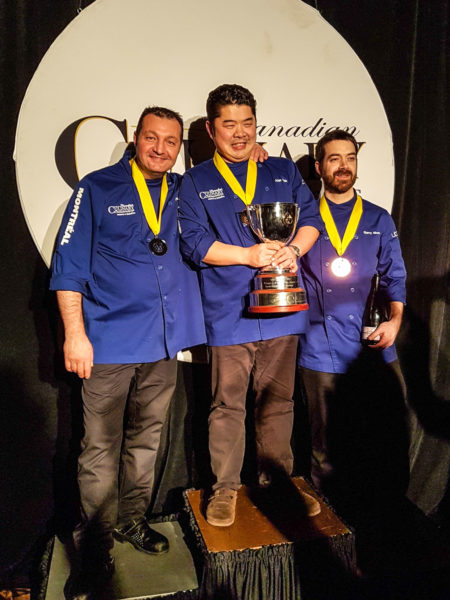 There was a lot of applause from the crowd for the winners of the bronze and silver medals as well as they were announced; Chef Barry Mooney from Gio in Halifax representing Nova Scotia took the bronze, and the silver was awarded to Chef Eric Gonzalez from L'Atelier de Joel Robuchon representing Montreal. Pairings were Smoked Pork Consomme – Ham hock terrine, scallop, foie gras mousse, pickled carrot, haskap gelee, spiced tuile paired with Benjamin Bridge NV Brut Rose, Gaspereau Valley, NS for Chef Mooney's bronze dish and Foie gras and Alberta bison loin and haskap – blackberry puree, butternut squash and truffle paired with Painted Rock 2013 Syrah from the Okanagan Valley, BC for Chef Gonzalez's silver dish.
The two-day event started with the Friday evening Mystery Wine Competition where chefs were tasked with creating a dish they felt perfectly paired with the mystery wine they had received less than 24 hours before. The wine was unveiled as Pinot Gris from Fort Berens Estate Winery from Lillooet in British Columbia. Chefs were given $500 to shop for ingredients to provide a small plate for the 400 guests in attendance. Attendees were able to taste the chefs' creations and cast their own ballot. Rising as the People's Choice for Competition I was Chef Mike Robins, from Sous Sol in Winnipeg.
The Black Box Competition II held at Okanagan College gave all eleven competing chefs one hour to prepare one dish using seven mystery ingredients presented in a black box:
Zweigelt Icewine Grapes from Summerhill Pyramid Winery, British Columbia
Cripps Pink Apples from BC Tree Fruits, British Columbia
Kohlrabi from Wise Earth Farms, British Columbia
Rabbit from Fraser Valley Rabbitry, British Columbia
Balkan Style Feta from Coteau Hills Creamery, Saskatchewan
Beausoleil Oysters from New Brunswick
Milled Flaxseed from Prairie Flax Products, Manitoba
The sold out Grand Finale event at the Delta Hotels by Marriott was the hottest ticket in town because of the food and the entertainment: the Canadian Alternative Rock Group from Vancouver, Neil Osborne and 54-40.  Before the thrilling show by 54-40, the eleven chefs competing in the two-day triathlon of events were challenged to present their best creation that paired well with their chosen Canadian Wine. The evening was beyond delicious and guests were impressed with the talent of our Canadian Chefs and 54-40!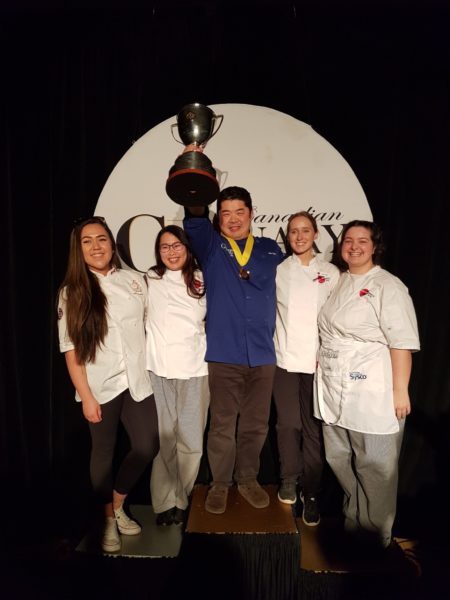 James Chatto, Gold Medal Plates' National Culinary Advisor and Head Judge, "This year we had one leader emerge out of the Mystery Wine event; then after the Black Box we had two chefs upfront while bronze was still wide open, as we headed into the finale we wondered if the two leading chefs would stumble, they did not. Tonight we have 11 winners and if we could bring them all up to the stage we would, congratulations to all of our competitors."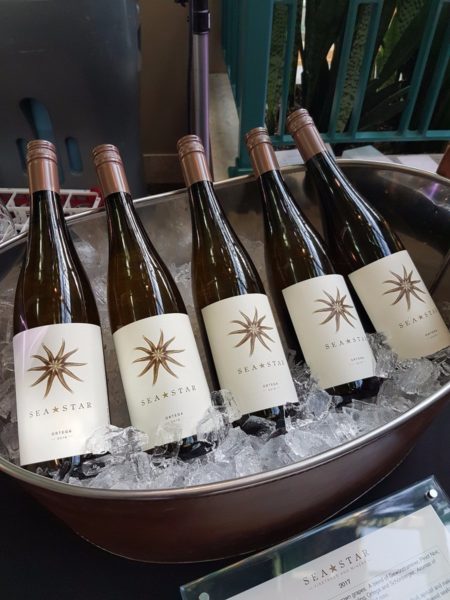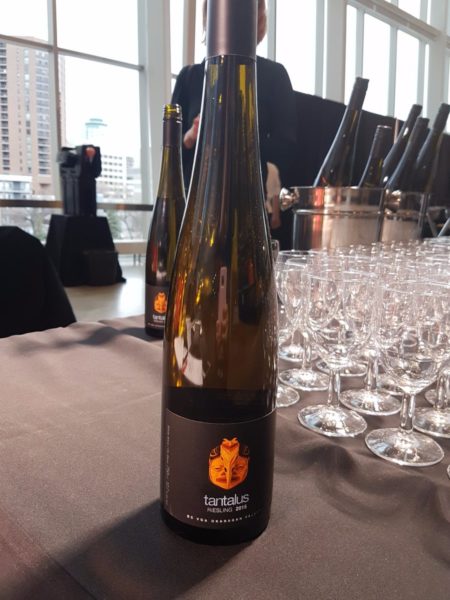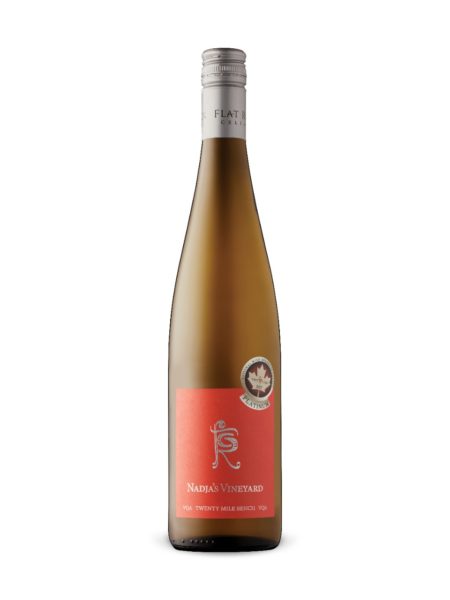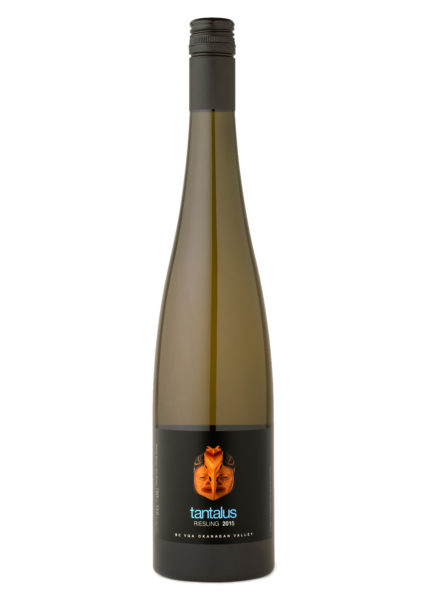 The event is also a fundraiser for Canadian Olympians and there were ten incredible athletes in attendance:
Ashleigh McIvor, Freestyle Skiing, Olympic Gold Medallist – Vancouver 2010 Winter Olympic Games
Curt Harnett, Cycling-Track, Four-Time Olympian and Olympic Silver and Two-Time Bronze Medallist – Atlanta 1996, Barcelona 1992, Seoul 1988, Los Angeles 1984 Summer Olympic Games Curtis Myden, Swimming, Three-Time Olympian and Three-Time Olympic Bronze Medallist – Sydney 2000, Atlanta 1996, Barcelona 1992 Summer Olympic Games
Mellisa Hollingsworth, Skeleton, Three-Time Olympian and Olympic Bronze Medallist
Karen Clark, Synchronized Swimming, Olympic Silver Medallist – Atlanta 1996 Olympic Summer Games
Kristi Richards, Freestyle Skiing, Two-Time Olympian – Turin 2006, Vancouver 2010 Winter Olympic Games
Lindsay Jennerich, Rowing, Two-Time Olympian and Olympic Silver Medallist – Rio 2016, London 2012 Summer Olympic Games
Lucas Makowsky, Speed Skating – Long Track, Two-Time Olympian and Olympic Gold Medallist – Sochi 2014 and Vancouver 2010 Winter Olympic Games
Maëlle Ricker, Snowboard, Four-Time Olympian and Olympic Gold Medallist – Sochi 2014, Vancouver 2010, Turin 2006, Nagano 1998 Winter Olympic Games
Patricia Obee, Rowing, Two-Time Olympian and Olympic Silver Medallist – Rio 2016, London 2012 Summer Olympic Games
The evening's Emcee, Ashleigh McIvor, Olympic Gold Medallist, Freestyle Skiing, Vancouver 2010 Winter Olympics had this to say about the event, "Your support to help our Canadian Athletes goes a long way, your encouragement helps motivate Canadian Athletes. Tonight's event has been spectacular."
As well as indulging in amazing food and wine, Saturday night guests were able to compete for items during the live auction. Some of the items up for bid were unique travel experiences including;
A trip to Mallorca – Spain's Ultimate Adventure
Beer, Bravery and Bubbles – Antwerp, Belgium, Flanders and Reims, France
A Week as a Royal in the Magical Highlands of Scotland
An Exclusive Culinary Weekend in Downtown Kelowna for Three Couples
Get in the Game! A Fantastic Weekend Getaway in Vancouver for Two Couples and
Life in the Fast Lane…Adventure in the South Okanagan.
Stephen Leckie Co-Founder of Gold Medal Plates said, "This city knows how to host friends from across the country and how to throw a party. Tonight we celebrate and toast our Olympic Athletes, may they shine, may they fulfill all their dreams and may PyeongChang be a remarkable Canadian experience, let's go Canada."
This memorable two-day event will be held in Kelowna until 2020, with proceeds from Gold Medal Plates and the Canadian Culinary Championships given to the Canadian Olympic Foundation to support high performance athletes. To date, over $12 million has been raised.
The Canadian Culinary Championships wishes to thank our presenting sponsor Deloitte, national sponsors The Globe and Mail, Big White Ski Resort, Borgo San Felice, gold sponsor Valley First and regional supporters Okanagan College, Delta Hotels by Marriott, Okanagan College, Okanagan Chefs Association, Tourism Kelowna and Kelowna International Airport.
The other Chefs who competed at the 2018 Canadian Culinary Championships:
Shane Chartrand – SAGE, representing Edmonton
Blake Flann – BLAKE from Canmore, representing Calgary
David Vinoya – Wild Sage Kitchen & Bar, representing Regina
James McFarland – University of Saskatchewan, representing Saskatoon
Mike Robins – Sous Sol, representing Winnipeg
Lorenzo Loseto – George Restaurant, representing Toronto
Briana Kim – Café My House, representing Ottawa
Nick Jewczyk – The Fifth Ticket, representing St. John's
Official Website: www.goldmedalplates.com
Official Twitter and Instagram: @GoldMedalPlates     Official Hashtag: #CCC2018 #GMPProud
About The Canadian Culinary Championships
Net proceeds from the Canadian Culinary Championships are provided to the Canadian Olympic Foundation which supports Olympic athletes and high performance programs. Since 2004, Gold Medal Plates has generated over 12 million for Canada's Olympic athletes.
Gold Medal Plates
Gold Medal Plates is the ultimate celebration of Canadian excellence in food, wine, beer, athletic achievement and entertainment.  Net proceeds from Gold Medal Plates are provided to the Canadian Olympic Foundation which supports Olympic athletes and high performance programs. Since 2004, Gold Medal Plates has generated over $12 million for Canada's Olympic athletes. For more information, visit the Gold Medal Plates website www.goldmedalplates.com
Canadian Olympic Foundation –The Beneficiary of Gold Medal Plates
Daily training, year-round coaching, proper nutrition, breakthroughs in technology in sport science, national and international competitions, and state-of-the-art equipment are all essential in propelling our athletes to the top of the podium. The COF is a national charitable organization that raises funds to provide the Canadian Olympic Team and next generation athletes with the performance resources they need to succeed. The COF grants funds at the recommendation of Own the Podium. To learn more about the Foundation and the programs it funds, please visit www.olympicfoundation.ca.