SWEET WINTER DELIGHTS
Chez Christophe unveils 2017 Holiday Collection
Delight your taste buds this winter season with the 2017 holiday collection from Burnaby Heights' Chez Christophe Chocolaterie Patisserie (4717 Hastings Street). From inventive chocolate art sculptures inspired by Christmas classics, holiday-flavoured truffles and chocolate barks, to a new advent calendar and Bûche de Noël flavours, there is something for everyone on your list.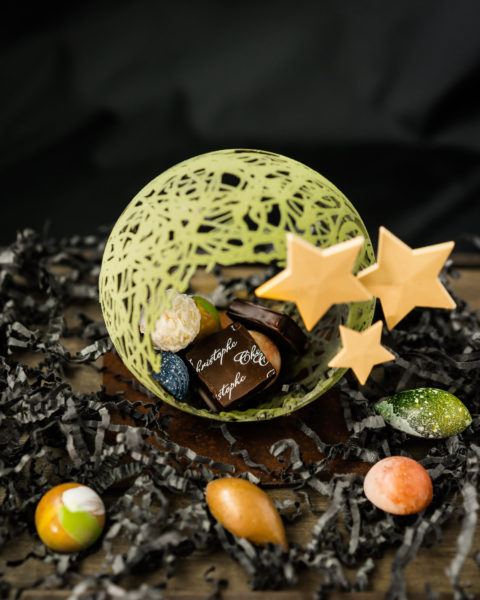 "This is our fifth Christmas season in Burnaby Heights, and second at our new location," says pastry chef and master confectioner Christophe Bonzon. "It's been great to see us grow with the community year-after-year and also have new customers discover us, especially during the holidays. Every year we look forward to creating new chocolate and sweets. There are just so many possibilities."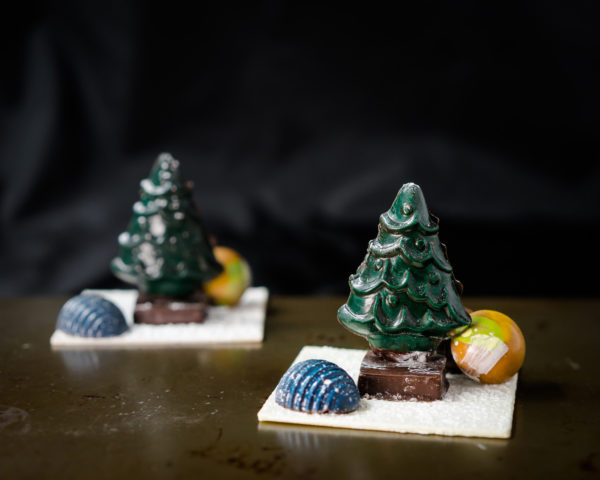 This year, Bonzon introduces a new line-up of bonbon-filled chocolate art sculptures, all inspired by iconic holiday symbols or classics: a mini Christmas Tree adorned with truffles; XMAS All Around featuring holiday typography; Burnaby's Little Helper, a cute chocolate elf; a reindeer on a runaway sled called Oh, Deer!; and a beautiful and delicate, lace-wreath named Wish upon a wreath featuring chocolate stars and truffles. Sculptures range from $15.95 for a small to $39.95 for a large.
In addition, new flavours have been added to the popular Chez Christophe Bûche de Noël (yule log cake) collection, including Santa's Coffee Break featuring a chestnut sponge, cappuccino mousse, cinnamon nameleka and chocolate shavings, and chestnut puree; A Slippery Slope featuring matcha namelaka, matcha chiffon, lemon yuzu mousse and white chocolate sesame crunch; and Merry and Bright featuring milk chocolate mousse, mandarin cremeux, mandarin compote and mandarin sponge with cocoa nibs. Bûche de Noëls are $34.95 each.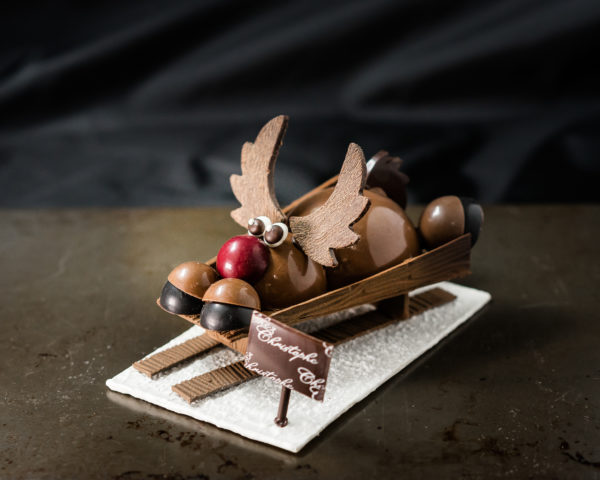 Other holiday treats include:
Limited-edition Chocolate Advent Calendar, $28.95
Chocolate Trio, $6.45 for three – mulled wine, apple cider, gingerbread
Chocolate Barks, $11.95/100g – pistachio and beet, almond and cranberry
Chocolate Bar Trio, $14.95 – Blood orange marshmallow with champagne ganache, Caramel gingerbread, Coconut ganache with pineapple jelly and coconut crunch
Winter White holiday hot chocolate – White chocolate and orange ganache with cardamom mandarin sprinkles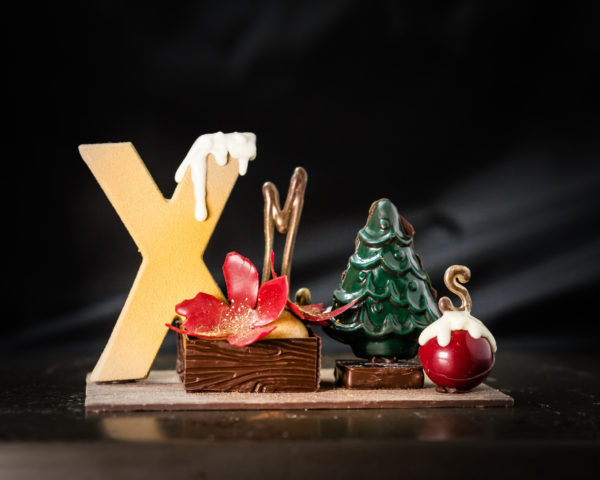 Chocolate sculptures and Bûche de Noëls are now available for pre-order by visiting Chez Christophe in-person or via phone at 604-428-4200. The holiday line is available starting December 1, 2017. Bûche de Noëls can only be picked up on December 23 and 24.
For more information, please visit www.christophe-chocolat.com.
Chez Christophe 4717 Hastings Street, Burnaby, BC | Twitter: @Chez_Christophe | Instagram: @ChezChristophe | Facebook: /Chez-Christophe-Chocolaterie-Patisserie
About Chez Christophe
In 2013, award-winning pastry chef, chocolatier, and newly minted Cacao Barry Ambassador Christophe Bonzon opened Chez Christophe Chocolaterie and Patisserie with his wife Jess Bonzon in the bustling Burnaby Heights neighbourhood. Bringing a bit of Swiss flair to Canada, their collection of fine handmade chocolates ranges from artistic chocolate sculptures, creative truffle flavours to signature chocolate bars, and seasonal favourites. Customers can also find an array of macarons, viennoiserie, desserts, and cakes at Chez Christophe. Due to overwhelming support, the pair moved to a larger location in 2016 with more seating, an outdoor patio, and an expanded menu with sandwiches.
Chez Christophe is located at 4717 Hastings Street, Burnaby, British Columbia. For more information, visit www.christophe-chocolat.com.
Chez Christophe 4717 Hastings Street, Burnaby, BC | Twitter: @Chez_Christophe | Instagram: @ChezChristophe | Facebook: /Chez-Christophe-Chocolaterie-Patisserie