Celeriac Ravioli with Porcini Mushrooms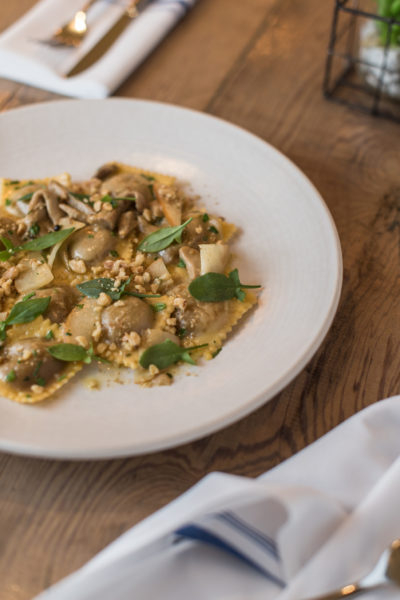 6 – 8 servings
INGREDIENTS FOR RAVIOLI
7.5 cups of all-purpose flour
7 eggs
5 yolks
1 tbsp olive oil
1 kg celeriac (peeled and cut into small cubes)
1 cup butter
1 sprig of thyme
1 cup chicken or vegetable stock
1 cup heavy cream
2 tsp kosher salt
2 tsp ground black pepper
250g grated Grana Padano cheese
METHOD
Combine eggs, yolks and olive oil.
Slowly incorporate wet mixture into flour.
Once dough has come together, knead for 15 minutes until elasticity is formed. Rest for one hour before use.
While dough it resting, roast celeriac in butter with sprig of thyme on low heat until soft and caramelized.
Once roasted, strain fat and remove thyme. Add stock and cream to celeriac and reduce by half.
Transfer to a blender and puree till smooth.
Transfer purée to a bowl, add cheese, salt and pepper then allow to cool.
Once dough has rested and filling has cooled, use a rolling pin and flour to roll out your dough into a sheet. Use a ravioli maker to fill and seal your ravioli. If you don't have a ravioli maker, you can use a round cookie cutter or an upside-down glass to cut your pasta circles, and seal your ravioli by brushing water on the edges of your circles before pressing them together.
INGREDIENTS FOR MARINATED PORCINI MUSHROOM
5 cups porcini – clean and cut into small pieces
1/3 cup olive oil
3 cloves of garlic (chopped)
1 bay leaf
1 sprig of thyme
2 cups diced sweet onion
2 tsp ground coriander
2 tsp ground fennel seeds
2 tsp kosher salt
2 tsp ground peppercorn
½ cup white wine
¼ ml white wine vinegar
Juice of 1 lemon
METHOD
1. Lightly sauté porcini with olive oil with garlic, bay leaf and thyme.
2. Add onion and spices and sweat till soft.
3. Add white wine, reduce by half.
4. Add white wine vinegar, reduce by half.
5. Remove from heat and cool, then add juice of 1 lemon.
ASSEMBLE
1. Boil ravioli until cooked (about 1 to 2 minutes), then strain and set aside.
2. Bring porcini mixture to a simmer, add cooked ravioli.
4. Arrange on a plate with mushrooms on top.
5. Before serving, add a few slices of raw pear and toasted walnuts. Enjoy!
Jack Chen, Head Chef
Royal Dinette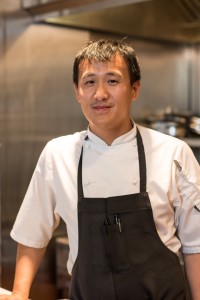 Jack Chen, Head Chef, Royal Dinette
Jack Chen was born in Taiwan and moved to Vancouver with his family at a very young age aptly observing his mother, a talented home cook, in the kitchen. Throughout high school and university he worked nights and summers at various cooking jobs and it was only after completing an economics degree in Victoria and taking an inspirational trip to Japan and New Zealand, that Jack finally realized his true passion and applied to Vancouver's Northwest Culinary Academy.
Since graduating, Jack worked at some of Vancouver's most well respected restaurants, including Bishop's, Pear Tree, L'Abattoir as sous-chef and as head chef at Farmer's Apprentice. He has also spent a significant amount of time abroad, working in London at The Ledbury and L'Autre Pied, and staging at New York City's Per Se, Napa Valley's Ubuntu, Belgium's In de Wulf, and Germany's La Vie.
Instagram: @RoyalDinette
Twitter: @RoyalDinette
Facebook: /RoyalDinetteVancouver
Web: www.royaldinette.ca