Rocky Mountain Flatbread and Koko Monk Chocolates are delighted to present our second annual Valentine's Day Menu for the Chocoholic featuring raw chocolate and Rocky Mountain Flatbread favourites.
Rocky Mountain Flatbread's Chef Oliver Zulauf has created a delicious three-course menu for Valentine's Day that offers over 75 pizza and pasta combinations to choose from. Each course is paired with a handmade raw chocolate from Koko Monk Chocolates.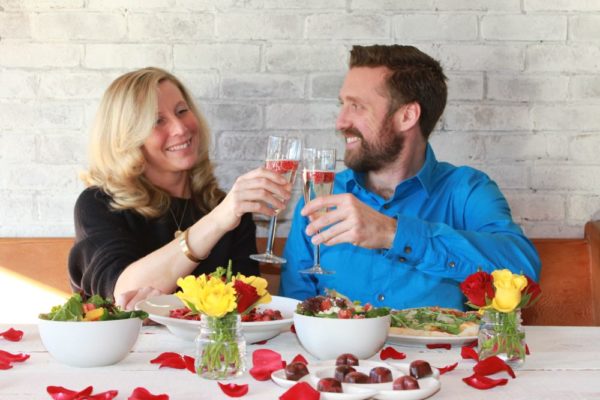 Wake up your palate with La Petite Amour – a lemongrass, lime and sunny mango raw chocolate – paired with your choice of crisp fresh salad (fig & goat cheese, basil & blackberry, or fresh herb salad).
When you add a taste of the Tuscan Blues – a lavender infused raw chocolate – and enjoy a hand crafted Traditional Flatbread pizza or pasta dish – you'll believe life really is a box of chocolates.
Rekindle that old flame with a Smoking Heart – that is, a double smoked applewood and 12-year-old scotch raw chocolate fusion – along with Rocky Mountain Flatbread's signature double chocolate brownie with house made vanilla ice cream (or gluten free baked cheese cake with toasted coconut crust).
This three-course menu is offered for $30 per person plus tax and gratuity.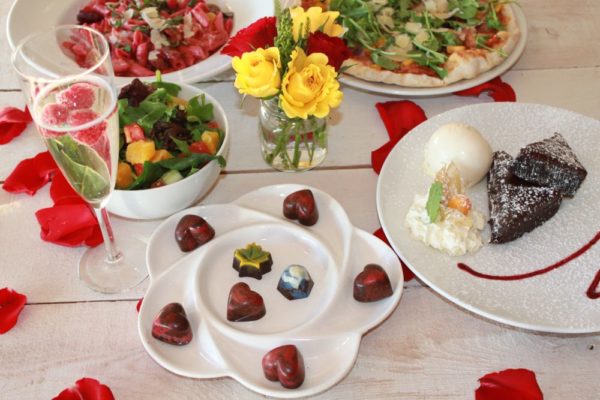 Additional specials:
∑         Valentine's Day cocktail:  Fizzio Therapy for $6.
∑         Valentine's Day Kids Menu: a three-course menu for $12.50 so the whole family can enjoy Valentines Dinner!
Make a reservation for the whole family at Rocky Mountain Flatbread on Valentine's Day!
To Reserve:
Rocky Mountain Flatbread Main Street: Call 604-566-9779 or email [email protected].
Rocky Mountain Flatbread Kitsilano: Cal 604-730-0321 or email [email protected].
Did you know?
Raw chocolate, a superfood made out of unprocessed, unroasted, untreated cacao beans, has a whole lot of health benefits ranging from reducing inflammation in the body, acting as a natural anti-depressant, improving the cardiovascular system, assisting with weight loss, slowing the aging process of cell, improving digestion, assisting with weight loss and many more.
About Rocky Mountain Flatbread
Rocky Mountain Flatbread takes pride in providing sustainably produced, local food that connects the farm, family and community. Visit our two Rocky Mountain Flatbread restaurant locations in Vancouver (Main Street & Kitsilano) or the original restaurant that started it all in Canmore, Alberta. Food court locations include Rocky Mountain Flatbread Express in Banff and Rocky Mountain Flatbread Food Court in West Vancouver. For more information, visit rockymountainflatbread.ca.
About Koko Monk
Koko Monk is known for its one of a kind, complex and sophisticated flavor fusions using raw chocolate. The company uses organic and health based ingredients without damaging and reducing their essence as one of the most important signifiers of their identity. Visit the Vancouver store in Kitsilano. For more information, visit www.kokomonk.com.