Beer Braised Pork Belly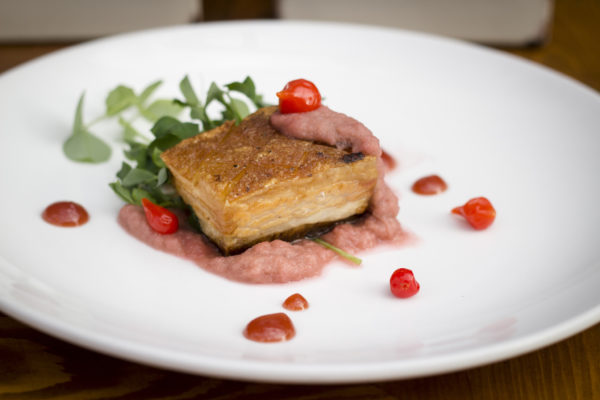 (serves 4-6)
Pork Belly is one of my favourite things to eat any time of year. Braising it with beer is great because you can play around with different styles and use a variety of spices and juices to compliment each one! In the winter use a stout or porter with some winter spices for example. I find this fennel-forward flavour matches the hoppiness of an IPA quite well. The pickled rhubarb puree cuts the richness of the pork belly and you can always substitute different seasonal fruits or vegetables to compliment the beer you're using. I also take the rind off, dry it then deep-fry for a crispy garnish. Serve with some buttery local vegetables and enjoy!
Ingredients
Pork Belly
2 lb – boneless pork belly
to taste – kosher salt and cracked black pepper
2 x 12oz bottle – craft beer – IPA
1 cup – orange juice
1 large white onion diced
4 garlic cloves crushed
1tbsp fennel seed
1 tbsp canola oil
Pickled Rhubarb Puree
2 cup – red wine vinegar
1 cup – granulated sugar + 1 fl oz
4 cup – chopped rhubarb (approx 4 stalks)
1/2 cup – vegetable stock or water
1 tbsp – butter
Method
Pork Belly
Preheat oven to 250*F

Using a knife, score the top of the belly (crosshatch cuts through the top fat)

Season with salt and pepper, rub into the belly 4. Sear all sides in a large pot with canola oil over med high heat (approx 5 mins per side)

Transfer belly to an appropriate sized roasting pan skin side up on a drip tray

Pour off most of the fat from your searing pot, sautée the onions, garlic and fennel seed on low heat for 30 seconds

Add in beer and orange juice, bring up to a simmer

Pour liquid into the roasting pan with the pork belly, cover and braise 3 hrs

Check the belly, it should be just starting to pull apart, it may need another hour braising

Remove from oven and let cool to room temperature in the liquid, then put another pan directly on top and weight it down and cool to fridge temperature (this will give the belly a uniform flat shape)

cut into 4-6 pieces (depending on desired size) and reheat in a 350*F oven until nice and crispy
Pickled Rhubarb Puree
Bring vinegar and 1 cup sugar to a boil

Pour over chopped rhubarb and let sit at room temperature for 1 hr

Strain out rhubarb chunks (reserving liquid for future pickling)

Blend in blender with veg stock and 1 fl oz sugar until super smooth, strain 

Reheat, whisk in 1 tbsp butter then serve
Chef Graydon Gliege
The Xchange tbl
Executive Chef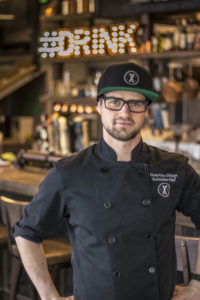 Graydon grew up in the Okanagan and truly appreciates everything it has to offer. While training in the Culinary Arts at Okanagan College, he worked in a number of establishments under a variety of chefs. With his background in Italian, French & West Coast cuisine, he believes in using the best local ingredients possible to create dishes that blend rustic style & flavours with modern techniques & elegance.
ABOUT THE RESTAURANT
Nestled in the center of Kelowna's Landmark Business District, Xchange offers incredible Spanish style tapas, inspired entrees, and a massive 28 day dry aged tomahawk steak. All of these are created in a fully open concept kitchen by a passionate team of Chefs AKA 'The Heart of the House'. Everything prepared at Xchange is made from scratch with the freshest ingredients, and they will smoke anything! Bacon, brisket, bourbon, jalapeños for their signature hot sauce, tomatoes for house-made ketchup, and anything else they feel like. With a warm rustic meets modern industrial atmosphere that encourages socializing, the always BC craft beer taps are constantly rotating. Kill the keg, your beer is on us and you choose what's up next! Phenomenal house-made Sangria and the largest Tequila selection in the Okanagan will make this your favorite dining spot in Kelowna!