The Wallflower is a contemporary dance performance that relies on the personal memories of the performers to create each individual production.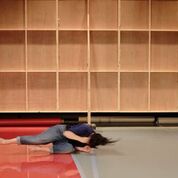 Quarantine, the Manchester-based group that performs Wallflower is known for its innovative and inclusive theatrical work.
The stage is configured into a small rectangle, surrounded on three sides by the audience. Off to one corner sits a DJ who takes requests from the lone dancer.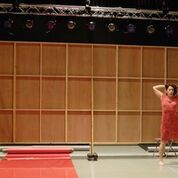 Each performer takes their turn alone on stage. They recount a dance that they one did. It could be one performed alone, as part of a production, or on a date. There is no limit to what the dancer chooses as long as it is based on a personal memory of a dance. The honesty, self deprecation and frailty that the performers give to the production is what make it unique. This is not a performance depicting flawless technique or graceful acrobatics. Rather it is a string of very relatable stories told spontaneously by people who have danced many dances.
PuSh International Performing Arts Festival with the Vancouver International Children's Festival presents Mess by Caroline Horton & Co. / China Plate (England), on stage now at the Waterfront Theatre until Jan. 22. Olivier Award-nominee Caroline Horton wrote and stars as Josephine, an artist with a dream to stage a play. With wild invention, laughs galore and great songs to boot, Mess tackles big issues of obsession and addiction. Mess premiered at the 2012 Edinburgh Fringe Festival where the cast won the Stage Award for Best Ensemble.
Wallflower was performed at Performance Works as part of the PUSH Festival.