Quails' Gate Winery's Ultimate Winter Okanagan Package is the perfect antidote to the seasonal blahs:  you'll ski like an Olympian, drink like a connoisseur, feast like a king, and sleep like a log!  The special offer includes access to local ski hills, a private wine tasting, dinners at one of the Okanagan's best restaurants, and luxury waterfront accommodation.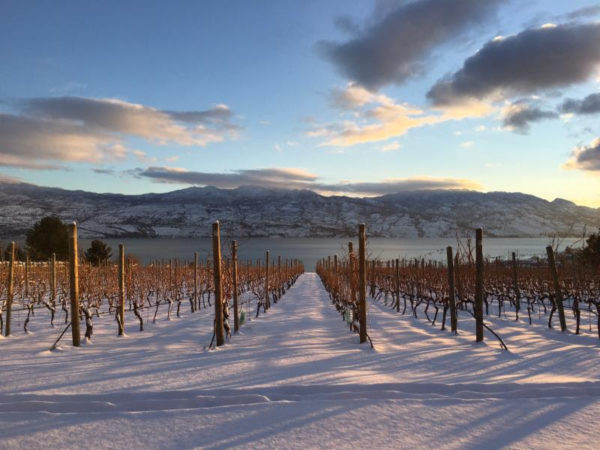 The Ultimate Winter Okanagan Package is available for either 2 or 4 couples.
Both packages include
•Lift tickets and shuttle service to and from Apex Mountain Resort, Big White Ski Resort, and/or Silver Star Mountain Resort in British Columbia, Canada
•A private wine tasting led by our Sommelier
•Dinner at our award-winning Old Vines Restaurant & Wine Bar
•4 nights' luxury accommodation at the winery
Lake House
4 couple option
Stay at our elegant Lake House property, which features a gourmet kitchen, dining and entertaining areas, 4 bedrooms, and a loft.  Enjoy the views from multiple patios overlooking Lake Okanagan and end your day with a relaxing soak in the hot tub.
2 couple option
Stay at the Nest, a chalet-style cottage located in a secluded area with a private beach and wildlife sanctuary.  The beautifully renovated cottage features 3 bedrooms and an open concept kitchen. The living room looks out across your own private beach on the shores of Okanagan Lake and the beautiful snow-capped mountains beyond.
After a day on the slopes, our award-winning team at Old Vines Restaurant will take your après experience to a whole new level!  In 2013, Old Vines was the only Canadian winery restaurant to be ranked as one of the top 20 Best Winery Restaurants in the World by dailymeal.com, and is consistently ranked as one of the Top 100 Restaurants in Canada.  Winery Chef Roger Sleiman prepares world-class cuisine from ingredients sourced close to home, and the flavours are a perfect match for Quails' Gate's estate-grown wines.  The restaurant offers stunning views of the vineyards and Mt. Boucherie, and our Fireside tables are particularly appealing for those returning from a day on the slopes.
Guests may visit the same ski hill each day, or different hills on different days, but must specify their choice when making their booking.  The Quails' Gate Ultimate Winter Okanagan Package is available only until the ski season winds down, so reserve your dates today by contacting Stella Brown at sbrown@nullquailsgate.com or (250) 769-2514.
Quails' Gate Ultimate Winter Okanagan Package
4 Couples, 4 Nights – All inclusive CAD$8000 
(Additional ski day & shuttle CAD$700)
2 Couples, 2 Nights – All inclusive CAD$4000
Quails' Gate Winery
3303 Boucherie Rd., West Kelowna, BC, Canada

About Quails' Gate Winery: As one of Canada's foremost family owned and operated estate wine producers, we are dedicated to crafting exceptional quality wines and creating memorable wine and food experiences for our guests. With luxurious lake front accommodations, an award-winning restaurant and a variety of tour and tasting experiences, we look forward to helping our guests create their perfect Okanagan moment.
Follow Quails' Gate on Twitter and Facebook