Dutch airline partners with event organizers to help launch inaugural event in Canada
Our Cityride Vancouver is excited to announce that KLM Royal Dutch Airlines has signed on as a featured partner for the event's inaugural year in Canada, taking place on August 19th 2017.
Known for their customer-friendly technology and innovative products, KLM is offering travel giveaways and a grand prize family trip for four to Amsterdam. All registered participants of Our Cityride are automatically entered to win.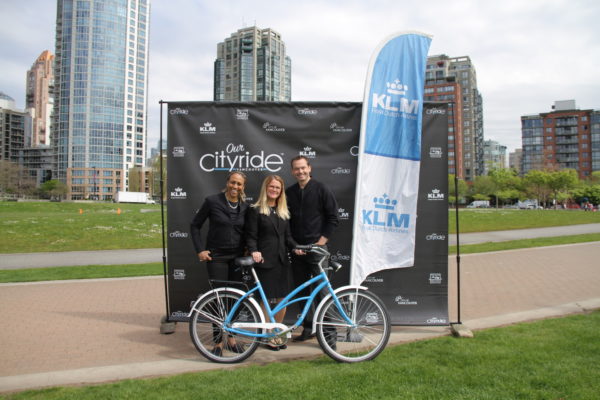 "At KLM Royal Dutch Airlines, we are proud to partner with the Our Cityride Vancouver initiative and look forward to welcoming the winners on board one of our flights and have them enjoy their biking passion in the streets of Amsterdam", shared Roland Coppens, Commercial Director, Air France-KLM Canada.
"KLM is known globally for supporting world class sport and community events" said Our Cityride Vancouver co-founder Charmaine Crooks, "we are thankful to have KLM partner with us on this family focused ride and festival and are excited to have them as a valuable contributor to our community initiatives."
Our Cityride is a 17-kilometre ride for all ages, cycling together through the downtown core and Stanley Park among other iconic Vancouver sites. Yaletown's David Lam Park will host the post-cycle festival which will feature a kid's zone, expo, beer garden, food trucks, bike valet and an entertainment stage showcasing local talent.
The ride starts on August 19th at 5pm and the festival zone will be open between 3pm to 9pm at David Lam Park. Registration opens May 19th. Tickets are free for participants under 18 years old and $20 for those aged 18 and over and can be purchased at www.ourcityride.com.
For more information on Our Cityride, please visit www.ourcityride.com. To get involved as a volunteer or partner in the event, send your requests
to info@nullourcityride.com.
About Our Cityride
Founded by Charmaine Crooks and Mark Ernsting, the aim of Our Cityride is to celebrate the spirit of local communities and cycling through a non-competitive all- inclusive mass participation ride that will be held in the heart of cities. The ride welcomes participants of all ages and abilities, focused around a fun and festive atmosphere and encouraging healthy, active living. Through the 365 International Sport Foundation, Our Cityride will give back to local charities that support sport for all through wellness and cycling initiatives.
About KLM
KLM Royal Dutch Airlines was founded on October 7, 1919 and is the oldest airline still operating under its original name. KLM is a member of the SkyTeam alliance, a group of twenty airlines including Air France, Delta Air Lines, and Alitalia who are also its
transatlantic joint venture partners. KLM has been part of the AIR FRANCE KLM Group since the 2004 merger.
Air France and KLM serve 5 destinations in Canada. They have dual operations in Montreal, Toronto and Vancouver and KLM serves an extra 2 destinations in Alberta: Calgary and Edmonton. Both airlines provide a bus service from Ottawa to Montreal-Trudeau. KLM offers a total of 39 flights per week this summer.