Victoria's funkiest accommodation option challenges the concept of traditional travel
Seasoned or young, nature fan or social media royalty, families or honeymooners – the newly opened Zedstream will appeal to anyone seeking a refreshingly atypical accommodation experience. Situated in the backyard of Victoria's eclectic Hotel Zed, the Zedstream – housed in a vintage, completely retrofitted Airstream trailer – combines the best of camping life with all the amenities expected from a hip city motel.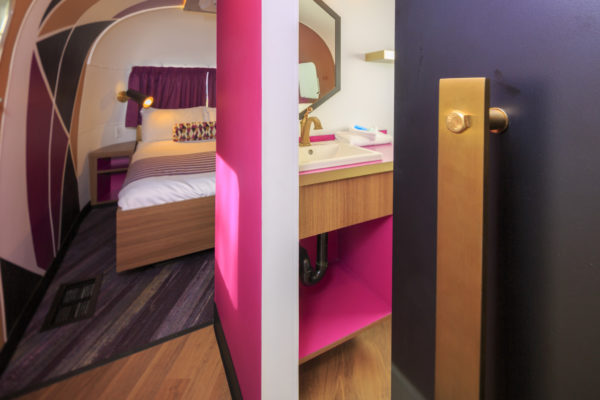 Officially opened on June 1, the Zedstream was conceived more than 10 years ago when Mandy Farmer, President & CEO of Accent Inns, first pitched to her partners the idea of a funky motel called Hotel Zed that would be housed under the Accent Inns umbrella. While researching retro motels, Mandy discovered a collection in Arizona that were housed in backyard trailers. Inspired, she added the Zedstream concept to her Hotel Zed business plan. Years later, Mandy found an Airstream trailer originally built as a food truck; she purchased it without hesitation, and her Zedstream dream sparked to life.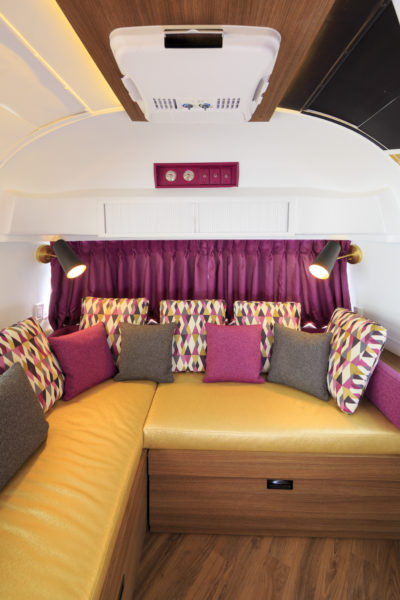 Much like the Hotel Zed, the Zedstream aims to surprise guests by defying expectations. On the outside, the space looks like a simple trailer; however, once inside guests are treated to a plush, roomy interior that evokes a cushy cottage-like experience. The trailer boasts a full bathroom with glass stand-up shower, hotel-sized sink and toilet; queen bed and pull-out sofa bed; a 40-inch LED TV in the living area; and a 32-inch LED TV in the bedroom. Bright, vibrant colours create an uplifting vibe that perfectly complements cheeky touches throughout, including a rotary phone and retro alarm clock; comic book welcome amenity; and vintage control panel that allows guests to control indoor and outdoor mood lighting.
Running along the trailer perimeter is a 140-square-foot deck complete with hammock, rocking chairs, Adirondacks and patio umbrella, making for a camp-like experience perfect for enjoying a beer while soaking in the sights and sounds of surrounding nature. Zedstream guests also have access to Hotel Zed's many amenities, including an outdoor pool, hot tub and massive
"Zedinator" waterslide; Ping Pong lounge and Wii terminals; complimentary WiFi; free bike and longboard rentals; vinyl listening station; typewriter stations and more.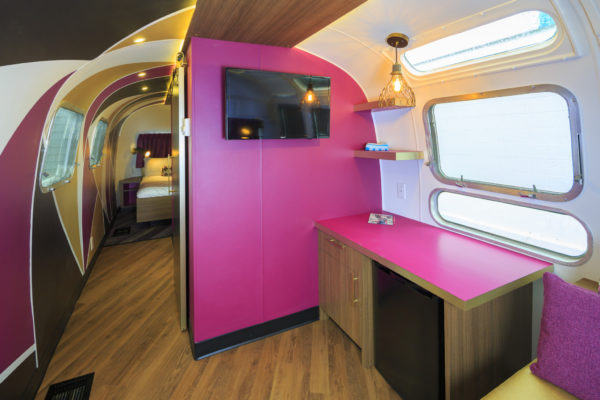 "The Zedstream is for any traveller who is playful, adventurous and seeking an out-of-the-ordinary travel experience," said Farmer. "So many hotel rooms are static, uniform and uninspired. The Zedstream challenges this expectation by transforming a standard experience into one that's cheeky, memorable and fully integrates into the holiday fun."
The Zedstream can hold up to four guests at one time. For more information or to book, click here.
About Hotel Zed
We're a ridiculously fun and eclectic hotel in Victoria, Canada that is so awesome your mind will be blown. We've got bold colors, retro style and modern technology. Plus, typewriters, record players, comic books, a Ping Pong lounge, Wii stations and the coolest '67 VW shuttle bus. Our laidback lobby lets you make friends with others or connect with your own inner Zed. We are rebels against the ordinary! Doors thrown open in 2014 by Mandy Farmer, one of Profit's Top100 Canadian Women Entrepreneurs, aka President/CEO of Accent Inns – Greater Victoria Chamber of Commerce's 2014 Employer of the Year and BC Business magazine's 5th Best Company To Work For in 2011.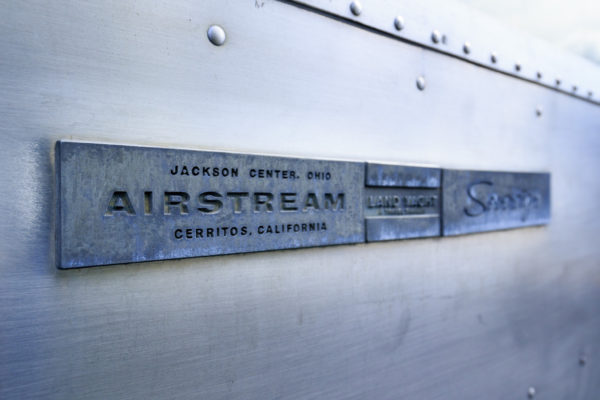 Zedstream Fact Sheet
What the heck is this? Hotel Zed's brand-new Zedstream!
Which is… A completely retrofitted vintage Airstream trailer. And yes, you can stay there! Location In the backyard of the Hotel Zed Victoria (3110 Douglas Street)
Opening date June 1, 2017
What's so great about staying in a trailer? The Zedstream isn't just any trailer. It offers a private, hotel-like experience in a distinctly camp-like environment. Lush landscaping and greenery is right outside the door. And don't even get us started on that patio…
So what do I get while staying in the Zedstream? All the amenities offered by Hotel Zed, plus the privacy of a standalone hotel-like space with a sprawling outdoor deck (complete with hammock, rocking chairs, Adirondacks and patio umbrella). Inside, you'll find a 40-inch LED TV in the living room and 32-inch LED TV in the bedroom, nostalgic touches like a rotary phone and welcome comic book, a full bathroom, plenty of room for four people to sleep comfortably, and more.
How much? Rates start from $179
Neat! What else can you tell me? For all you data-loving types, here's a rundown of Zedstream by the numbers:
224 Square footage of the trailer
140 Square footage of the outdoor deck
4 Total number of guests the Zedstream can comfortably hold at one time
11 Months it took to transform the Airstream into the Zedstream
0 Names considered before landing on "Zedstream" (it never told us that wasn't its name!)I'm sold! Where do I book? www.hotelzed.com/zedstream
I want to share this! Thanks! Our Twitter and Instagram handle is @thehotelzed.The Zedstream hashtag is #Zedstream.