Move over Tofino there's a fresh and renewed Resort in town that offers the traveller the best of the West Coast experience. Your vacation can be a personalized, all inclusive package; tailored to your specific wants and needs at the Tofino Resort and Marina.
The Tofino Resort and Marina sits solidly in the middle range making it an affordable choice for singles, couples, families, and groups. There are 62 rooms, The Sitka building has king suites and the Hemlock building has Queen suites.  High season rates range from $239 – $359 depending on category and room location. Each suite has either an expansive balcony or a patio.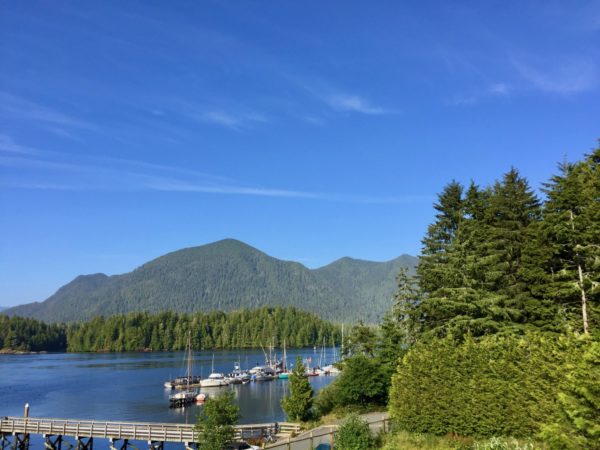 "As you wind through Pacific Rim Park to downtown Tofino's revitalized landmark and gateway to the water you will find the Tofino Resort + Marina, boasting 63 totally renovated rooms overlooking the Clayoquot Sound UNESCO Biosphere Reserve."
A full service facility the Tofino Resort and Marina offers a Guest Service Team that is available 24 hours a day to help you choose, plan, and book your very own West Coast experience. You can choose from a Clayoquot Sound Hot Springs excursion, Bear Watching, Whale Watching, Fishing, Surfing, Paddle Boarding, and Kayaking. All the services can be tailored to your individual needs. The Guides are highly qualified and experienced. Team members will help you choose the best options whether you're an avid fisher or a novice first timer. Everything is provided to make your excursion the ultimate adventure.
"The water is waiting for you with the Adventure Centre. Step outside your room, and book your next adventure on the water or into the tall trees from our very own adventure centre and marina. Ride the surf, cast your line, or catch a glimpse of killer whales tail-slapping and bears foraging the beach as Tofino's swells are beckoning. The world renowned Pacific Rim National Park is at your doorstep and provides opportunities for hiking, strolling, biking, surfing, or just viewing the outstanding beauty of the area."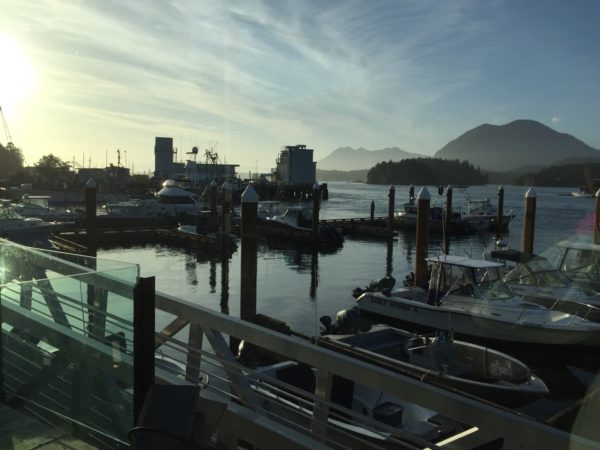 Tofino is very bike and walk friendly with a designated bike/walk lane to make exploring safe for all members of the family and for experienced and inexperienced cyclists alike. You will find lots to do close by the Tofino Resort and Marina including local coffee bars, souvenir shops and the quaint downtown with numerous restaurants and activity centres. The town of Ucluelet is about 30 km away and offers more to explore including the Wild Pacific Trail and an Aquarium.
Dining at the Tofino Resort and Marina has something for everyone with over 300 seats comprising a casual pub style restaurant – The Hatch – with an extensive menu that ranges from House Cut Fries and Poutine to Nachos; a number of fresh local Salads with options to add Sockeye Salmon, Chicken Breast or Albacore Tuna; Panko Ling Cod, Pita Wraps and Burgers; and of course authentic Wood Fired Pizzas. The Hatch is open 11 am – 12 am, 1909 is open for breakfast 7 am – 11 am,  and Dinner 5 pm -10 pm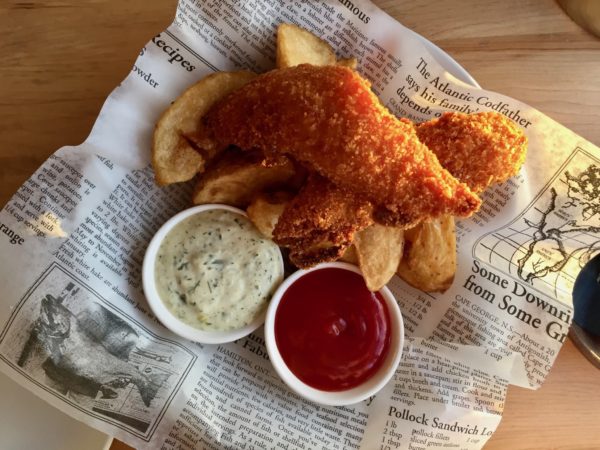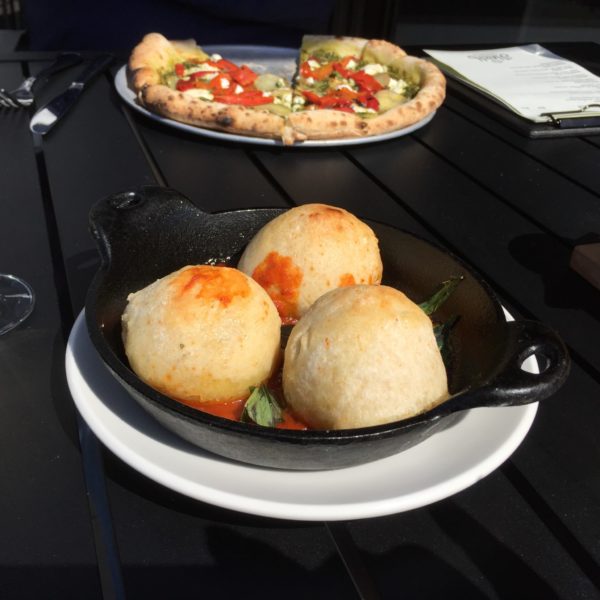 For those in between meal times when you want a beverage and a snack The Hatch offers an every changing "Low Tide" happy hour menu with House Pilsner, Wines and Feature Cocktail to enjoy with Bacon Wrapped Mac & Cheese (a favourite); Guacamole & Tortilla Chips; House Made Falafel Bites; Mini Panko Fish & Chips or Margherita Bites all at happy hour prices from 3 to 5 pm daily. In the planning stages – Caesar Sundays on the patio. For beers on tap or a late night nightcap, and the best view in the house, the Upper Hatch is now open.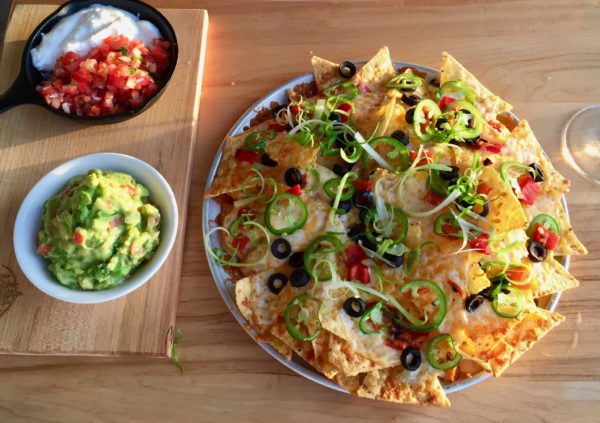 Open for Breakfast and Dinner 1909 Kitchen is an alternative to the more casual Hatch. If you're looking for Fine Dining with incredible views then 1909 with its west coast casual, yet upscale vibe ticks all the boxes.
The domain of award winning Executive Chef Paul Moran. Moran formerly of West Restaurant, Vancouver; The Outpost at West Coast Fishing Club, Haida G'wai; K2 Heli Ski Lodge, Nakusp; and numerous international locales Moran brings his expertise to fine dining that is comfortable with a casual air that suits the incredible natural setting.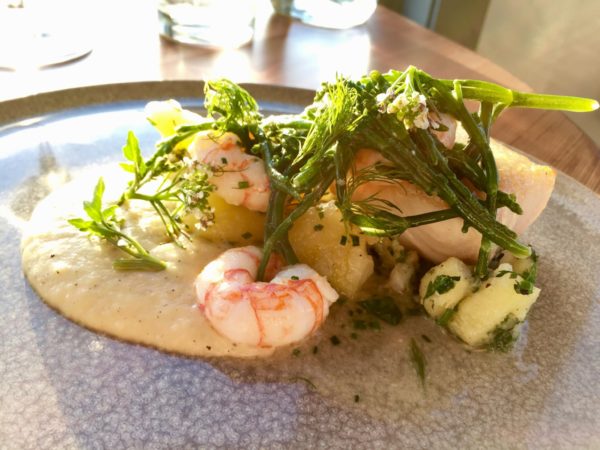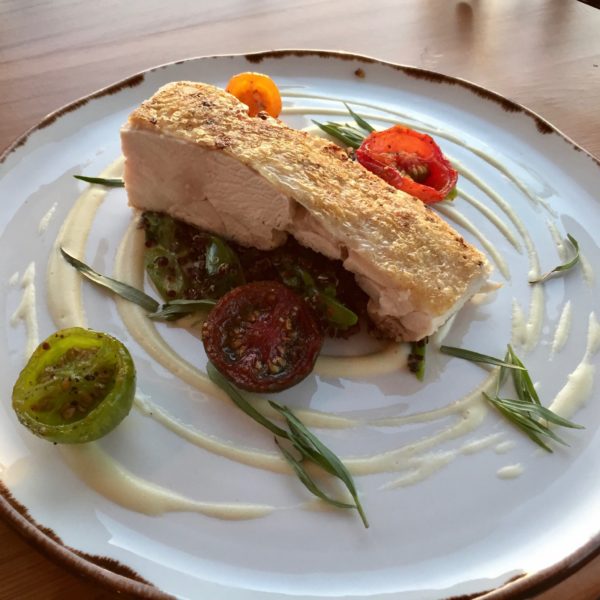 From exquisitely prepared Share Platters featuring an Assortment of Local Seafood; Small Shared Plates of Fire Baked Bread, Aged Proscuitto, Cheeses, Greens, Oysters on the Half Shell, and Albacore Tataki; a variety Wood Fired Pizzas; and Large Share Plates featuring mains of Pasta, Local Wild Sockeye Salmon, Steak, Ling Cod, and Boneless Crispy Skin Chicken.
Every need and wish is met at this veritable full service West Coast resort that lives up to its own challenge – "Inspired by Nature".