MyVanCity.ca is sharing 15 days of Cocktail Recipes for the Dr. Peter AIDS Foundation Pride Crawl Fundraiser taking place at 45 Cocktail Bars and Lounges in Vancouver July 14 – August 6
Bars and restaurants across Vancouver will stand proud and pledge their support to the Dr. Peter AIDS Foundation this July and August by taking part in the inaugural Pride Crawl Fundraiser to generate financial support for the Dr. Peter Centre in the city's West End.
Divine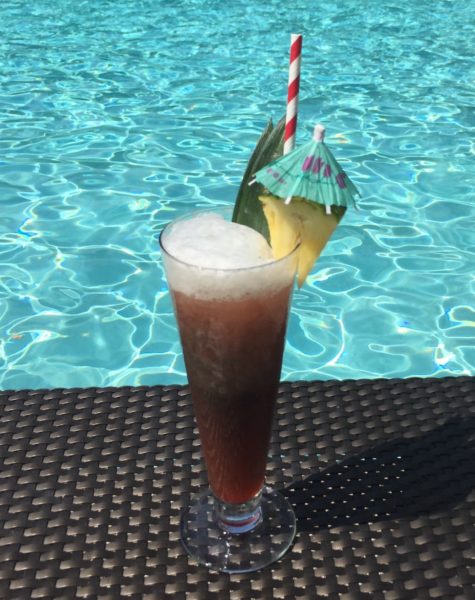 RECIPE
Pour .25oz of Bols Blue into bottom of a pilsner glass. Add crushed ice nearly to top. Layer Hurricane over top of Bols Blue and then top with Pina Colada Foam. Garnish with 3 Pineapple leaves, Pineapple & Cherry Flag and a brightly coloured straw.
Hurricane – Add to mixing tin 2.5 oz J Wray White Rum, 2 oz of Fassionola Syrup, 1.5 oz of lemon juice and 1 full dash of Ms Better Pineapple Anise Bitters. Shake with cubed ice.
Pina Colada Foam – Add to ISI Canister 1 can of coconut milk, 6 ounces pineapple juice, 2 ounces of J Wray White Rum, 1 full dasher of Ms Better Pineapple Star Anise bitters. Charge with N02 Canister and shake hard to combine.
Description: The New York Times said of Milstead's 1980s films: "Those who could get past the unremitting weirdness of Divine's performance discovered that the actor/actress had genuine talent, including a natural sense of comic timing and an uncanny gift for slapstick." This cocktail is homage to Harris Glenn Milstead better known as the famous drag queen Divine.  It is a combination of three notorious tiki drinks Blue Hawaii, Hurricane and Pina colada all combining to form an outrageous performance similar to Divine's body of work.
Restaurant: H2 Rotisserie & Bar
Created by: Dylan Williams
Cocktail Name: Divine
Price: $15 ($3 donation)
Social: @h2restaurant (IG, FB, Twitter)
Website: http://h2restaurant.com/