On September 24th, 2017, Reconciliation Canada and the City of Vancouver are hosting the Walk for Reconciliation and the Reconciliation Expo, the third signature event for Canada 150+.   In 2013, Reconciliation Canada hosted the first Walk for Reconciliation, bringing 70,000 people together for the first event of its kind. We are hoping for another big response this year.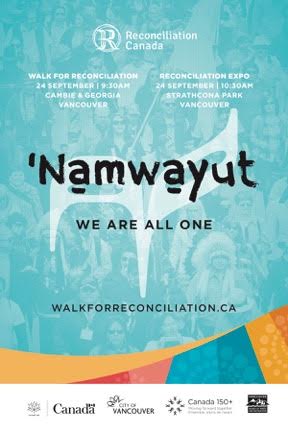 The 2017 Walk for Reconciliation is an event for people of all ages, backgrounds, cultures and faiths, and Reconciliation Canada is inviting all peoples to participate in the reconciliation movement bringing together tens-of-thousands of people in a shared commitment towards reconciliation and revitalized relationships among Indigenous peoples and all Canadians.
The walk marshalling will begin at 9 am at the Queen Elizabeth Plaza on the corner of West Georgia and Cambie.   At 9:30 am the 2 km walk will begin and follow a route across the Georgia Viaduct and end in Strathcona Park. Following the Walk, participants will experience the Reconciliation Expo, from 10:30 am – 3 pm full of activities and entertainment highlighting the unique contributions of individuals from all backgrounds towards reconciliation in Canada.
The expo will feature interactive activities, art exhibitions, community booths, educational experiences and food trucks. Attendees will be inspired by a lineup of high-profile speakers and the honouring and blanketing of special guests who have contributed to the reconciliation efforts in the community.
In partnership with Reconciliation Canada and the legacy of the inspirational Chief Dr. Robert Joseph, O.B.C., the walk will remind Vancouverites of the healing and transformational power of 'Namwayut — We Are All One.
Canada 150+ is grounded in community consultation, direction from Vancouver's Urban Aboriginal Peoples Advisory Committee (UAPAC), and permission from Vancouver's three Host Nations: The Musqueam Nation, The Squamish Nation and Tsleil-Waututh Nation.
For more information visit – www.walkforreconciliation.ca