La Quercia Warms Up Room and Refreshes Menu After Nearly Ten Years on West Fourth Avenue
Authentic Italian Menu Offers More Choices for Diners
Karin Lazzaris and Adam Pegg have reopened La Quercia after a brief closure for a room and menu refresh. You'll still find this Italian spot cozy and classic, but now with a more extensive offering of fresh pasta and risottos, along with classic starters and mains.
Over the years the team has found diners have become more educated, and many restaurants have switched to family-style dining service, a choice that was once rather unique. As a result, La Quercia is now offering family-style tables of seven or more and suggests that larger tables might care to sit in their adjacent wine bar, L'ufficio.
Printed menus are now circulated, listing a larger selection of primi (pasta, risotto and gnocchi). The menu is inspired by the Italian Chefs that Pegg worked within Italy, where premium quality ingredients are most important. There are many options for vegetarians, and a few different mains offered depending on the season and availability of produce, meat and seafood.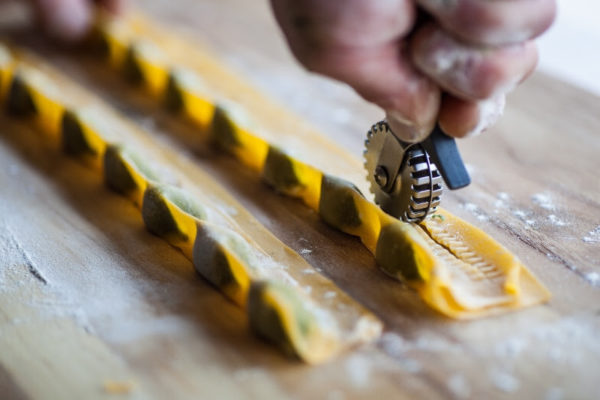 La Quercia continues to source as locally and organically as possible and works with suppliers to bring the best of the season to the table. Chef Pegg's sister, Lauren Pegg, farms the lamb that La Quercia frequently serves and the ducks comes from the Fraser Valley's Lowstock Farm. Summer is the only time fresh tomatoes appear on the menu when Stony Paradise can supply them uber-fresh and Hannah Brook Farm supplies fresh vegetable year-round. Pegg relies on Mikuni Wild Harvest to bring in foraged truffles and mushrooms, the restaurants own garden supplies a good deal of the seasonal vegetables, and honey comes from the on-site hives.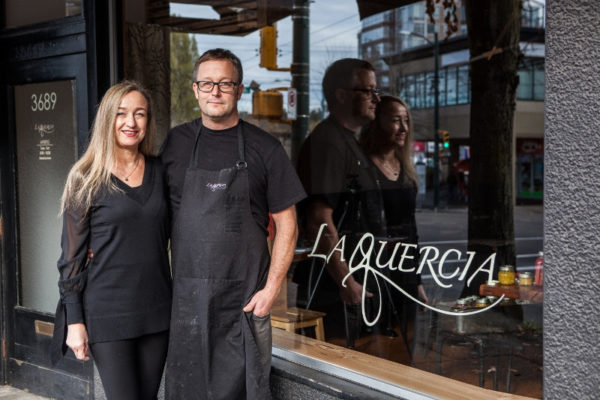 About the Owners
Chef Adam Pegg graduated culinary school at Vancouver Island's Camuson College in 1991, and worked at Victoria's Herald Street Caffe and Il Terrazzo before he was urged to journey to stage in Italy by his mentor, Chef Daniele Mereu. Pegg attended the Italian Slow Food School where he earned the Master of Italian Gastronomy, the first to do so in Canada. La Quercia hand crafted pasta using century old techniques Pegg learned throughout Italy while cooking with well-known Italian chefs such as Ugo Alciati in Piedmont, and Fiorenzo Varesco and Gianni Chiocchetti in Trentino.
Lazzaris' family had been in the hotel and restaurant business for decades and she started in the business at a very young age, growing up with an ingrained passion for authentic food experiences and expertise in the wine as she continued to work her way up in restaurants. Journeying to Canada she runs the operations, front of house, and wine program at the La Quercia.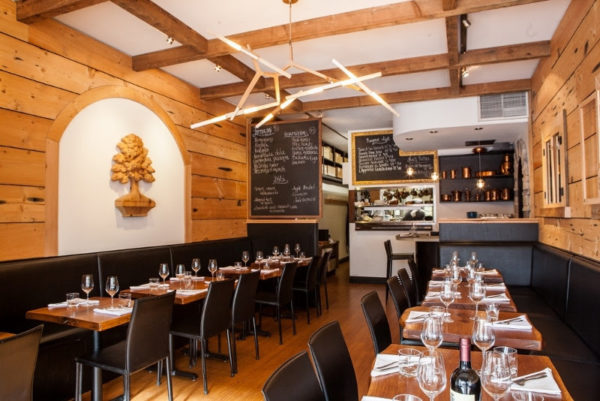 About La Quercia
Located at 3689 West 4th Avenue in Vancouver, BC, La Quercia opened in 2008 is focused on Italian cooking, simple classics produced with top quality ingredients. Working with local suppliers whenever possible, the menu is constantly changing to reflect the seasons. Family-style dining is available to tables of seven or more, antipasti, primi and secondi are available at Lat Quercia and L'ufficio. The wine list is strictly Italian, as is most of the cocktail list.
Reservations can be made on line at http://laquercia.ca and for special requests, and inquiries call the restaurant at 604 676 1007.