'Cashew on the Flip-side'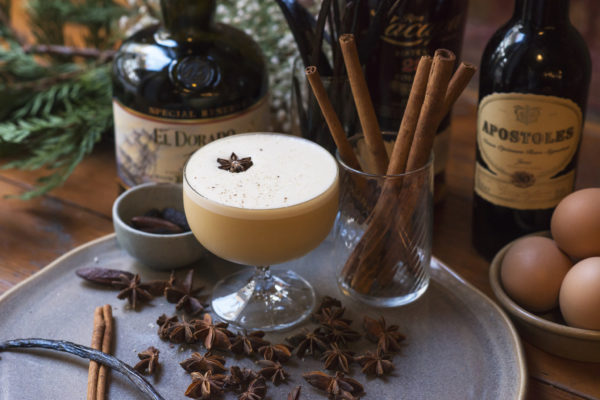 A Unique twist on the classic rum-and-eggnog, Wildebeest's 'Cashew on the Flip-side' offers a cheeky mix offers a mix of rum, dessert wine, cashew milk, whole egg and house-made winter spice syrup. Shaken with egg to create a frothy consistency and finished with a grating of tonka bean, the creamy concoction is the perfect Christmastime tipple to enjoy during the Yuletide season.
INGREDIENTS:
30 ml El Dorado 15-yr rum
15 ml Ron Zacapa 23-yr rum
15 ml Apostoles 30 Jerez Sherry
30 ml Cashew Milk
1 whole egg
15 ml Winter Spice Syrup*
*Winter Spice Syrup
Slice and scrape the seeds from one vanilla pod into a small sauce pot with two cinnamon sticks and five star anise.
Add 500 grams of sugar (white is fine but Demerara is better) and 500 ml water.
Slowly bring to a boil then reduce heat and cook for 15 minutes.
Remove from heat and cover.
Let cool for 30 minutes then strain out the spent spices.
Refrigerate in an airtight container (the syrup will keep for a couple months).
METHOD
Combine all ingredients in a cocktail shaker.
Dry shake without ice to emulsify the egg.
Add lots of ice to the cocktail tin and shake vigorously for 20 seconds.
Fine strain into a chilled cocktail glass and grate some tonka bean with a micro plane to garnish (if you don't have tonka bean, use cinnamon).
Will Ford
Bartender, Wildebeest
Twitter: @wildebeestYVR
Instagram: @wildebeestyvr
Facebook: /wildebeestyvr
Web: http://wildebeest.ca
Photo credit: Jonathan Norton