Do you enjoy being scared?  Are you unafraid to be turned topsy turvy on rides?  Enjoy eating greasy carnival food?  Then you have found the right place.  Fright Nights at the PNE/Playland.  I attended on unlucky Friday, October 13th which was apt.  The entrance was shrouded in tombs and scary lighting.  The fun begins right at the front door!  Upon entering my friend and I was chased by zombies and ghouls with blood all over them traipsing about the grounds.  Someone literally breathed over my shoulder as I got my first fright.  A creepy clown in full makeup chased us around for a bit to our delight.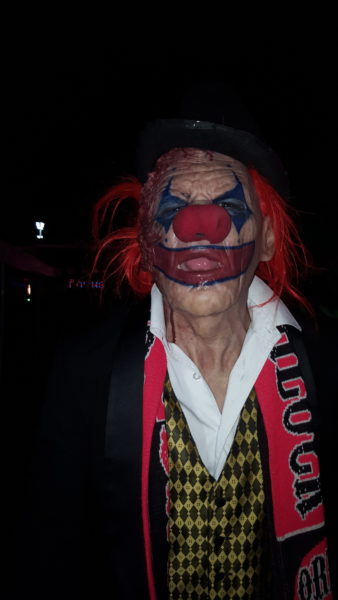 The first ride we went on was the Wave Swinger.  This ride was imported from Germany and has been there for a number of years.  It reaches speeds up to 30mph.  It spins in circles and allows you a 360 degree view of the grounds.  Next was the old wooden Roller Coaster.  Which creaked around every curve sending you flying through the air before dropping down at up to 45mph.  It is Playland's most historic coaster.  The extra scariness is in the jerky movements.  A hair raising ride!  We then tried The Beast which is the first one of its type to North America. It has a rotating pendulum which swings you 120 degrees in either direction and heights over 12 stories high. Not for the faint of heart.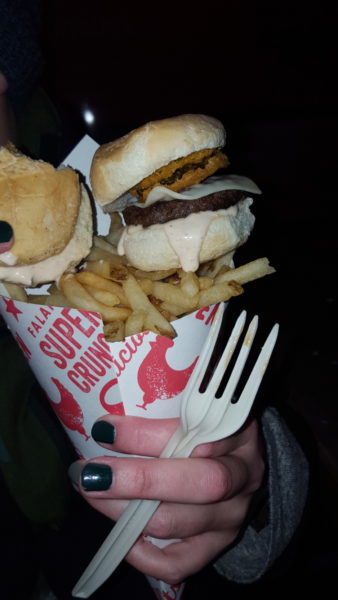 After our experience with these rides, we stopped for some food to eat.  I had a poutine that came in a cone filled with fries and smothered in gravy and cheese curds.  My friend had a cone with fries as well along with two mini burgers.  These bites were perfectly greasy without leaving you too queasy to get back at it.  No complaints.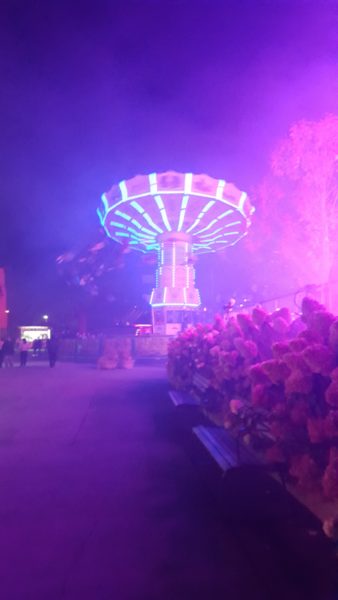 We then decided to hit up a haunted house called Darkness.  This was by far the scariest one I'd ever been in.  The entrance was shrouded in green lighting and a smoky fog.  There was a huge skeleton leaning over the edge.  Unfortunately, we weren't allowed to take any pictures so you will have to rely upon my depiction.  Going in, clutching arms, we made our way.  Immediately a creature screamed out at us from the darkness and scared the daylights out of me.  There was an uneven steel bridge to walk on and I, being curious, pulled back a dark velvet curtain, to be stunned again by a ghost.  There were skeletons and dead bodies everywhere along with ghostly chuckling and acoustics.  The makeup and costumes were amazing!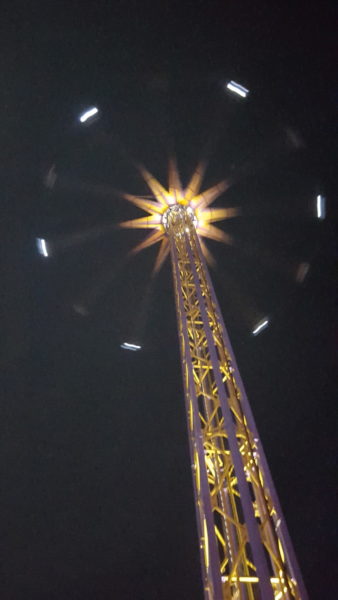 Time for another ride.  The Breakdance.  Lots of lights and music make this ride.  16 cars spin around in circles and nearly bang into each other while swirling at a crazy speed.  The sounds and the movement were hypnotic.  We then boarded the Pirate Ship.  This is an oldie but a goodie.  It's been around since 1984.  It effortlessly swings back and forth making you hang at great heights, suspended, before dropping you mercilessly down.  Next up, Crazy Beach Party.  You spin in a circle much like what this ride is also known for, a frisbee.  Off to the Enterprise, which is popular in many carnivals, and has been in Playland since 1984, You are attached to a rotating arm that gradually circles into an upside down position as the car moves side to side. This one is a favourite of mine.  The last one of the night was Atmosfear.  This is a great ride because you get to sit on a swing next to someone while spinning 360 degrees at 70km/hr up to 218 ft  in the sky.  The city is splayed out before you and the Lower Mainland lights glow in the near distance.  It's dizzying and beautiful all at the same time.  Last stop for some delicious hot mini donuts, sprinkled with cinnamon and sugar.  They melted in your mouth.  My mother would buy these when I was a child as a treat.  The nostalgia immediately came back.  Although, I would recommend letting them cool down a bit first before munching them down.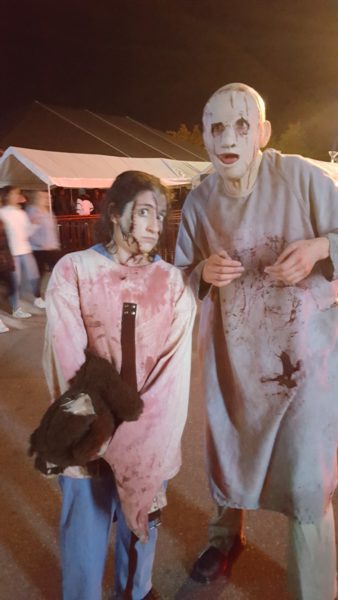 All in all, we were full to the brim with our creepy whirlwind tour.  It truly was a scary frightening night!
Be warned that there are many lineups so you might not be able to experience every single ride or haunted house.  There is the option of buying a Rapid Pass for an additional $20 which allows you into the 5 top rides quicker than the general pass. You will still need to buy a general pass ranging from $32-$42 depending on the night.  Fright Night is taking place on selected nights from now until October 31.  There are 8 haunted houses and 20 rides.  Parking is not included.  Closing hours are weather permitting.  Tickets must be purchased for a specific night.  They can also be bought at 7-11 stores in the Lower Mainland.   More information is at: frightnights.ca.