Can you imagine the surprise when I got an invitation to sample the latest merlot releases from the prestigious CheckMate winery, only to find out the event was being held in a music store?   Unusual, yes and certainly a first for me. But it didn't take long to see how brilliant it was.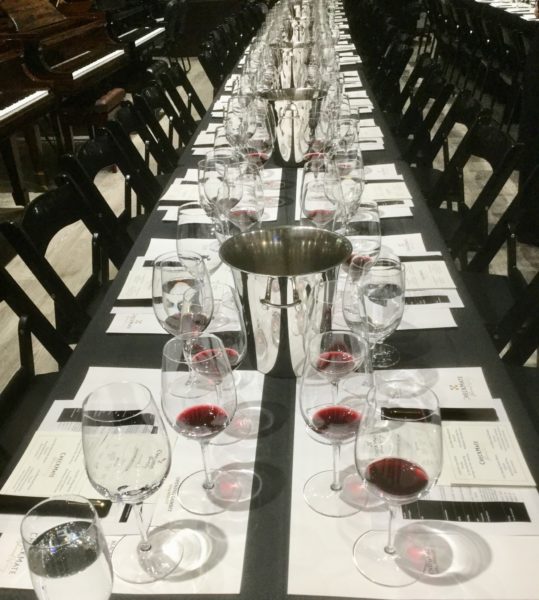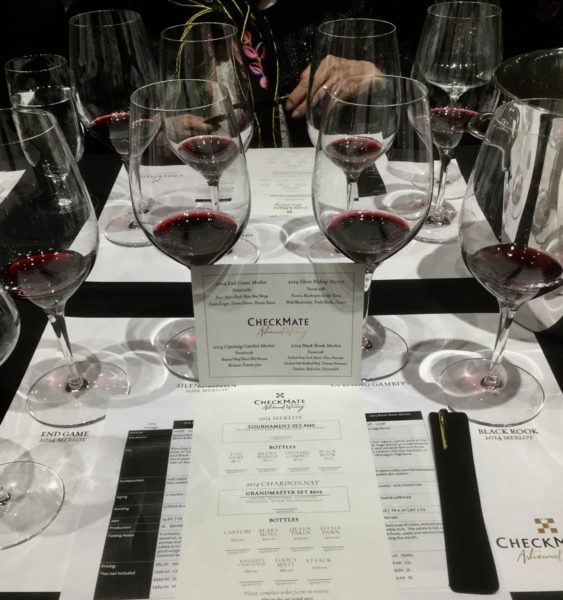 Tom Lee Music on Granville has a very large room devoted to their luxurious Steinway grand piano collection. I walked into the room and was handed a  glass of CheckMate's delicious Capture Chardonnay (more later). Two long rows of tables stretched across the room with four glasses at each setting. Guests were seated and the program soon began.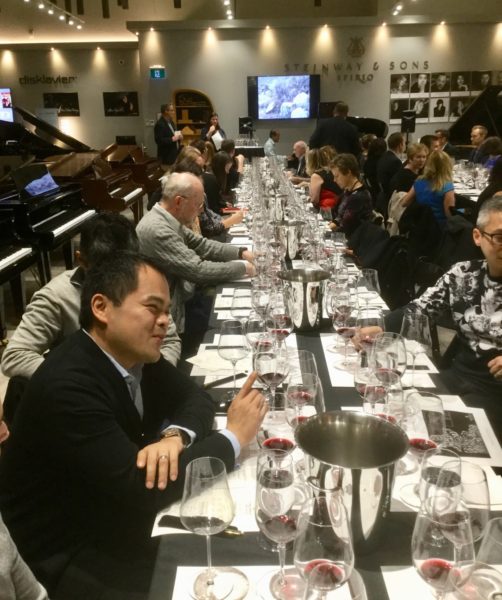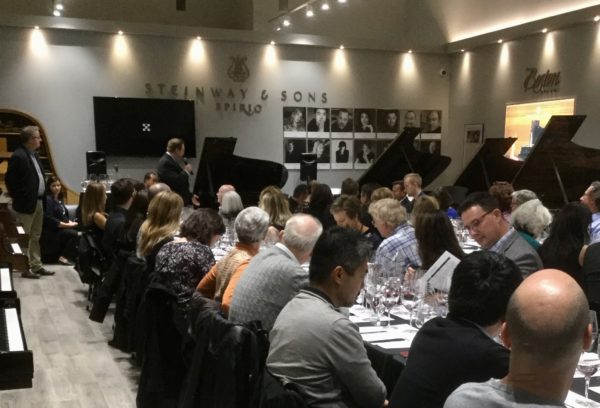 CheckMate's winemaker, Phil McGahan, spoke to the audience, most of whom were already big fans of his wines. He talked about the opportunity that was presented to him when Mission Hill's Anthony von Mandl sought him out for a new project that was going to be launched in the south Okanagan. At the time, Phil had moved from his native Australia to work at Williams Selyem near Santa Rosa California. Anthony convinced him to come to the Okanagan to see the land. Not only was Phil very impressed with what the Okanagan had to offer with its well-established vines, he also realized that the CheckMate project would give him opportunities that working for a large, established winery wouldn't. Anthony, in his wisdom, gave Phil free reign over making the wines in any way he wished with the only stipulation being that he wanted unfiltered, unfined wines and that used as much natural fermentation as possible.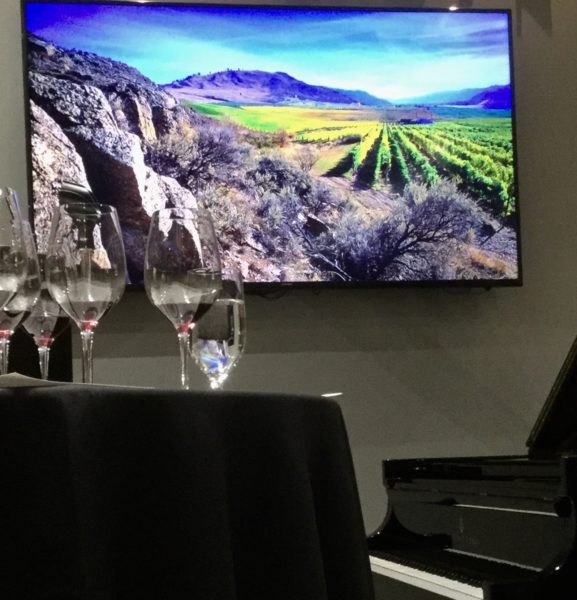 Phil had just finished the 2017 harvest just days prior to his Vancouver visit. He mentioned that things would continue to be busy in the winery until the end of December when the last of the red wine would be finished with their skin contact and fermentation and then pressed. He also expressed thanks to his vineyard and winery crews for their dedication.
Phil stated his three goals for the evening – first, an overview and update of the previous year, secondly, to taste the 2014 merlots and third, to pair the wines with piano pieces chosen by master pianist and wine lover, Ian Parker.
Phil's first two years at CheckMate were rather lonely. He was making wine but not selling any as they matured in barrel. He was busy but he's really busy now that they are selling the wines and travelling for presentations. Then Phil introduced his two assistants for the evening, Natasha Sadowy and Ricki Lee Podolecki, who assist in tastings at the winery. He also mentioned that CheckMate wines are now available coast to coast in one hundred fine dining restaurants. That is an impressive achievement for any winery, but it is an especially amazing accomplishment given that their wines have only been available since early 2016.
Wine writers have been quick to recognize and praise their wines. Anthony Gismondi approached Phil last spring and suggested they do a coast-to-coast tour and benchmark the CheckMate chardonnay wines against international examples of a similar price point. The wines compared very well when tasted against prestigious wines such as Montrachet and finished in top place or very near the top in each case.   In Toronto, noted wine writer Tony Aspler wrote a review describing the 2014 Little Pawn and Queen Taken as being on par with top French white Burgundies.
At another event Anthony organized, held at Vancouver's Hawksworth restaurant for a select group of wine writers and sommeliers, including four Masters of Wine, they compared twelve merlots to the CheckMate 2013 Black Rook, which placed third and ahead of a Petrus (group consensus). The wines that ranked 1st and 2nd were from Pomerol and California respectively.
At the Judgement of BC in 2017, the Black Rook came out on top, based upon the opinion of twenty-three wine judges, both Canadian and International when compared to examples from Bordeaux and Napa. They have also received high praise from Steven Spurrier of Britain's Decanter magazine (95 points), from Wine Spectator (93) and BC's own John Schreiner (96 and approaching 100 points). Phil mentioned that just the previous week, Wine Spectator contacted him saying that 8 of CheckMate's wines scored 90 and above. This is a remarkable achievement for any winery and speaks highly of the quality of their wines. There can be no doubt that CheckMate wines compare favourably with the finest wines from the world's best regions.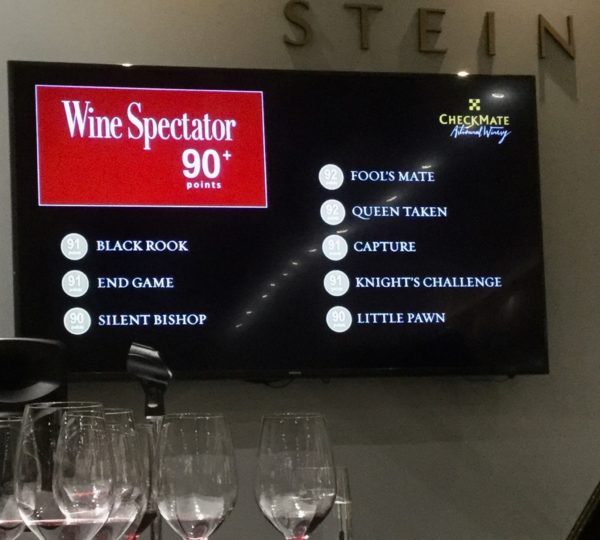 You may well wonder why anyone would make four Merlot wines. These small lot wines are designed to reflect and showcase the unique terroir of each vineyard. These are very much hands-on wines – handpicked and carefully hand sorted. Phil believes in allowing the wines to ferment with wild yeasts, which he believes gives the wine's layers of complexity and makes them stand out from others. There is minimal intervention in the winery with the wine being moved from tank to barrel by gravity rather than being pumped. Almost two years later, the wines are bottled unfiltered and unfined.
Then it was time to move on to canapés, merlot and music.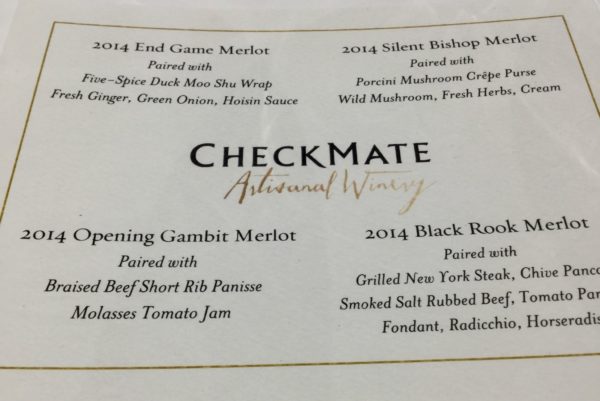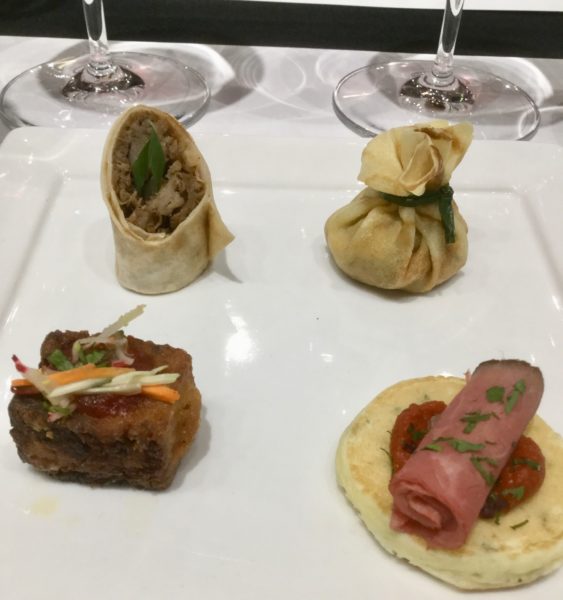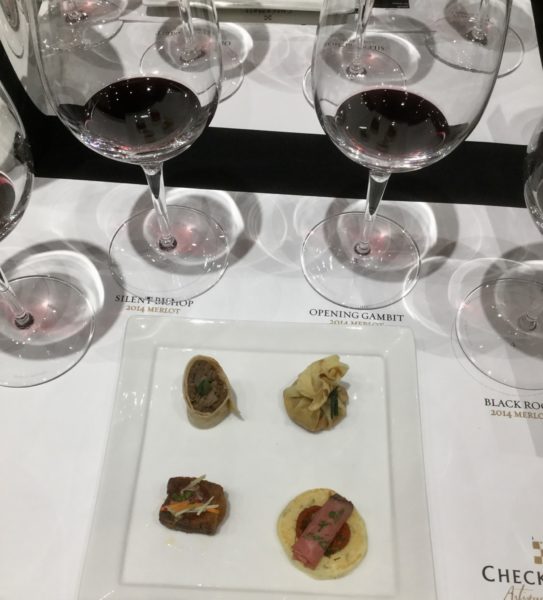 Capture Chardonnay 2014 (which we were served upon arriving)
This welcoming wine was very impressive from the initial greeting. An elegant and layered nose with tangerine notes, well balanced, Flavours of delicate stone fruit, spice and minerality to add complexity, a long lingering finish with flavours intensifying (always the sign of a superior wine). The wine spent 16 months in French oak, 49% of which was new.
The fruit came from the Border Vista Vineyard on the Osoyoos East Bench, noted for its sandy soils. Only six barrels were produced.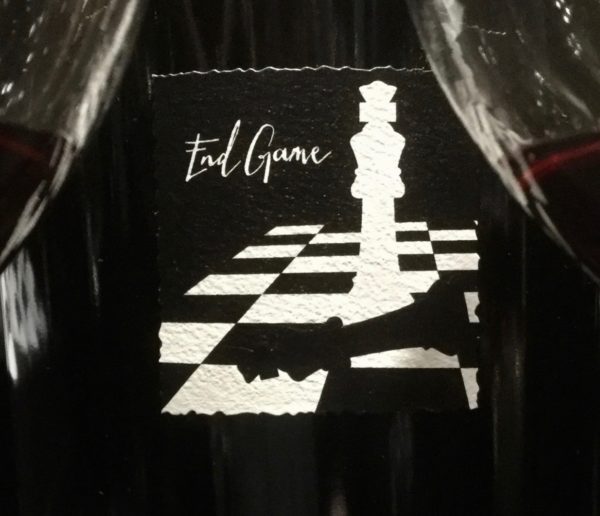 2014 End Game Merlot
A blend of vineyards from the east side of the valley. Both are their southern most vineyards. Grapes from the Black Sage Bench vineyard feature dark fruit, spice, cola and savoury notes. The Osoyoos Lake Bench vineyard sits right along the US border. These grapes impart spice and earth. The wine shows a cherry nose with savoury notes along with bramble and vanilla, creamy entry and spicy. A little young at this stage, the wine 21 months in new French oak. Only sixteen barrels were made.
Paired with Rhapsody in Blue
I have to admit, nosing the wine while listening to live music added a lot to the whole experience. What a great idea for a tasting.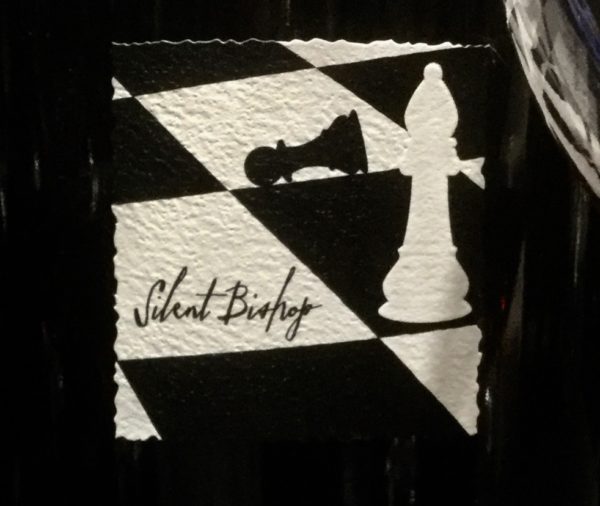 2014 Silent Bishop
The fruit for this wine comes from the cooler, western side of the valley. A blend of three vineyards – Oliver North (sandy loam, savoury notes), Golden Mile (gravel and clay soils, provides the backbone of the wine) and Osoyoos West (sandy soils, red fruit). This blend of sites helps to create a complex wine. The wine shows floral notes, blackberry, bramble, raspberry, tobacco and spice. It has a bigger body and depth, bright on the palate and a lingering finish. This wine kept evolving. Later I noticed fresh cream on the nose. It is a reflective/philosophical wine.
Twenty-four barrels produced.
Paired with Debussy's Claire de Lune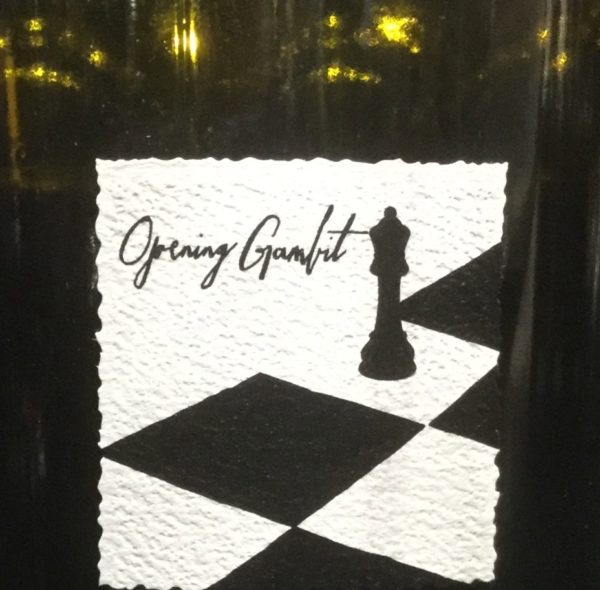 2014 Opening Gambit
From the Osoyoos East Bench. This is a steep site on the side of a mountain and along the border. Produces classic Old World style wines. Cherry, raspberry, black currant and boysenberry. This is the big brother of the first wine, End Game. It is a wine of restraint – deeper and richer. This keeper is very age worthy.
Twenty-three barrels made.
Paired with Chopin's Harp Etude in A flat Minor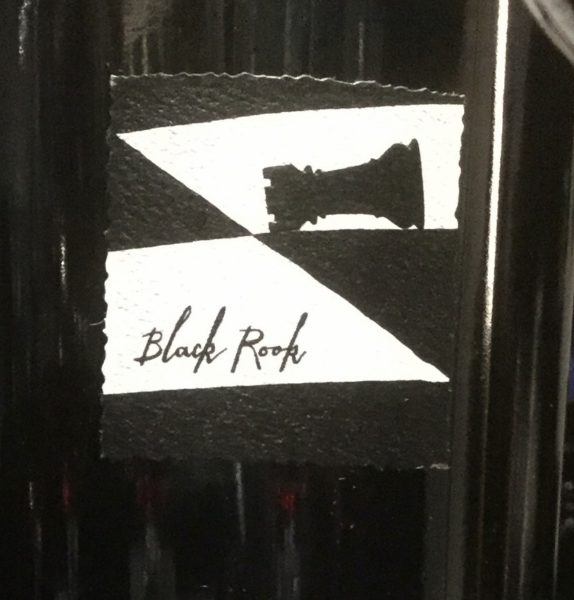 2014 Black Rook
The grapes for this wine came from the Black Sage Bench vineyard, just across the road from Black Hills Winery. It is known for sandy soils, low vigour and yield and small intense berries. The wine spent 55 days on the skins. Interesting spice not upon opening followed by liquorice, bramble and hints of rose petals. It is very age worthy, though still a little austere at this point.
Only seventeen barrels produced.
Paired with Schumann's The Smuggler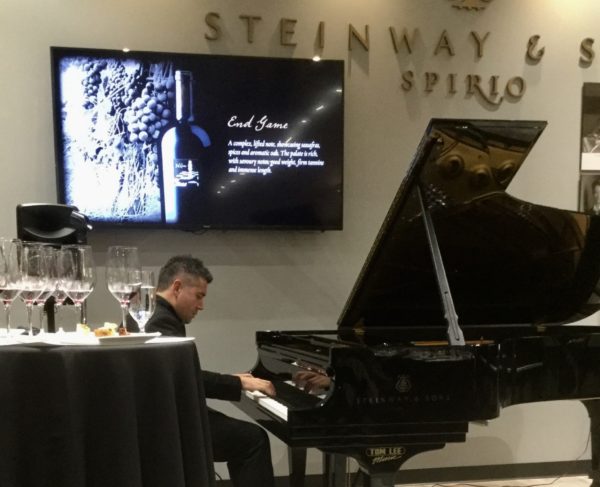 This was an amazing, unique evening. I have never been to a wine tasting that was anything like this one. Enjoying the 2014 merlots paired with pieces played by virtuoso Ian Parker on a Steinway grand piano was a singular experience. Tasting through the wines was a great example of how amazing grapes are; different patches of dirt equals wines of different character, flavours and aromas. My favourite? Tough call. That's like asking which child is your favourite, but if pushed into a corner, I'd have to say I did have a slight preference for the Silent Bishop.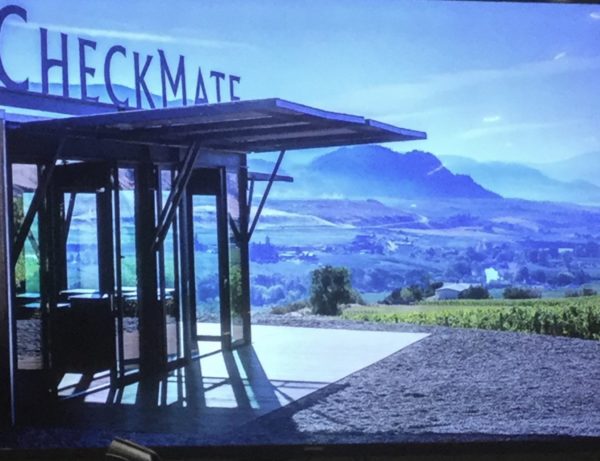 CheckMate has developed a loyal following of chardonnay and merlot lovers. If you are touring the southern Okanagan, be sure to stop by their impressive Installation tasting room, a specially designed, all-glass facility and do a tasting of their wines. They offer 4 chardonnays and 2 merlot wines Tastings for $30 or you can pick 4 of your choice of Tastings for $20.   Whichever option you choose, believe me, it will be well worth it.