There was a time, not so long ago, when brandy was a drink that was enjoyed en-mass as an after-meal drink, as part of a cocktail, or warmed gently to take the chill off. Cognac was slightly more expensive but not egregiously so and one might, as well, find a bottle of Armagnac on a friend's side-table… the Armagnac tending to be a middle-ground of (generally) superior quality to most brandies and less expensive than most Cognac.
This time is generally framed as anything before the 1990's when rap megastars and the Asian market turned French brandy and most especially Cognac into a status symbol and prices skyrocketed accordingly. Not that one can fault the producers; businesses have been creating prices based off the law of "supply and demand" since Eve first tempted Adam with an apple and the snake saw the potential profit margin.
Yes it's important that one mustn't think poorly of the Cognac producers; they've been challenged for centuries with crippling taxes, frigid winters, pests, wars… in fact, it's a miracle that we have brandy production from France at all when one looks at it this way. But my readers know me and know that I love a good deal; at least when the good deal means I get the same quality or better for the same price or less.
Here's where Spanish brandy enters the conversation.
And here's where the snooty audience raise an eyebrow, just one eyebrow, in silent question.
"Spanish brandy? Really?"
O ye of little faith…
Familia Torres have been grape-growers in Spain since the 18th century and have been working under their eponymous labelled winery since 1870. To put this into perspective; 1870 is just a few short years after Hennessey first started labelling their bottles.
Here is a winery that has won accolade after accolade not only in its native Spain, and throughout Europe, but across the globe. And let's be clear on this point: all brandy first starts as wine! Any flaws in a wine will be amplified by the process of distillation; poor wine becomes very poor brandy and good wine can become great brandy.
Familia Torres produces exceptional brandies.
But good enough to challenge mighty Cognac you ask? How about earning "Best Brandy in the World" not once but twice in less than 10 years? This is without bringing into the equation being named "Best Spanish Brandy in the World", "Best Solera Brandy in the World", "Best Selling Spanish Brandy in the World" and a whole slew of gold and double-gold medals.
Nope: comparing apples to apples and oranges to oranges, when Familia Torres put their brandies against the best of the best, notably the upper-class from Cognac, and the world's top spirit masters came to judge they judged that Torres was second to none. And this is when I drop the second bomb and tell you that, for the most part, their brandies are half the price or less than the same quality from that prestigious region of France.
What was I saying about a good deal?? It's only a good deal when you get the same quality or better for the same price or less and, by this token, Familia Torres doesn't give us a good deal on brandy – it offers an exceptional deal.
*****
Value:
Torres 5 Imperial Brandy "Solera Reserva"
$17+ USD, $25+ CAD, £9+, €8.75+
89+ points, Excellent Value
This is the workhorse of brandies; intended by most consumers to be functional in cocktails, mixed with eggnog and doused on puddings. This is as classic of an "entry-level" eau-du-vie as any I've ever come across. The startling realization is that, were this from the Cognac region of France, this would already be labeled as VSOP or Very Superior Old Pale and would be priced significantly higher (think 250% higher, or more!).
Charismatic aromas of apple & raisin chutney, dried apricot and raw almond. Incredibly smooth palate requiring no addition of water or ice, warms superbly as a hot brandy tea. Aftertaste of baked apple, raisin & hints of spice – to me it's much like Thai chili but I do understand others who call it cinnamon (like a spicy cinnamon candy).
Of note: in Europe this is released at 38% ABV and in North America released at 40% ABV which, I assume, is due in large part to archaic liquor laws in North America. There was a study done by an eastern European chemist who proved categorically that all distillates are smoothest when served at approximately 38% *(if I recall correctly it's 37.8%). Those in doubt of this fact should take their standard spirit at 40% and add just a dram of water and notice how much the aromas open, how the palate softens and becomes richer… it's quite remarkable. Bravo Torres for setting your own standards on how your brandy should be served!
Agents throughout Canada: Pacific Wine and Spirits
Your New "House" Brandy:
Torres 10 Imperial Brandy "Gran Reserva"
$19+ USD, $30+ CAD, £11+, €10+
91+ points, EXCELLENT Value
#1 Spanish brandy in the world (by sales)
Double-Gold at the San Francisco World Spirits Competition
Only 5 years additional age and yet the color of the brandy has evolved from pale amber to teak/aged amber … visually stunning. Aromas are now gaining complexity; the light nuances of summer wildflowers, salt-water toffee, roasted walnut and dried apricot. The palate has also grown in dimension; what is on the nose is in the palate, as with all great wines, but also the length on the palate has developed appreciably. Whilst the 5-year flavors last for 10+ seconds, the 10-year last for 30+ seconds… rich tannin, incredibly smooth this is also superb when served warm.
This is, to me, where the Solera system really starts to show its power. Miguel Torres Carbó created the 10-year Imperial in 1946 as part of his plan to rebuild Torres after the brutal Spanish Civil War which destroyed much of the winery. In the Solera system barrels are stored on top of each other 5 tiers high and each year some, but not all, of the brandy from the bottom is bottled. After this, brandy from the second tier is used to top-up the bottom tier, brandy from the third tier tops up the second tier, etc etc and new brandy fills the very top (5th) tier. In this manner the bottom tier is always gaining complexity and nuance and when a winery/distillery says that they are releasing a 10-year Solera it means that the youngest the brandy will be is 10 years… there is very likely brandy in that barrel 20 or 30 years old, or even older!
Something very special: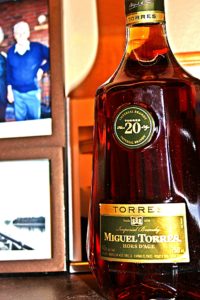 Torres 20 Imperial Brandy "Hors d'Age"
$59+ USD, $71+ CAD, £37.49+, €36+
94+ points, STUNNING
10 gold medals in less than 20 years
2 special awards or medals of distinction
*Best Brandy in the World, 2006 International Wine and Spirits Competition
Hors d'Age means "beyond age"; the finest that any brandy can aspire to. In years this means 30 to 50 years old and, in some cases, even older than that. It is meant to epitomize a level exceeding XO in every facet and, in this, the Torres 20 triumphs.
In the glass it shines like red gold; tones of homemade orange marmalade and toffee. The bouquet has become something delicious all on its own; a synergy of wildflowers, fleur-du-sel, flinty-minerality, apricot tart, grapefruit marmalade, wild herbs… the palate matching with ease and proving that Cognac quality is not limited to the Cognac region. Sinfully smooth, incredibly full concentration, a seductively smooth yet rich tannin structure to round the mouth-feel and the sensation of flavors not only lingering on the palate for 60+ seconds but continuing to evolve even after swallowing. This is brandy ballet.
For the technically minded, who want to know the how's and why's this brandy became the tremendous piece of art that it is:
One of the first Spanish brandies to use both the native varietal Parellada as well as the French/Italian Ugni Blanc
Double-distillation in copper pot stills
Aged in new Limousin oak barrels
Affordable Luxury: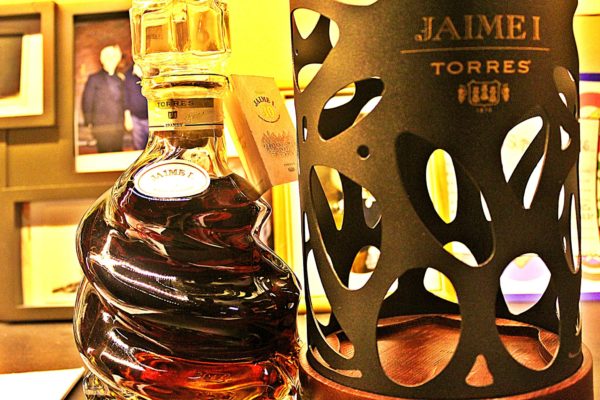 Torres 30 "Jaime I."
$109+ USD, $115+ CAD, £75+, €58+
98+ points, EXEMPLARY in every way
6 gold medals in 2 years
2 double gold medals in 2 years
*Best Brandy (Solera), 2016 World Brandy Awards
*Best Brandy in the World, 2015 World Drinks Awards, theDrinksReport.com
*Best Spanish Brandy, 2015 San Francisco World Spirits Competition
As so many have made mention of, this is named for the founder of Familia Torres: Jaime Torres Vendrell. This particular blend includes a small amount of an ultra-unique Folle Blanche eau-du-vie vintage 1972. This won't mean much to most of you, but to some it may resonate – 1971 was an incredibly difficult summer and winter… the summer just wouldn't heat the way vineyard managers want… the grapes were reluctant to grow and then after a lacklustre summer winter came in like a lion leaving the vines torn like sheep. It was a winter that destroyed life where ever it went; from Fairbanks, Alaska to Montreal, Canada to the plateaus of Spain.
1972 was not the year of greatest abundance ever but after 1971 it was, truly, the summer of love. From one side of the world to the other people gave thanks for the truest joys in life; for warm breezes and cool nights, for life-giving rays of sunshine and refreshing summer rains and even for the winter that came, as all winters do, but came with an air of grace not vengeance.
This is, to this writer's conscience, the finest brandy of any type that I have ever experienced. From the artistry of the bottle, to the vibrant mahogany sheen of the appearance, to the bouquet which – truly – defies words… such a dizzying array of wildflowers, summer peonies and dandelion and marigolds melding with peach cobbler laced with apricot coulis, pear nectar, fleur-du-sel and top-notes almost of Ceylon cinnamon mixed with pink peppercorn. The palate is an absolute luxury; all the notes from the bouquet colliding in synchronicity and playing their parts not in seconds but in minutes – evolving on the palate for a full 90 seconds even after swallowing. It is difficult to imagine that brandy could evolve further.
*****
And so I sit by the fireplace and contemplate the overnight success of Familia Torres which is over 200 years in the making. My wife and my children are asleep, if fitfully after another holiday weekend of too much activity and too much sugar… rain pelts the side of the house robbing everything of warmth and necessitating a fire even though it's not yet dropped below zero. And I can hear my son turning in his dreams, woken perhaps by some phantom…
I imagine it was this way for Jaime Torres Vendrell who first started Familia Torres, and again for Miguel Torres Carbó and for many others who helmed this vessel over the years. Leadership is not an easy task and steering this company from grass-roots to Best Brandy in the World, twice, took many people amazing sacrifice, most of which we will never know about.
In the spirit of this I applaud Familia Torres for their exemplary work and count myself lucky to have been able to share my time with the company and their brandies. My thanks to the many friends and colleagues who supported the writing of this article.  I hope that you make the time to explore these articulate brandies; invite friends/loved ones over, cook some great food, drink some beautiful brandy, smoke a few cigars and create a memorable evening!
As always, I look forward to continuing our conversation:
on Twitter @AStudentofWine
on Facebook @The Chef and The Grape
 Sláinte!