Is there anything more romantic than sharing a glass of wine? I think not. If that glass of wine just happens to be a BC Wine you're on the right track. We at MyVanCity are big fans of BC Wine and we definitely have our #FavouriteThings Wine list to make your Valentine's Day something extra special.
We know your first thought may be all about Bubbles, and BC sure has some top notch Bubbles and Sparkling wines, but the romantic in us is thinking Shades of Red. There are so many Shades of Red from ruby red to rosé so we've chosen a select few that we really love. We want you to think about the passion that is in each glass of BC Wine.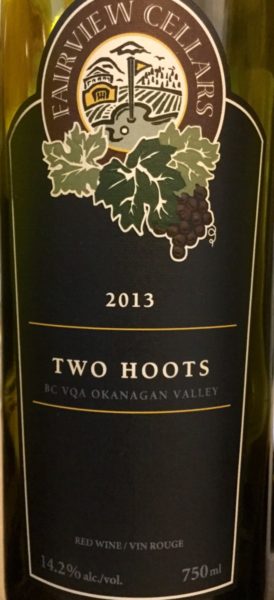 Two Hoots: A Cabernet/Merlot blend specifically produced and priced for daily consumption. (really!)  Although there are many reasons for the name Two Hoots, the main reason is to honor the return every year of the Great-Horned Owls to nest on the Fairview property.  This blend of Cabernet Sauvignon, Merlot and Cabernet Franc is fashioned to make the wine available to drink within 3 years of production yet be able to hold in the bottle for upwards of 10 years.  Of course this varies with vintages.
Two Hoots makes us think of nature and hoots makes us think of Owls, Night Owls in particular. So if you're looking for a wine that comes out at night and lasts till dawn then this is it. Two Hoots is for you.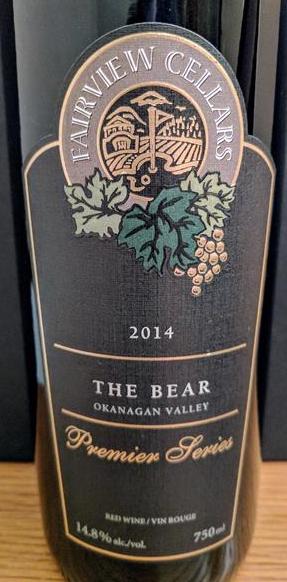 The Bear: Part of the "Premier Series" of wines.  A blend of five of the classic Bordeaux cultivars (Cab. Sauv., Merlot, Cab. Franc, Malbec and Petit Verdot) with Cabernet Sauvignon being at least 50% of the blend, sometimes reaching as high as 75% of the blend in exceptional Cab. years.  The best barrels are always chosen for this wine, with the Cab. Sauv. grapes usually coming from a later picking to add to the complexity.  The wine is stored for longer periods of time in the barrel. (anywhere from 14 to 20 months)  The time "on the skins" is usually longer, again to achieve higher extraction from the skins.
The Bear is brave and a little bit of a hero. The power of this red wine makes us weak in the knees. So if you're looking for bold you'll love The Bear.

2015 Juveniles Pinot Noir is made from Tantalus latest Dijon clone plantings, the Juveniles Pinot Noir was crafted with approachability in mind. A lovely, fruit-forward style Pinot, which expresses the bright and youthful character found in our youngest blocks. A light ruby red in colour – bramble berry pie, violet and a touch of brown sugar envelope the nose. The palate is lifted and juicy with cranberry and wild berry highlighting the red fruit profile of this wine. Bright raspberry and cherry are also present complemented by an undercurrent of mocha from the gentle French oak handling. A vein of minerality offers interest and complexity to the fresh finish.
($21.65 ex. tax)  you should find it at Marquis, Liberty Point Grey, Legacy Wine. (call first) It's all about the Pinots. 
Juveniles Pinot Noir is surely a way to your heart. We had to mention the price point because it's a deal. A perfect match for young love.

Pinot Noir – a beautifully frustrating study in patience, precision and, above all else, trust in the vineyard. We hope you'll see our continued faith in the terroir of our very special site shine through in our latest release. A rich garnet in colour, the nose is bursting with lingonberry, Bing cherry and sweet anise alongside floral notes of crushed rose petal and violet. Ripe raspberry and dark plum emerge on the palate with an intriguing graphite minerality on the finish. All sourced from our single vineyard estate, select Pinot Noir blocks were handpicked and vinified in small lots using entirely wild fermentation.The small batches were then placed into a selection of new and seasoned French oak barriques for 12 months and blended, unfined and unfiltered, just prior to bottling. Although enjoyed in its youth we see this wine aging gracefully over the next 7 to 10 years.
Tantalus 2015 Pinot Noir for the more practised. This will not disappoint those looking for an adventurous daredevil to share their evening with.

2014 Boswell Syrah is a wonderfully complex and intensely flavoured wine reminiscent of the Syrahs grown in the Northern Rhone Valley of France. The glass is filled with aromas of jasmine, ripe black berried fruits, clove, white pepper and smoked meat notes. The palate is smooth, rich and full bodied with a delicious mouthfeel and smoothly polished tannins which linger seductively on the finish. We suggest pairing with an array of grilled red meats, braises, stews and aged hard cheeses.The vineyard where our Syrah is grown is perfect for this varietal, the natural air-conditioning of the Okanagan Lake to cool the ripening grapes each night create a perfect balance in the finished wine. The wine was aged 18 months in French oak and shows great varietal characteristics. Enjoy this wine today or cellar until 2022.
 2014 Boswell Syrah 54.99 – available at the winery and through their website wine store
Boswell Syrah takes some getting to know you time. We describe this syrah as deep and profound maybe even a little intense in it's expression.

2015 Richard's Block Pinot Noir is complex and multi-layered with aromas and flavours of violets, cherry and raspberry fruit, exotic spice, as well as notes of forest floor and earth. The mouthfeel is beautifully structured with polished tannins and a very long finish. We recommend serving this wine at 15°C to fully enjoy your experience. Pair alongside duck, venison, grilled BC salmon and dishes that include beets or wild mushrooms.The 2015 vintage was particularly warm, so picking dates had to be monitored meticulously to ensure the grapes were harvested at the optimal time. This wine is a blend of 4 different world-renowned Dijon clones, 115, 667, 777 and 828. Each block was handpicked and vinified separately in stainless steel tanks using a combination of indigenous and French cultivated yeast strains. After fermentation, the wine was aged in quality French oak barrels for approximately 10 to 11 months with around 30% of the barrels being new. Enjoy now until 2025.
2015 Richard's Block Pinot Noir 54.99 – available at the winery and through their website store.
Richard's Block Pinot Noir denotes experience. If you're after seasoned and skilled this would be the perfect choice.

2015 Estate Pinot Noir  

Pinot Noir 2015 is made from one hundred percent estate grown Pinot Noir grapes. This wine has been aged in French Oak Barrels for 10 months.This medium bodied Pinot Noir has classic flavours and aromas of cherry and spice with a hint of violets. Pinot Noir pairs well with red meats, lamb, duck, salmon and pastas in a light tomato, wine or mushroom sauce.
This wine can be purchased directly from the wineshop, VQA – Save On Foods and select liquor stores. Price: $ 39.04 + taxes
Pinot Noir 2015 oh là là, no innuendo here. An exclamation of surprise with a sauve finish.

2015 Pinot Noiris intensely aromatic, brooding dark fruits intertwine with subtle toasty nuances. A poerful Pinot with a layered complexity of red berries and forest floog leads to a firm yet sensual structured finish. This wine will reward cellaring.
Pinot Noir that is elegant with a lingering finish. An excellent choice for even the most discriminating.

GLOW (ROSÉ) 2016 A great wine starts in the vineyard! A dry and complex rosé, we sourced the wine-making technique from the vineyards surrounding St. Tropez. Pair with a big sun hat and oversized celeb sunglasses. Paparazzi ready!
Glow (Rosé) 2016 gives a nod to the rogue and jaunty wine lover who lives in the moment, a touch both mirthful and vivacious.

Forgotten Hill Pinot Noir our Pinot Noir is entirely estate-grown, on the highest elevation vineyard on the Naramata Bench. Nine-year-old vines stretch deep roots through sandy, gravelly soil, and are sparingly watered, yielding compact clusters brimming with intense flavours. Velvety and decadent, the Pinot Noir exhibits aromas of black cherry and red currant combined with black pepper, clove, juniper, leather & black tea.
Available exclusively at New District. 
Forgotten Hill Pinot Noir at once traditional, a new classic that transcends its rivals in the pursuit of perfection. 

2016 ROSÉ The Pinot Noir component of the Rosé was grown in our family vineyard, on our rough, gravelly soil, with a minimum of irrigation. The Merlot component was grown in Okanagan Falls, in a richer soil. Delicate and elegant in style, with the expected strawberry-rhubarb approach underscored with pink grapefruit, honey, orange blossom and a savoury note of herbes de Provence.
2016 Rosé exhibits traits of it's background. Refined in structure and slightly sumptuous yet rugged in it's nature suggestive of a more sublime finish.
SHIRAZ 2015 VQA OKANAGAN VALLEY
The hot dry summer of 2015 brought the earliest harvest on record for us in the Okanagan Valley. This vintage saw some concerns due to the fires in the area as well as in Washington State. No ill effects were seen from these
events as the smoke came and went in a matter of days, and the Black Sage Vineyard was not impacted. The cool evenings arrived and slowed down the ripening process, allowing the fruit some extra hang time. All in all, 2015 was
an outstanding harvest.
The wine was fermented in open top stainless steel tanks and was manually punched down twice daily for 14 days. The wine went through malolactic fermentation in barrels and was then aged in a selection of French (70%) and
American (30%) oak barrels. After 15 months of aging, it was racked off and filtered before bottling. 100% Shiraz
Lots of dark cherry, baking spices, and a hint of finely ground white pepperon the nose. The palate consists of rich dark fruits, some baking spices, vanilla notes, and an undertone of coffee mocha. The supple tannins and lively acidity both contribute to the long finish on this full bodied wine.
This full bodied wine stands up to big bold flavours, such as prime rib, peppercorn steak, wood-fired pizza and herbed rack of lamb, the classic Shiraz pairing.
We like to think of this one as tall, dark and handsome. A real standup, this one will never let you down.

2016 Rosé *
100% Marquette is used in our Rosé. This red wine grape with the French name is a new world creation that ripens early and is well suited to cooler climates. These small berries with pink pulp provide a nice skin-to-juice ratio and a pretty colour, ideal for our crisp and fresh Rosé.
The 2016 Rosé is intensely aromatic, with gobs of strawberry shortcake, cherry blossom, and rose water. The more savoury palate features flavours of hibiscus and rosehip and is texturally rich, yet elegant and sophisticated.
With aromas of wild strawberries, this one reminds us of a frolic in the summer sunshine and cool nights under the stars. Just a little bit of a sweetie as it gently passes our lips.
* Currently available in these liquor stores:
U District Liquor Store Kamloops
Valleyview Liquor Store Kamloops
Lansdown Liquor Store Kamloops
South Broadway Liquor Store Williams Lake
Maple Ridge Liquor Store
Havana Liquor Store Vancouver BC
Owl Liquor Store Osoyoos
Berezan Liquor Store Kelowna
Clayton Liquor Store Surrey
You can see our #favouritethings bubbly and sparkling wines feature here
Note: Tasting notes and comments in italics from the wineries. Comments in bold are from our Editor, Valerie van der Gracht. Vintages shown are for display purposes only and does not suggest availability.