Celebrated Chocolatier Springs Forth with Basket of Whimsical Signature Treats, Truffle Eggs, Cakes and Exclusive Prizes for Annual Charity Easter Egg Raffle on March 30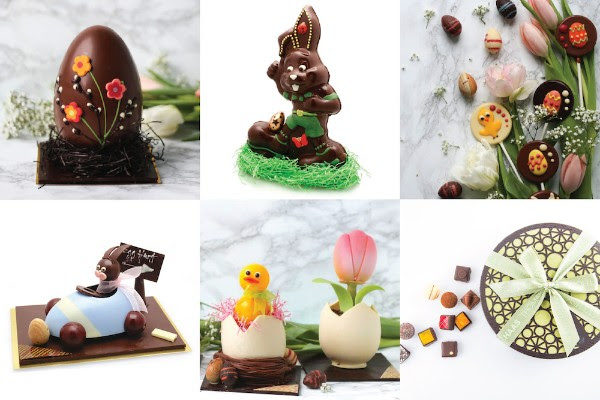 Easter offers another opportunity for fourth-generation chocolatier and pâtissier
Thomas Haas
to give back to the local community, while unveiling his latest lineup of decadent seasonal confections available exclusively at his two
Thomas Haas Chocolates & Pâtisserie
locations.
Using subtle, soft-hued pastels as his inspiration, Haas' Easter collection offers a range of whimsical characters like fan-favourite "Thumper" the animated bunny, starting at $36 and sold by weight; the fast and furious Race Car Roadster, $39; Hen and Chicks, a mother hen with her three chicks, filled with treats and crispy hazelnut praline, $49 and Trio of Chicks, a milk, dark and white chocolate trio decorated with colourful truffle eggs, $29; and the playful Duck or Flower Pot, featuring handcrafted chocolate flower or duck in a delicate chocolate egg shell and adorned with Easter treats, $39.
Fresh from the patisserie, Easter also sees the return of Haas' signature Easter Stollen, a seasonal delicacy fashioned from almonds, Sicilian pistachios and kirsch-soaked organic cherries with a pistachio-almond marzipan centre, $26; a Chocolate Lavender Cassis Cake, an individually sized egg-shaped creation that mingles cassis, blueberry mousse, dark chocolate cream and vanilla shortbread, $6.20; and an Easter Confection Combo pairing chewy caramel chocolates with a delectable shortbread cookie, $9 or $14.
When it comes to egg-themed treats, Haas' carton is overflowing thanks to Truffle Eggs in dark chocolate ganache with caramel and lavender, milk chocolate ganache with yuzu, and lemon-and-thyme-infused white chocolate varieties, single nest $2, triple nest $5.80 or four for $20; a seven-piece Chocolate Easter Nest filled with truffle and gianduja eggs, $29; Surprise Easter Eggsbursting with unique treats and available in three sizes, $19-$49; and Crispy Gianduja Eggs filled with hazelnut crème and puffed rice, $7 each or $16 for a gift box of two. Easter basket stuffers also available this year include dark, milk and white chocolate Lollipops in Truffle, $2.50 each or five for $11, or Chocolate, $2.90 each or five for $13, varieties; Mini Chocolate Bunnies, single nest, $2.50, triple nest $6.50 or four for $22; and Easter Nests filled with truffle eggs and treats, $9.50.
Haas also offers a variety of gift boxes such as a Handcrafted Easter Chocolate Box, filled with a variety of delectable truffles for $39, or for the DIY Easter fans, a wide array of signature boxes available in two- to 54-piece sizes that can be easily customized with an assortment of signature handspun Haas chocolates.
All 2018 Easter products will be available at both Thomas Haas cafés in North Vancouver and Kitsilano, with a limited selection also available at high-end retailers such as Whole Foods and Urban Fare. A variety of items may also be ordered online at thomashaas.com and shipped across Canada.
---
ANNUAL CHARITY EASTER EGG RAFFLE
Thomas Haas' annual Charitable Easter Egg Raffle returns this year with 40 delectable Easter prizes — including two giant signature chocolate creations valued at over $1,000 each — available to lucky winners of the raffle draw held Friday, March 30 at 2 p.m. simultaneously at the Thomas Haas cafés in North Vancouver and Kitsilano. Raffle tickets are $3 each or four for $10 with 100 per cent of the proceeds donated to youth sport charities KidSport BC and Athletics for Kids.
---
ABOUT THOMAS HAAS CHOCOLATES & PÂTISSERIE
| An internationally acclaimed, fourth-generation pâtissier, Thomas Haas gained experience in Michelin-starred restaurants in Europe and North America before settling in Vancouver and opening his own namesake chocolaterie, patisserie and café in 2005. Haas — Vancouver Magazine's Pastry Chef of the Year in 2011 and 2013 through '16 — uses only the finest raw ingredients sourced both locally and from around the globe and, in keeping with family custom, eschews the notion of assembly lines and mass-production techniques, instead trusting in a talented team of pastry chefs and chocolatiers whose finesse and sensitivity is lovingly expressed in every hand-spun confection.
Thomas Haas products are exclusively available at both his Kitsilano and North Vancouver cafés as well as select leading hotels, retailers and restaurants across North America. www.thomashaas.com
North Shore | 128 – 998 Harbourside Dr. | North Vancouver, BC  V7P 3T2 | 604-924-1847
Kitsilano | 2539 West Broadway | Vancouver, BC  V6K 2E9 | 604-736-1848
Twitter: @thaaschocolates |  Instagram: @thaaschocolates  |  Facebook: /thaaschocolates