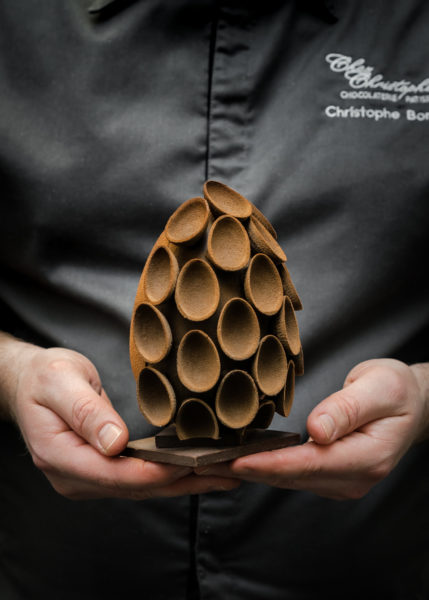 The six new chocolate eggs include Karat, a large carrot shape with an extra shiny orange exterior ($19.95); a Busy Bunny falling into a flower pot ($19.95); a cheerful and green Eggtor the Dinosaur (36.95); the contemporary and abstract Royal Egg featuring a deep scallop design on one side and an embossed hen shape on the other ($29.95); the musically-inspired Orchestra with cascading egg shells $29.95; and the colourful Nesting Hen sitting on a chocolate nest ($14.95).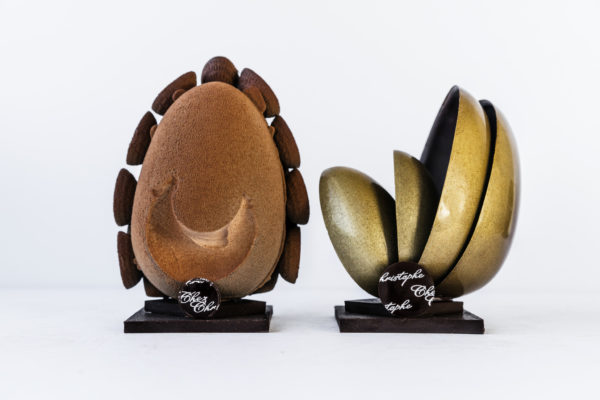 "This Easter, we really wanted to create a line-up of chocolate Easter eggs that would appeal to the whole family, from kids to their parents," says Bonzon, pastry chef and master confectioner. "For example, a dinosaur is unexpected but can certainly bring a smile to a child's face. The Royal Egg and Orchestra are all about beautiful shapes and lines in chocolate. And, of course, it's not Easter without a bunny or a hen."
In addition to the chocolate Easter eggs, Chez Christophe is bringing back the popular bunny-shaped pastry called Lapin, featuring rhubarb gel, strawberry lemon confit, and vanilla monte ($6.20 each) in choux pastry. And, a new Tropical Carrothas been added, featuring coconut montee, lemongrass namalaka, pineapple marmalade, and a mint compote in a vanilla tart shell ($6.20 each).
Other items include bunny-shaped lollipops in caramelized white chocolate for $3.45 each or 3 for $9.
Chez Christophe's chocolate egg art will start hitting the shelves on Tuesday, March 6, 2018. The desserts will launch on Friday, March 16, 2018. Pre-orders are welcome.
For more information, please visit www.christophe-chocolat.com.
Chez Christophe 4717 Hastings Street, Burnaby, BC | Twitter: @Chez_Christophe | Instagram: @ChezChristophe | Facebook: /Chez-Christophe-Chocolaterie-Patisserie
About Chez Christophe
In 2013, award-winning pastry chef, chocolatier, and newly minted Cacao Barry Ambassador Christophe Bonzon opened
Chez Christophe Chocolaterie and Patisserie
with his wife Jess Bonzon in the bustling Burnaby Heights neighbourhood. Bringing a bit of Swiss flair to Canada, their collection of fine handmade chocolates ranges from artistic chocolate sculptures, creative truffle flavours to signature chocolate bars, and seasonal favourites. Customers can also find an array of macarons, viennoiserie, desserts, and cakes at
Chez Christophe.
Due to overwhelming support, the pair moved to a larger location in 2016 with more seating, an outdoor patio, and an expanded menu with sandwiches.
Chez Christophe is located at
4717 Hastings Street, Burnaby, British Columbia
. For more information, visit
www.christophe-chocolat.com
.
Chez Christophe 4717 Hastings Street, Burnaby, BC | Twitter: @Chez_Christophe | Instagram: @ChezChristophe | Facebook: /Chez-Christophe-Chocolaterie-Patisserie
Images: Nora Hamade