Chez Christophe unveils bunny line-up of new Easter treats with part proceeds benefiting BC SPCA
Starting March 18, 2017 a brigade of bunnies is hopping over to Burnaby Height's Chez Christophe Chocolaterie Patisserie (4717 Hastings Street) to ensure chocolate is the only kind of rabbit being gifted during Easter. Pastry chef and owner Christophe Bonzon makes it an easy choice with his new, and definitely adorable, line-up of edible chocolate art including farmyard classics and five new bunnies: a royal guard, chef, carrot, hockey player, and lumberjack.
"Rabbits are definitely an Easter icon," explains Bonzon. "Because of this, we decided to create a number of chocolate bunnies with different personalities and characters. It was definitely fun for my team to be imaginative and creative, which is the best part of being a chocolatier. We hope to see our bunnies hopping around the city!"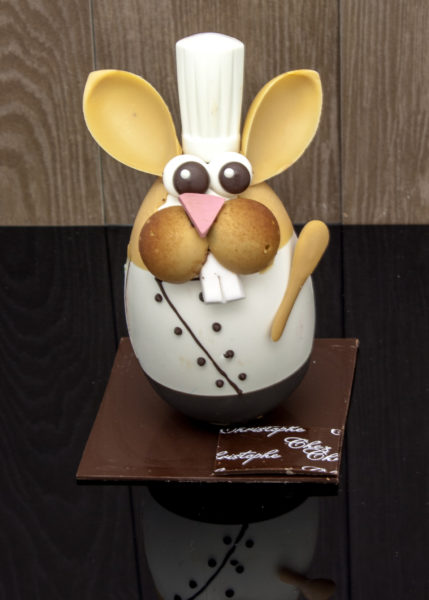 Three of the new chocolate bunnies celebrate Canada's 150th anniversary with its Canadiana features: En Guard ($24.95) which resembles a royal guard, a take on last year's popular Eggmont the Mountie; a hockey playing Roger Canuck ($32.95); and Lucien Le Lapin ($36.95), a lumberjack with an axe.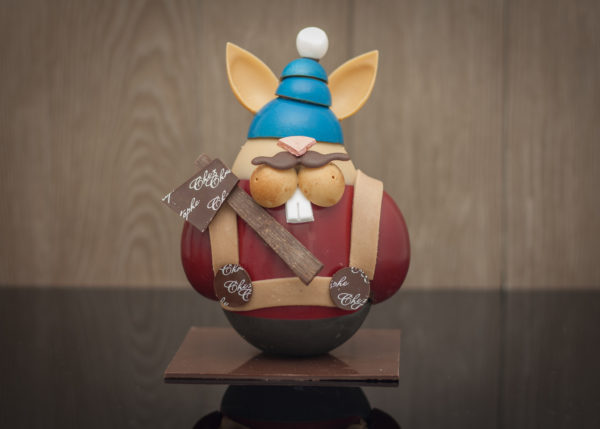 Children and adults alike may also want to bring chef Rabbitouille ($24.95) into their homes or the carrot-costumed "What's up, Doc?" ($29.95). The chocolate sculptures are hollow and filled with chocolate truffles inside.
Chez Christophe has also partnered with the BC SPCA this season to spread the "make mine chocolate" message during Easter. Two dollars from each Rabbitouille chocolate bunny sold will be donated to the BC SPCA. Customers can also purchase a $2 raffle to win an extra-large chocolate bunny, with all proceeds going towards the BC SPCA. And, 5 per cent from Good Friday sales will be donated.
"Often people purchase live bunnies for their children as Easter gifts without thinking about the long-term commitment required for the life-long care of the animal," says Lorie Chortyk, BC SPCA general manager of community relations. "If you are not ready for the decade-long responsibility of caring for a rabbit we encourage you to consider giving stuffed or chocolate bunnies as Easter gifts instead."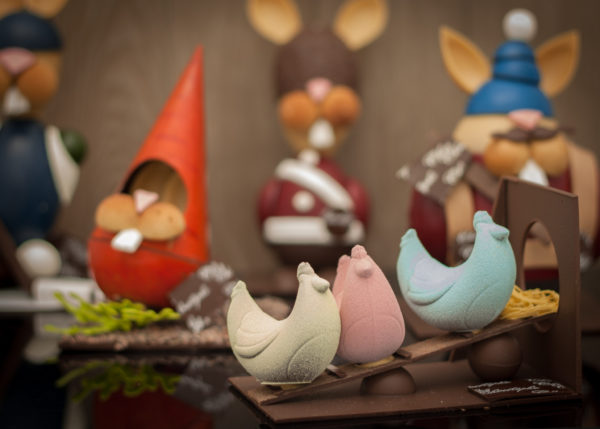 Other Easter treats include hens in the Farmyard Friends ($19.95) collection, a bunny-shaped dessert, as well as spring cakes. All Easter items are available from March 18 to April 16, 2017. Pre-orders welcome.
For more information, please visit www.christophe-chocolat.com.
About Chez Christophe
In 2013, award-winning pastry chef, chocolatier, and newly minted Cacao Barry Ambassador Christophe Bonzon opened Chez Christophe Chocolaterie and Patisserie with his wife Jess Bonzon in the bustling Burnaby Heights neighbourhood. Bringing a bit of Swiss flair to Canada, their collection of fine handmade chocolates ranges from artistic chocolate sculptures, creative truffle flavours to signature chocolate bars, and seasonal favourites. Customers can also find an array of macarons, viennoiserie, desserts, and cakes at Chez Christophe. Due to overwhelming support, the pair moved to a larger location in 2015 with more seating, an outdoor patio, and an expanded menu with sandwiches.
Chez Christophe is located at 4717 Hastings Street, Burnaby, British Columbia. For more information, visit www.christophe-chocolat.com.
Chez Christophe 4717 Hastings Street, Burnaby, BC | Twitter: @Chez_Christophe | Instagram: @ChezChristophe | Facebook: /Chez-Christophe-Chocolaterie-Patisserie