Are you looking for a great family friendly hike?  Look no further than Crystal Falls in Coquitlam.  The meandering trail along the Coquitlam River is relatively flat, and takes you through an emerald rain forest.  You will see hikers of all ages and abilities along this path. It takes about an hour to hike up to the falls and the round trip is about two hours, give or take, depending on your group.  The total distance is 6.1 kilometers. Be aware that mountain bikers also use the path, so be sure to share the trail.
The trail head begins at the north end of Shaughnessy Street at the intersection of Karley Crescent in Coquitlam.  There is street parking available along both Shaughnessy and Karley Crescent.  The trail is well groomed and easily identifiable.  The hike is reasonable year round; however, be prepared by wearing appropriate footwear.  If it has rained recently, there will be puddles and muddy sections.
It starts with some rocky trail and on your left; you will soon see an opening along the river.  In the summer, this is a popular beach area and marks the beginning of a river float for many.  Our family plans to do this river float next summer now that our children are old enough to float it safely.  Continuing along the trail you will notice a great deal of moss hanging from the trees.  If you and your family enjoy geocaching (modern day treasure hunting), there are a few caches just off the trail as well.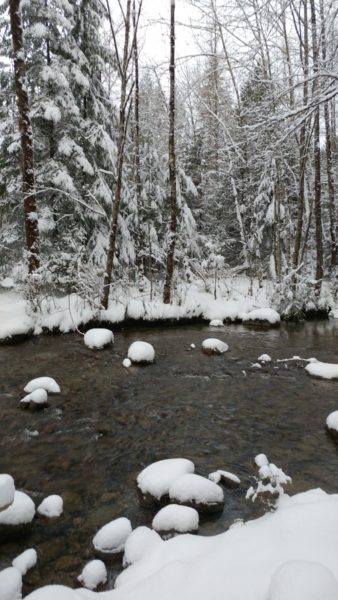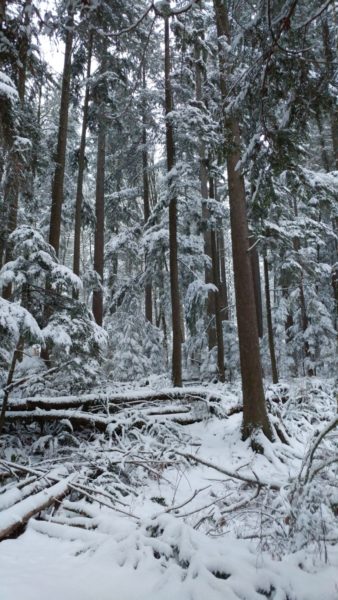 The real adventure begins when you reach the first stream crossing.  Depending on the season, rainfall and creativity of other hikers – who are kind enough to drag a log across the water – the crossing can be easy to difficult.  There are alternate pathways that you can take if you do not wish to tempt fate and get wet.  Our children were able to make the crossing reasonably by age four and we crossed with them safely, in various baby carriers and backpacks, before that.
While crossing the streams, and walking along the river, be sure to keep an eye out for crayfish, minnows, and salmon.  Along the route, you may also be lucky enough to see deer, eagle, raccoon, coyote, and possibly even a bear; however, the closest we have come to seeing any of this wildlife was a headless salmon on the trail, as our noise had scared off the bear.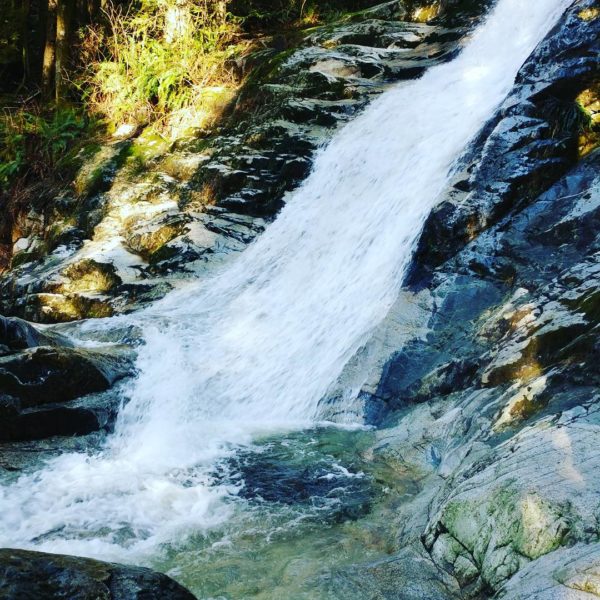 Once you arrive at the falls, there is plenty of room to sit on the rocks or logs and enjoy a snack; you will have to pack out what you bring in though.  In the fall and spring, the water flow is heavy.  In the summer, the falls and upper pools are a great place to take a dip.  There are various trails to the upper pools, but they are not marked.  If you are adventurous though, the pools there are less crowded than below and offer some incredible scenery.  Once you have enjoyed a short rest, you use the same path to return to civilization.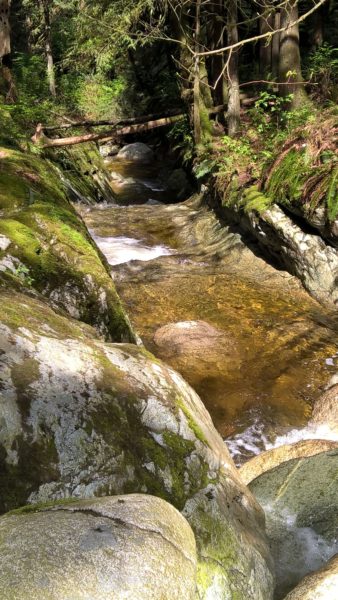 Although this route can be busy on holidays and hot summer days, we have found other hikers and cyclists to be polite, friendly, and there is a sense of community as you pass each other on the trail.  I hope that your experience will be the same.