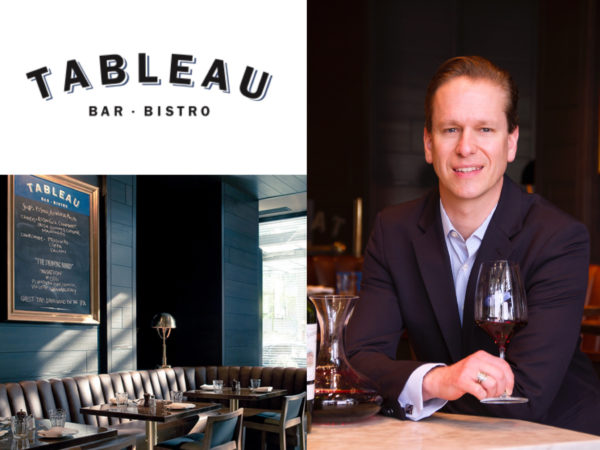 Canadian restaurateur joins Coal Harbour's French bar bistro management team
Tableau Bar Bistro is pleased to announce the appointment of new General Manager, Olivier Bureau (Oli Bureau).
Born in Quebec City, Oli followed his dream to be a professional snowboarder by moving to Whistler, British Columbia in 1994.
He stumbled into hospitality because working nights in the Village's world-class restaurants kept his days clear for hitting the slopes.
With his competitive past behind him, Oli expanded his restaurant career working as a General Manager with internationally acclaimed chefs and restaurateurs such as Andre St-Jacques and Melissa Craig at Bearfoot Bistro, Market by Jean-Georges, and Pino Posteraro at Cioppino's.
"Tableau has such a dynamic team already and I'm very excited to work alongside great leaders in the Vancouver culinary industry," says Bureau.
He brings to Tableau his unwavering conviction that a General Manager is nothing without a strong service team and strong kitchen.
For reservations, please call (604) 639-8692 or book online at OpenTable.ca.
TABLEAU BAR BISTRO
1181 Melville Street, Vancouver, BC
(604) 639-8692
www.tableaubarbistro.com
Hours:
Lunch: Monday to Friday, 11:30am – 2:30pm
Dinner: Sunday to Thursday, 5:30pm – 11pm, Friday & Saturday, 5:30pm – Midnight
Brunch: Saturday, Sunday & Holidays, 10:30am – 2:30pm
Happy Hour: Everyday, 2:30pm to 5:30pm
Late Night Happy Hour: Everyday, 9:30pm till close
SOCIAL MEDIA
Instagram: @tableaubarbistro
Twitter: @tableaubistro
Facebook: /tableaubarbistro