"After crossing the country last year, we saw first-hand that flowers make everyone happy—they amaze and they delight" – Fleurs de Villes co-founder Karen Marshall.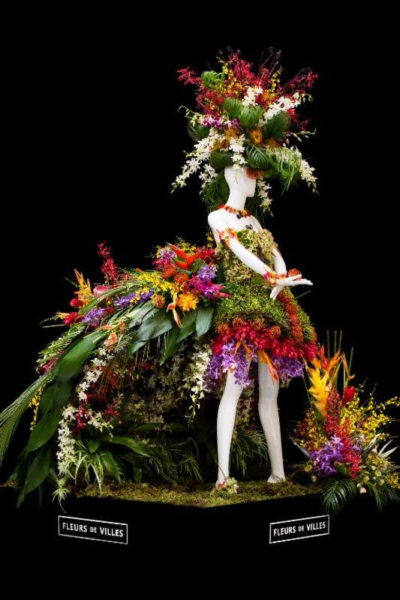 The lower floor of the Grand Court was transformed into a garden party as the Floral Mannequin series arrived at Metropolis, Metrotown last night.  
The unique, five-day exhibition is Fleurs de Villes' signature event and the first of its kind in Canada, blending fashion design and fresh blooms with bespoke floral-dressed mannequins, long table dinners and a high tea party.  
"Established in 2015 by lifestyle and media professionals Karen Marshall and Tina Barkle, Fleurs de Villes Inc. creates experiential flower events that strive to deliver an elevated and artful connection to community, nature, and the best gathering places and retail destinations in Canada."
Entering its third year, over a dozen top local Vancouver florists, including Dushan Flowers, Maureen Sullivan Floral Design School, Passion Floral Boutique, and Flower Factory, participated in the creation of elaborate floral mannequins.   Public viewing of the finished mannequins kicked off with a VIP Preview Launch in a gallery-like setting in the heart of Metropolis at Metrotown on May 2. 
It was a welcome hit of spring and a little slice of heaven in the middle of the mall!  
We arrived at the VIP Preview Launch and were able to circulate with a glass of wine, gourmet coffee, hors d'oeuvres and petite desserts. Participants circulated around the showcase of mannequins dressed in floral garments that were intricately designed using hundreds of flowers and leaves, including roses, sedums, carnations, peonies and orchids, as well as a host of other exotic and vibrant flowers.   
They were all unique and stylishly exuberant.
Displays were judged and at the end of the evening, winners were announced.   Winning most realistic was: The Face Shop designed by Botany and Bloom.  Most original was: BC Women's Hospital designed by Arbutus Florists.  Florist Favorite was: Earth Candy designed by Brenna Quan and Best in Show was: Fashion designed by the Flower Factory.  
I cannot express how beautiful all these creations were! I admit to fully 'geeking out' (subtly and elegantly, of course) to the range and color of the flowers used in the displays.  These were "stop in your tracks" attractions that were truly one of a kind. The attention to detail that one might put into accessorizing one's own outfits was reflective in the details of the designs; calla lily earrings, fragrant floral fringe, seed fluff from the dragon ball plant that was 'pulled' to look like a wool shawl, along with grasses and leaves draped to fall like fabric. In order not to miss all the delightful details, viewing the mannequins from all angles was necessary.  Also, several return trips.  
Overall, a well-organized, beautiful display where the creator's love of beauty, creativity, most of all, flowers was evident and gifted to the public. 
The event runs until May 6 during regular business hours for the public. 
As well, you can literally, 'stop and smell the roses' during the Floral Mannequin Series this spring at any of the remaining tour stops: Southgate Centre in Edmonton (May 30–June 3), and CrossIron Mills in Calgary (May 31–June 4).
For the latest news and updates, visit Fleur de Villes at www.fleursdevilles.com.