Full disclosure.  For me, any trip to anywhere brings with it a small tinge of disappointment over only being able to choose one restaurant at a time!  I love the adventure of trying new places and I know that getting a feel for any city can come through experiencing its cuisines.  The thought of missing any 'hidden gems' by having to choose is… well… torture!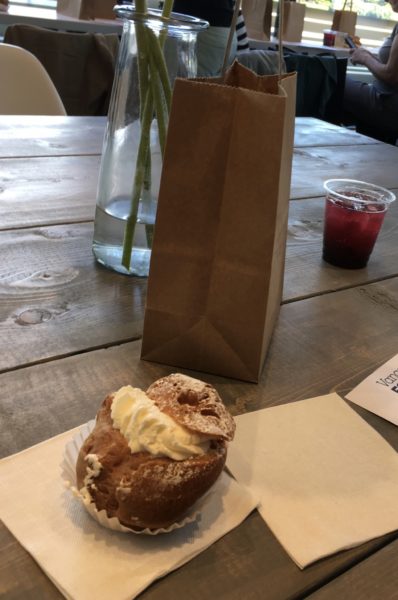 Tasting Plates events, founded by Richard Wolak, (creator of Vancouver Foodster and Taste and Sip Magazine) are a unique way for foodies to experience a self-guided event, explore a specific neighborhood, and to try several new restaurants in one evening. We travelled on foot to four different restaurants along West Broadway, sampling snippets of their signature food and drinks.  We started at Storm City Coffee (stormcitycoffee.com) where we checked in and received our passport and map.  Then, we ate dessert first. (Not a problem) Two epic-sized cream puffs, one caramel and one vanilla, were accompanied by a 'shrub' (a vinegar/fruit infusion mixed with Perrier).   This was an entirely different taste experience at first, but complimented the sweetness of the cream puffs perfectly.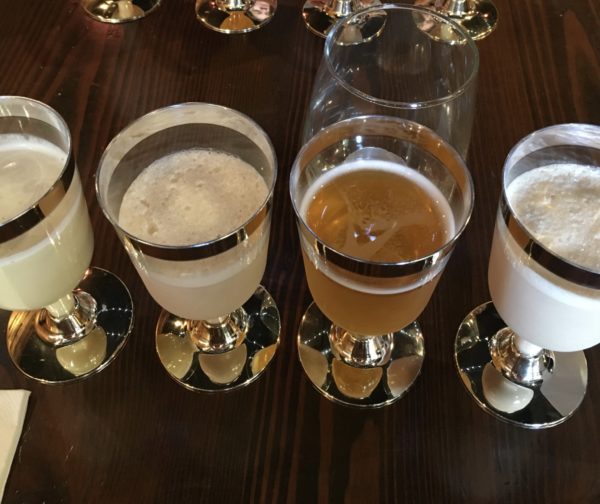 Our next stop was Sencha Tea Lounge (senchatealounge.com), for some specialty, hand -brewed milk teas and an Asian-Fusion sample plate that included: oven roasted chicken thighs with house-made teriyaki sauce on rice, tapioca battered chicken wings and a green salad with miso dressing. This was the most filling sampler, with 4 uniquely flavored teas to try, along with a very tasty food offering.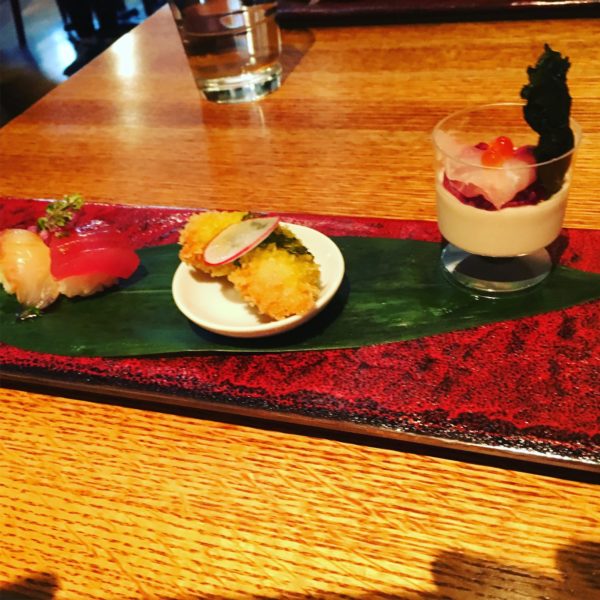 Our third stop was Super Hiro's Restaurant (superhiros.com) for an Omakasi menu, which is a dining style that features a set menu specifically chosen by the chef each night using the best and freshest produce. There were both raw and cooked offerings on the plate: sushi nigiri, fried white fish with an Italian Parsley dressing, and rice pudding with fish on top. The rice pudding with its crispy taro slice, sashimi, roe and a crispy kale chip was the most unique combination of food I tasted that evening, but light and delicious!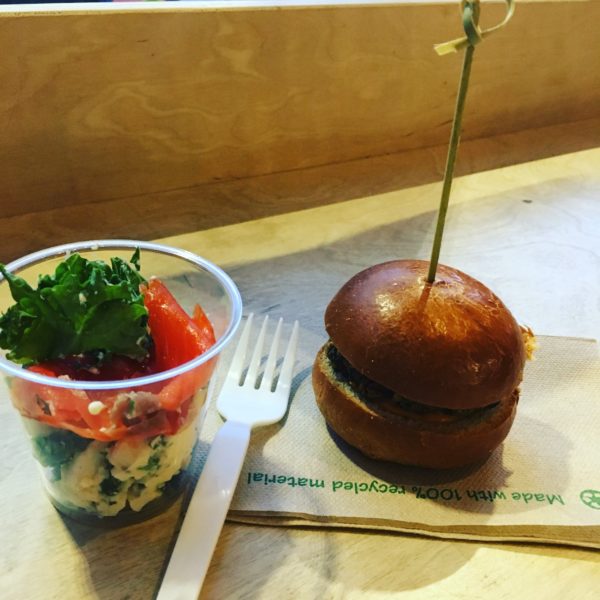 Lastly, we arrived at Be Fresh Market Café (befresh.ca) – for vegan sliders served with Be Fresh's own vegan chipotle mayo and vegan potato salad. In addition, Juice Box watermelon juice and bananas dipped in "Holy Fudge" sauce accompanied them. This tasty menu was the only fully vegetarian offering and much appreciated by my vegetarian guest!  The fudge sauce was amazing! 
What I loved about this event was the relaxed nature of the evening; a little food, a little wander, a little more food.  The set menus ensured there was an opportunity to try something different while the diversity of the restaurants ensured there was something to suit most tastes.  
I found, however, that the event was advertised as being from 6-10, but two restaurants were closed or closing before then.  Thus, we had dessert first and felt a bit rushed at our last stop.  This meant the flow of the evening was a bit interrupted, but not to a critical degree, just something to be aware of, should you attend one of these events, you will need to plan accordingly.  Overall, a nice evening of trying the "newest and tastiest offerings" in Kitsilano without the fear of missing out on anything! 
For tickets and information: vancouverfoodsterevents.com