Leave a Fashion Legacy.
Here's how you get your name engraved on the Deighton Cup.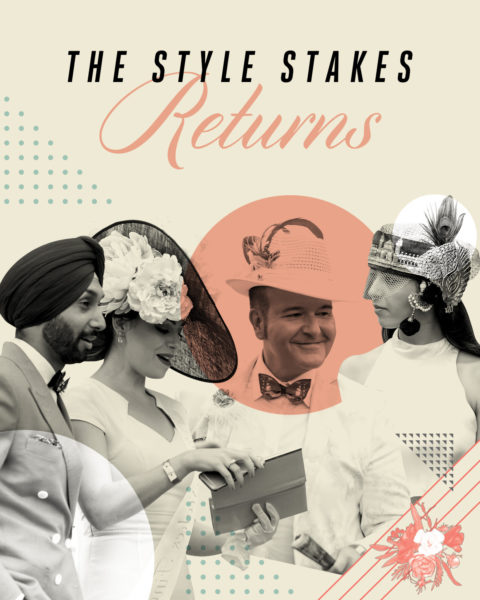 We all love our compression pants, sneakers and technical cashmere T's. But over here at the Deighton Cup, we feel everyone in Vancouver needs a single day to shed the "comfy pants" and express their inner personality like a boss. And nothing takes your style game to the next level more than a full-blown best dressed competition, where the winner's name is enshrined in silver for the ages.

Time to kickstart your preparations. Become the next Belle du Jour beauty. Raise eyebrows with your win as Vancouver's Gallant Sartorialist. This is your 101 guide to the Deighton Cup Ten Year Anniversary Style Stakes competition.
Style Stakes Best Dressed Competition
Want to become fashion royalty? Well, you need to materialize a Style Stakes Nominee sash within the Deighton Cup. And there are two different ways you can do this.

Your first choice: keep your eyes out for the roaming judges at the racetrack.These fashion personalities, industry-insiders and style titans will each be tasked with nominating one male and one female Style Stakes candidate prior to 2:00PM on the day of the festival. Be in attendance early, or miss your opportunity to meet one of our judges and secure your sash!

Your second option: swing by our self-nomination area in the Marquee for your chance at becoming a finalist. Esteemed judges will evaluate your derby looks as you take a strut down our red carpet runway. Cheeky smiles, poppin' personality and outrageously stylish outfits all very much welcomed.

Once the 10 judges have each selected one man and one woman including a number from the self-nomination station, all finalists will be taken up to the main stage in the middle of the event for the grand announcement of the 2017 Belle du Jour and Gallant Satorialist winners. Each winner will receive $500 cash, bragging rights, and the opportunity to become a judge for the year following. Scroll down to learn more about this year's judges.

Still don't have quite the right items for your look? Find some exciting information below from our fashion partners that might help you bring your look together.
Returning for a second year the style competition will extend beyond Deighton Cup day at the track, and into the people's hands with The People's Choice Style Stakes award.

Feeling like you could become the People's Choice? Post your race day look at the track on July 21st, tag @deightoncup and use the hashtags #DCPeoplesChoice and #DeightonCup. The photo must be full length and include a single individual to qualify. We'll narrow it down to a final 12 candidates and share the voting platform through our website on Tuesday, July 24th.
Each year, a roster of fashion-industry heavyweights and local celebrities take on the task of each selecting one woman and one male from the crowd of fashionable attendees.

This year, we're excited to bring back Style Stakes Director Crystal Carson and Producer Jamie Hughes, who have helped to collect a diverse mix of judges. From Model Agency CEO's to past Style Stakes winners, learn more about 2017's judges here.
Gentlemen, make sure you dress your best and increase your odds of being crowned the Gallant Sartorialist this year. The custom menswear experts at Indochino have curated the perfect collection inspired by a day at the races to help you stand out among the fashion crowd.

With custom suits at a low price of $449, it's a winning deal you can't pass.