We all love BC Wine and summer is an ideal time to really enjoy sipping on the patio, pairing with our BBQ or picnic in the park. These are some of our #FavouriteThings. We like to call this "Summer Sipping".
So many opportunities to get outside and enjoy the British Columbia lifestyle. Whether you're an on the go surfer, swimmer, hiker, walker, runner, or paddle boarder there is always time for downtime and summer sipping.
Here is today's recommendation. We've tasted these wines and they are some of our own personal favourites that make the list of our #FavouriteThings Summer Sipping.
2017 Riesling $21.74 (at the winery, taxes & deposit extra)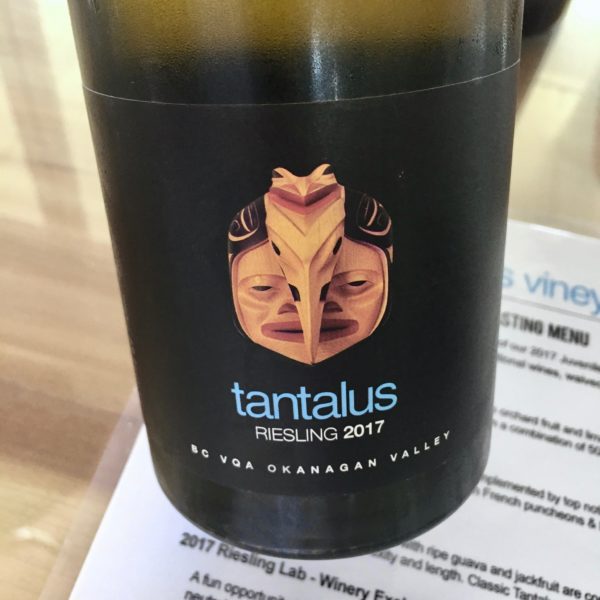 Our 2017 Riesling continues our tradition of making wines that naturally translate the terroir of our historic vineyard in South East Kelowna.
A wonderful pale green hue, this wine has beautifully bright aromatics of wild jasmine flowers, green apple and exotic tangerine. Mango and fresh pineapple also emerge from the glass.
The palate is classic Tantalus with great presence and concentration. Flavours of citrus and grapefruit with ripe guava and jackfruit are complemented by spicy notes of ginger and nutmeg, offering complexity and length. The wine's intensity and balance will allow it to live for a long time. Cellar for up to 10 years.
The fruit for our 2017 Riesling was hand-picked at optimal ripeness from a variety of blocks, some of which date back to the late 70's. Whole-bunched pressed, once in the cellar, ferments were inoculated after a short settling period with a variety of aromatic yeasts. Each tank was fermented in stainless steel to a preserved balance point, just off-dry. 
2015 Old Vines Riesling $30.43 (at the winery, taxes & deposit extra)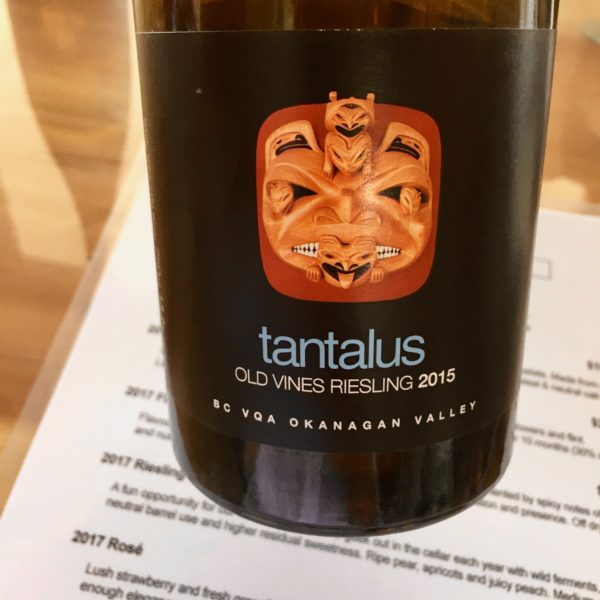 A slightly older, little bit pricer, vintage for "summer sipping" but I'm making an exception because the wine is so good and worth a try if it's in your price range.
This wine exhibits all the lovely attributes that Riesling fans have come to expect from Tantalus. Not because it tastes the same from year to year, but rather because we allow the climatic growing conditions to shape the character of each vintage.
Pale lemon in color, the aromatics are at once intense, yet subtle and complex. A myriad of aromatics, from lemon zest to wet slate to white flowers are present. The palate is diverse and developed, a result of the wine being aged in bottle for 2 years before its release. Apples, pineapple, intense lime and mandarin all play their part.
Carrying the signature crisp acidity of our Block 5 1978 plantings, this is a wine that is more about texture and complexity – a true expression of the earth it is grown in.
2017 Rosé $19.13 (at the winery, taxes & deposit extra)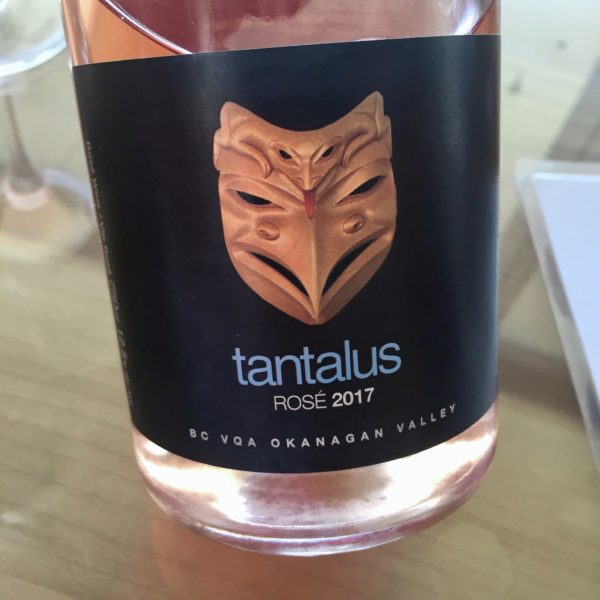 Always one of our #favouritethings we love this Rosé
Our Rosé hits all the right notes for those seeking a refreshing quaffer and a food-friendly companion to the fresh and bright flavours of Spring and Summer.
A wonderful, pale sunset hue, this wine exudes aromas of watermelon and rose petal with hints of crushed wild raspberry, candy floss and Red Delicious apple. Lush strawberry and fresh grapefruit emerge on the palate while the finish showcases lively acidity – just enough elegance and finesse to keep you coming back for more.
Our 2017 release is a 60/40 blend of young vine Pinot Noir complemented by more mature plantings of Pinot Meunier, first planted on our site in 1985. The Pinot Noir base was made with lightly pressed, whole bunch clusters giving us beautiful lifted aromatics.
The Pinot Meunier was also gently handled and spent nearly 6 days on skins to give the wine its brilliant colour. By fermenting to near dry, the vibrancy of the fruit character shines through unimpeded.
2017 Riesling Lab $17.39 (at the winery, taxes & deposit extra)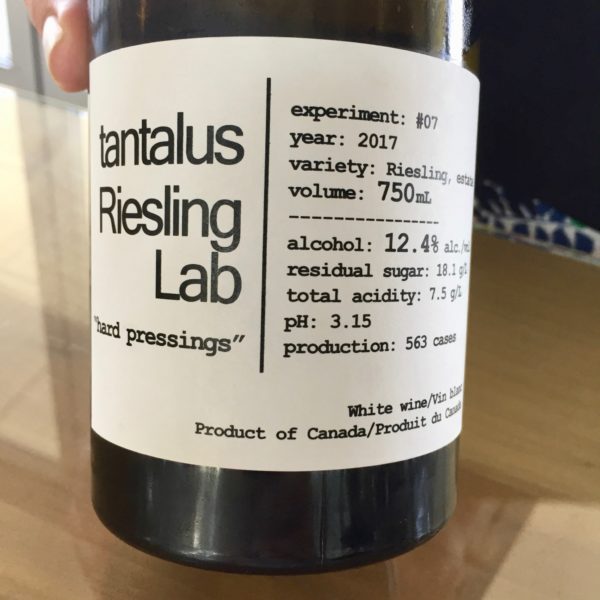 Now this one is right up our alley. Fun, yummy, easy drinking and a terrific price point. Did you know this very wine is both a winery store exclusive and available at the new, hip Vice and Virrtue in Kelowna. Be sure to visit when you're visiting the Okanagan.
Our Riesling Lab has emerged as a Tantalus fan favourite and a fun opportunity for our winemaking team to geek out in the cellar each year with small batch ferments, neutral barrel use and wild yeast.
A golden yellow in the glass, this wine is brimming with aromas of Key lime, elderflower, ripe apricot and Gala apple. The palate is viscous and complex with a great interplay between residual sweetness and acidity. Flavours of ripe pear, apricots and peach stone, with fresh Spring honey and a wonderful earthy tone, showing off its wild fermentation pedigree. This wine is made for the patio, or the picnic blanket – pair it up effortlessly with casual summer fare!
Made from the "hard pressings" (when we press a little firmer into the grape skins to extract a more textural juice) of a handful of parcels of Riesling. Our 2017 release is comprised of 17 different ferments, hosted in a variety of different vessels – including 500L neutral oak puncheons, stainless steel and 20 Litre "carboys".
Summer Hours: May to October | 10 AM to 6 PM | Daily
Book Your Tasting Experience (weekends only!)
New for our 2018 peak season! In order to serve our guests better and offer a more seamless tasting room experience, we are offering appointments for tastings on weekends from the end of May to September.
Please click on the link below to book your weekend visit with us:

Please note, guests are still welcome to drop-in for tastings Monday to Friday, from 10 AM to 6 PM. We will also try our best to accommodate walk-in guests on the weekends, but if you'd like to guarantee your tasting, we encourage you to book.
FEES
$5 tasting fee for four selections, fee is waived with bottle purchase per guest
Groups of 8 or more require an appointment.
Tours are available by appointment only TUESDAY to SUNDAY at 11am. 
When visiting the Okanagan, before you go: Do your homework and a bit of research about the wineries you wish to visit. Check the winery website to find out their months, days and hours that their Tasting Room is open. Know if you need to book your tasting in advance of your visit. Many wineries are now so busy there may be times that they are unable to accommodate you. It will be a much better visit if you have a confirmed appointment. Be on time. Expect to pay for your tasting, some, but not all wineries refund all or a portion of the fee if you purchase wine. Plan ahead for a designated driver or use the services of a wine tour company. Limit the number of wineries you visit in a day. A more leisurely timeline will increase your enjoyment. For the best overall experience, I like to limit my daily visits to no more than three maximum, and if a winery lunch is on the agenda, no more than two winery tastings.
Tasting notes courtesy of Tantalus.
Vote for your Best of BC Wine Country and enter to win #BestofBC18 here: www.surveymonkey.com/r/bestofBCwine18
LAKESHORE WINE ROUTE
Lakeshore Wine Route – Come spend the day with us!
Discover Kelowna's scenic Lakeshore Wine Route: Tantalus, Cedar Creek, St. Hubertus, Summerhill
Experience the ambiance of 4 of BC's leading wineries, each one situated in a peaceful, rural setting and all within minutes of world class hotels, restaurants and entertainment.
Tantalus is a proud member of the British Columbia Wine Institute.