The 'Queen of Mariachi' is Set to Dazzle in One-Night Engagement
and Tribute to the Late Juan Gabriel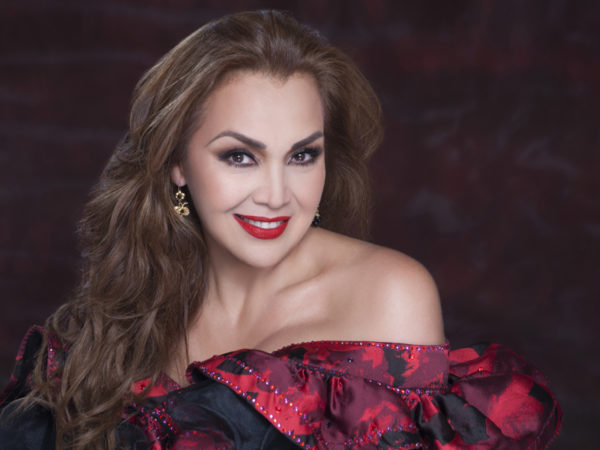 The Chan Centre for the Performing Arts at the University of British Columbia (UBC) welcomes Grammy Award-winning Mexican superstar Aida Cuevas joined by her illustrious band Mariachi Juvenil Tecalitlán on September 22, 2018, at 8pm in the Chan Shun Concert Hall. Hailed as 'The Queen of Mariachi' and renowned for her elegance, charisma, and stunning vocal range, Cuevas will sing traditional Mexican songs by the late singer-songwriter and musical icon Juan Gabriel in this hotly anticipated season opener.
"Aida is a star in every sense of the word — a singer with a gorgeously emotive voice and dynamic stage presence," says Joyce Hinton, Co-Managing Director of the Chan Centre. "When I first found out about her project honouring the music of Juan Gabriel, I knew it would be a significant event for fans of Mexican music and culture. It is fitting as well that the concert falls just six days after Mexican Independence Day. Ranchera music sung by women is incredibly special, and I'm so honoured to have this trailblazing female artist kick off our series performing in a genre that historically has been dominated by male musicians."
A master of the ranchera genre, Cuevas has been celebrated both in her home country and on the world stage for more than four decades. She "is to Mexico what Aretha Franklin is to the United States: a powerful voice that encapsulates the essence of her nation's spirit" (The Kansas City Star). Her distinguished musical career began as an 11-year-old child, when she was discovered while performing in amateur singing contests. Cuevas was soon performing live on national radio programs and began to tour internationally in 1976, gracing stages across four continents. She has performed for world leaders such as Pierre Trudeau, Bill Clinton, Gerald Ford, and every Mexican president since 1975, and has captivated audiences from Madison Square Garden to the Hollywood Bowl.
Her unique voice and style have left a significant imprint in the history of Mexican music, with 39 albums selling more than eight million copies worldwide. This year, Cuevas broke barriers by becoming the first female singer in the mariachi genre to win a Grammy Award, an unprecedented honour in a typically male-dominated space.
The concert will pay homage to Gabriel, who passed away in 2016. The influential musician was not only Cuevas' personal mentor, he was also Mexico's best-selling recording artist of all time, a Billboard Latin Music Hall of Fame inductee, and six-time Grammy award nominee. Cuevas is the only artist authorized by Gabriel's estate to tour his music, and she will perform a selection of his beloved classics, including "Te Lo Pido Por Favor," "La Diferencia," and "Te Sigo Amando." She will be backed by Mexico City-based Mariachi Juvenil Tecalitlán, alongside special guest musicians on requinto guitar, accordion, percussion, and keyboard.
Chan Centre Connects Events (chancentre.com/connects)
A series of ancillary events programmed in conjunction with Chan Centre performances, exploring the role of arts and artists in society.
· Film Screening: Dos Tipos de Cuidado (Two Careful Fellows) — Thursday, September 13, 7pm, at The Cinematheque (1131 Howe St.). Indulge in nostalgia for the Golden Age of Mexican Cinema with this beloved black and white film that follows the trials and tribulations of two best friends turned enemies. Featuring iconic Mexican singers and actors Jorge Negrete and Pedro Infante with music by Manuel Esperón. Presented in partnership with The Cinematheque and The Consulate General of Mexico in Vancouver. There will be a short pre-screening talk by local mariachi musician Alex Alegría.
· 
Pre-Show Talk with Ricardo García — Saturday, September 22, 7:15pm in the Royal Bank Cinema at the Chan Centre.
Ricardo García, a UBC graduate student from the Department of French, Hispanic and Italian Studies, will be discussing the way in which female identity and empowerment is negotiated within Mexican music, with a special focus on mariachi and the legacy of Aida Cuevas.
About the Chan Centre for Performing Arts at UBC (
chancentre.com
)
Since 1997, the Chan Centre for the Performing Arts in UBC's Arts & Culture District has earned an international reputation for its striking design, stellar acoustics, and exceptional programming. Artists, critics, and patrons alike are unanimous in their praise of the facility, winning it a place among North America's premier performing arts venues. The Chan Centre boasts three unique venues: the superb Chan Shun Concert Hall, the dramatic Telus Studio Theatre, and the intimate Royal Bank Cinema. From classical, jazz, theatre, and opera to world music, the Chan Centre is a vital part of UBC campus life where artistic and academic disciplines merge to inspire new perspectives on life and culture. Past performers and guest speakers include: Wynton Marsalis, His Holiness the Dalai Lama, Renée Fleming, Dan Savage, Yo-Yo Ma, Buena Vista Social Club, Sigur Rós, Mavis Staples, Anoushka Shankar, Trombone Shorty, Chick Corea, and Herbie Hancock.
LISTING INFORMATION
Chan Centre Presents 
Aida Cuevas: Totalmente Juan Gabriel
Date:
Saturday, September 22, 2018, at 8pm
Ticket Prices:
From $46
Address:
Chan Centre for the Performing Arts
University of British Columbia
6265 Crescent Road
Vancouver, BC V6T 1Z1
Box Office:
604-822-2697 / chancentre.com

In person at the Chan Centre ticket office
Open Tue – Sat, 12pm – 5pm

Website:
chancentre.com