Flamenco Rosario
Presents
Vancouver International Flamenco Festival
September 21-29, 2018
Featuring Spain's Sara Calero – Petisa Loca (Crazy Girl)
Vancouver venues including Vancouver Playhouse, Scotiabank Dance Centre, Roundhouse Community Arts and Recreation Centre, Annex, Vancouver Public Library.
www.vancouverflamencofestival.org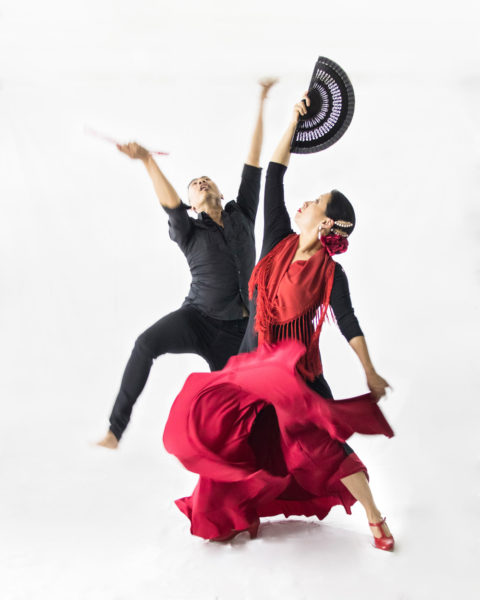 The Vancouver International Flamenco Festival announces its spellbinding 2018 lineup of local and international flamenco artists, September 21 – 29, 2018 with free workshops and ticketed performances at various Vancouver venues.
The 2018 Festival proudly presents the Canadian debut of Spain's Sara Calero Company in Petisa Loca at the Vancouver Playhouse on September 22. Sara Calero is one of the main current references in the renewal of both Spanish and flamenco dance. The company's piece shares the diaspora diaries of a woman and all women as thousands of Spaniards were forced to emigrate between Europe and America in the mid-twentieth century. An emotive work, Petisa Loca asks the question: "Is there a place for oneself?" as it works through issues of fear, hope, uncertainty, and displacement in a new, unfamiliar world. Petisa Loca features dancer/choreographer Sara Calero, singer Loreto Arnaiz, guitarist José Almarcha, and the electronic music of The Lab (José Corredera and Miguel Lázaro).
The Festival also features some of the finest Canadian Flamenco artists with performances at the intimate Annex (Orpheum);
La Azulita Flamenco Ensemble works within the traditional realm of flamenco, drawing on antiquated elements and expressing flamenco as a dialogue of emotion through rhythm, movement and melody (Nova Scotia), Kasandra Flamenco Ensemble Solo Flamenco, takes the audience on an emotional journey through the passionately dark to the delightfully cheeky and Passages & Rhythm with special guests including contemporary award-winning dancer Alvin Erasga Tolentino (Co.ERASGA) where Flamenco and contemporary dance collide in this transcultural amalgamation of movement and tradition (Vancouver), Monique Salez & The Dream Cab Los Labios del Lobo, a dreamscape that wanders through questions of identity, flamenco, life & learning (Victoria); and Vancouver's own Flamenco Rosario's premiere of Dialogue Extended – a creation and collaboration with two other highly regarded couples/flamenco artists – Spain's Mariano Cruceta and Gloria Solera and Mexico's Marien Luévano and Ulises Martínez, in an exploration to find the balance between their domestic and artistic lives in this intergenerational exchange.
Music is at the forefront in this exciting event La Musica del Flamenco hosted by guitarist Victor Kolstee and featuring Sara Calero Company Artists (Vancouver/Spain).
"We return for the 28th season with a passionate and fiery lineup of some of the most innovative and revered flamenco artists of our time," says Rosario Ancer, Artistic Director and Founder, Vancouver International Flamenco Festival. "Furthering our legacy of exposing audiences to premiere traditional & contemporary flamenco, we proudly present Spain's Sara Calero Company as the festival's headline event."
As one of few celebrated festivals devoted to Flamenco Art in North America, the VIFF has since its beginnings in 1990 grown to a mature understanding of Vancouver's multicultural audiences by nurturing the form's hybridized roots in Sephardic, Persian, Gypsy and Indian cultures and by striving to reflect and connect its diverse sociocultural identity through work narratives underlining flamenco's universal message of humanistic tolerance. Now a two week long annual event, the festival lends its visibility throughout multiple venues and locales in downtown Vancouver including the Annex, Vancouver Playhouse, Scotiabank Dance Centre, Roundhouse Community Arts and Recreation Centre, and Vancouver Public Library. With over a quarter century of flamenco presence behind it, the festival brings the city into stronger light for younger generations of dancers all around the world, while building new relationships with growing sister organizations across the nation through its eastern border, helping to forge a more integrated Canadian identity of flamenco.
FOUNDED BY FLAMENCO ROSARIO IN 1990
Flamenco Rosario holds a mandate to develop dance, music works and dance artists, in both the authentically traditional and contemporary innovative styles of Flamenco. Drawing the organization's mission from this mandate, the company shares its passion for flamenco's raw, emotional power and disciplined musicality through performances, workshops and professional training across Vancouver. Under the direction of Artistic Director Rosario Ancer and Musical Director Victor Kolstee, the company was founded in 1989, Flamenco Rosario registered as a non-profit society in BC in August 1997 under the legal name Rosario Ancer Flamenco Arts Society, achieving registered charity status in 1999. As an interpreter of flamenco dance, Artistic Director Rosario Ancer is interested in the continuing growth and evolution of the art form, rather than simply reiterating its past.  The company explores the possibilities of flamenco by crossing boundaries of history and culture, incorporating dancers from other dance traditions, international dance artists, musicians and vocalists into the development of new work. Ongoing activities for Flamenco Rosario include the popular Cuadro Flamenco series featuring traditional dance styles, the Vancouver International Flamenco Festival showcasing local and national and international guest artists, and Mainstage performances allowing for artistic experimentation. The company continues to honor the rich flamenco tradition and to produce presentations which stretch the boundaries and evolution of the art form.
Please visit the festival website for more info: http://www.vancouverflamencofestival.org/
Festival at a Glance
September 21-29
Pop-Up Performances
Various Locations
Friday, September 21, 1PM
Free Flamenco Class for Seniors
Roundhouse Community Arts and Recreation Centre, Room B 181
Roundhouse Mews
Friday, September 21, 7PM
Public Forum
with Margaret Jova and Moderator Kaija Pepper
Scotiabank Dance Centre – Marcuse Studio
677 Davie Street
Saturday, September 22, 11AM
Flamenco For Children
Granville Island Picnic Pavilion
267 Old Bridge Walk
Saturday, September 22, 1PM-6PM
Picnic Pavilion – Aficionado Stage
Granville Island Picnic Pavilion
267 Old Bridge Walk
Saturday, September 22, 2PM
Free Flamenco Class
Scotiabank Dance Centre – Zagar Studio
677 Davie Street
Saturday, September 22, 8PM
"Petisa Loca" by Sara Calero Company (Spain)
Vancouver Playhouse
600 Hamilton Street
Sunday, September 23, 12PM
Artistic Creative Residency
Open Studio Showing
Scotiabank Dance Centre – Zagar Studio
677 Davie Street
Sunday, September 23, 1:00-4:00PM
Sara Calero Flamenco Workshops – All levels
Beginner: 1:00 – 2:00 PM (1 hr.)
Intermediate: 2:00 – 3:00 PM (1 hr.)
Advanced: 3:00 – 4:00PM (1 hr.)
Scotiabank Dance Centre – Marcuse Studio
677 Davie Street
Sunday, September 23, 8PM
La Musica Del Flamenco
Hosted by Victor Kolstee featuring the talented musicians of Sara Calero Company from Madrid, Spain
The former Centro Flamenco Studio
#102-2083 Alma Street
Monday, September 24, 7PM
"Understanding Flamenco"
Lecture and demonstration by Flamenco Rosario
Vancouver Public Library Central Branch
360 West Georgia Street
Wednesday, September 26, 8PM
Kasandra Flamenco Ensemble (Vancouver)
Annex
823 Seymour Street
Thursday, September 27, 8PM
"Los Labios del Lobo" by Monique Salez & the Dream Cab (Victoria)
Annex
823 Seymour Street
Friday, September 28, 8PM
La Azulita Ensemble (Halifax)
Annex
823 Seymour Street
Saturday, September 29, 8PM
Flamenco Rosario (Vancouver)
Annex
823 Seymour Street