A Full Evening Work Of Vertical Dance
Thursday-Saturday May 24-26, 8pm Post-Show Artist Talk-Back May 25
Scotiabank Dance Centre
677 Davie Street, Vancouver
Tickets $32/$24 from Tickets Tonight.ca 604.684.2787
In Aeriosa's new full-evening work, six athletic dancers interact with bamboo, evoking unique images and experiences as the set continuously transforms throughout the piece.
The dancers embody the versatile attributes of this grass, forest, tool, musical instrument, furniture, clothing, architecture, infrastructure and art we know as bamboo. Reflective of our own human adaptability and journey in life, Second Nature is an exploration of transformation and complexity. These aerial dancers are an exciting troupe with diverse training in ballet, contemporary, cultural dance, circus arts and rock-climbing.
Vertical dance company, Aeriosa, is back on stage with their first full-evening theatre piece since 2011. Julia Taffe, Aeriosa's founding director and choreographer, has brought on two key collaborators for this new work. Dan Law, a contemporary installation artist working primarily with salvaged old growth cedar has designed the set. Internationally acclaimed Canadian composer, Jordan Nobles, has created an original score for the piece, offering a floating sonic experience for the audience.
Over the last 5 years, Aeriosa's training and performances have predominantly taken place outdoors ~ dancingwith and in the trees along BC's West Coast. "Tourists looked rightfully awed when they stumbled upon Aeriosa's treetop performances in Stanley Park….it was one of those uniquely Vancouver experiences where nature, art and world cultures meshed in surprising ways." (Georgia Straight). Performing in the theatre is a rare occasion for this company.
Since 2002, Aeriosa has danced on The Stawamus Chief Mountain in Squamish, Taipei City Hall, at Sha Tin New Town Centre in Hong Kong, on the sides of the Vancouver Library Square, Banff Centre, Scotiabank Dance Centre, Toronto's 58-storey L Tower, Stanley Park, Sitka Spruce in Tofino…just to name a few unconventional locations.
The dancers are often physically attached and dependant upon one another to execute choreographic formations in the air. Because of this, there is a strong group chemistry and dynamic. Over the years Aeriosa's rigging requirements have included bungee, counterbalance and hands-free belaying systems enabling the dancers to suspend in free-floating formations or ascend and descend throughout the piece.
Taffe's background as a ballet and contemporary dancer, ACMG certified rock guide, stunt performer and creative movement consultant has shaped her as a dance visionary. She was named the KSF Canada Dance Artist of Choice in 2016 and received the Canadian Dance Assembly Innovation Award in 2012. "Choreographer and artistic director, Julia Taffe, creates magical pieces that incorporate dance and rock climbing apparatus. The shows appeal to anyone who has dreamed of flying or being weightless." (Yelp Review)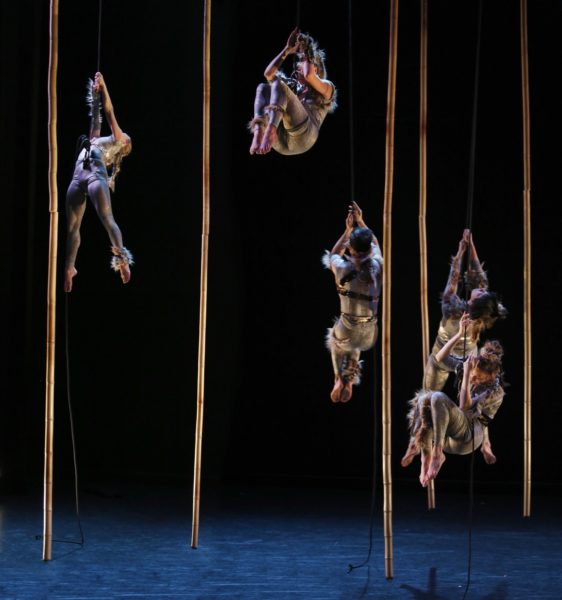 Choreographer:Julia Taffe
Dancers:Georgina Alpen, Alyson Fretz, Thoenn Glover, Meghan Goodman, Cara Siu, Alex Tam
Composer:Jordan Nobles; Juno-award winning Canadian composer
Costumes:NinonParent;fashiondesigner,circusartist,choreographer
Rigging Design / Safety Direction:Colin Zacharias; rigging design innovator with 30 years of mountain-guiding UIAGM/IFMGA certified) and film rigging experience
Stage Manager:Peter Jotkus; 25 years managing dance, theatre and musical shows across Canada
Set Design:Dan Law; contemporary installation artist working primarily with salvaged old growth cedar Lighting Design:James Proudfoot; winner of the Jessie Richardson Award for outstanding lighting designs Photography:Tim Matheson; award-winning projection designer, photographer and videographer
Second Nature has it all. Exciting dancers flying through the air-space, a unique transforming set, technical rigging innovation, original composition, poetic edgy lighting and fantastic costumes.
To purchase tickets to Second Nature please visit Tickets Tonight:
Second Nature is presented in partnership with The Dance Centre
Aeriosa is one of those dance companies that is always pushing the envelope. Innovating and stretching themselves out of their comfort zones, there is no location out of reach for Aeriosa and no undertaking too daunting for this company. Aeriosa will be the first arts company to dance on the moon….
"Aeriosa….gave us a futuristic look at what dancing might become: dancing in space, the way astronauts do it – no gravity, simply floating and gliding in space." (Review Vancouver)
For More Information:
Official Website: www.aeriosa.org Find Aeriosa on Vimeo & YouTube Facebook: