37th Vancouver International Film Festival
September 27 – October 12, 2018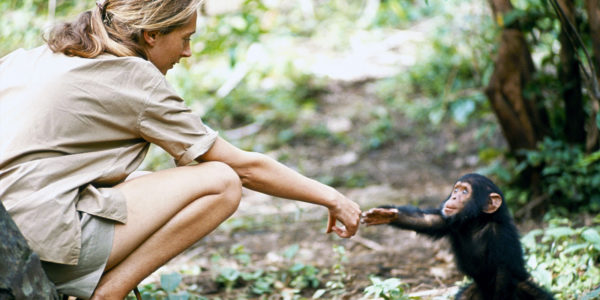 As part of its Impact programming stream, the Vancouver International Film Festival (VIFF) is partnering with the Jane Goodall Institute of Canada (JGI Canada) to host a special charity screening of the documentary Jane followed by a 45-minute Q&A with Dr. Goodall herself on October 4, 2018. Proceeds will support JGI Canada, which promotes the understanding and protection of chimpanzees and other great apes along with their habitats. Previously shown in VIFF's 2017 year-round program, Jane follows Dr. Goodall's early explorations and groundbreaking research in Tanzania. Tickets for An Evening With Jane: Film Screening and Conversation with Dr. Jane Goodall are available at viff.org.
VIFF's Impact stream showcases uncompromising films and features discussions that have the power to spark action and change the way audiences see the world. Apart from Jane, Impact offers several Canadian premieres of environmental films such as Nicolas Brown's The Serengeti Rules and Lefteris Charitos' Dolphin Man: The Story of Jacques Mayol.
"For this year's Impact stream, we decided to foreground films that represent prominent themes found in the festival at large–themes that are extremely topical at this historical moment," said Alan Franey, Director of International Programming. "Refreshing in their cinematic artistry, insights and lack of platitudes, these films have the power to inspire actual change."
The Impact stream also features the world premieres of Debra Kellner's Inside My Heart , Bill Benenson's Lost City of the Monkey God , Bruno Sauvard's Wine Calling and Andrea Sorini's Baikonur, Earth. Its North American premieres include Anja Kofmel's Chris the Swiss and Lola Arias' Theatre of War, and its Canadian premieres include Asori Soto's Cuban Food Stories, Lynne Sachs and Lizzie Olesker's The Washing Society and Donal Foreman's The Image You Missed . Of related interest is the addition of the World Premiere of Connie Fields' Whistleblower of My Lai to the M/A/D program stream.
"Inside My Heart was produced by our foundation to try and bring the plight of the world's 68-million refugees to a place where we can all intimately witness it, through the stories of three brave families " said global philanthropist Frank Giustra. "Using the power of film documentary we can see why it is important to open our hearts, and when possible, our borders, to give opportunity to the men, women and children who are fleeing conflict and war."
VIFF Impact Award
There are 10 nominees for the VIFF Impact Award, which carries a $5,000 cash prize sponsored by the Lochmaddy Foundation. The award recognizes impact filmmaking of the highest order–work that offers insight and inspiration in regard to the challenges we face as global citizens. Among the nominees are Markus Imhoof's Eldorado and Karim Aïnouz's Central Airport THF (Amnesty International Award, Berlinale), both of which tackle the refugee crisis. Also nominated are Mor Loushy and Daniel Sivan's Oslo Diaries, a documentary account of the peace talks that took place between Israel and Palestine in the 90s, and Stefano Savona's Samouni Road , which explores whether there is hope for peace in the Middle East. Adam Mazo and Ben Pender-Cudlip's Dawnland and Robert Bahar and Almudena Carracedo's The Silence of Others deal with themes of truth, reconciliation and justice in the wake of government sanctioned oppression. The Award winner will be announced at the Closing Gala presentation on Friday, October 12.
Sustainable Production Forum (SPF) presented by Creative BC
As part of this year's SPF program , VIFF is launching the Sustainable Production Excellence Awards. Nominations for the category Sustainable Production Champion are due by August 31, 2018. This award can go to as many as five individuals who have gone above and beyond to advance sustainable production in the motion picture industry. Award eligibility and nomination form are available on the website, sustainableproductionforum.com.
Now in its third year, SPF will bring together industry professionals and representatives from global and local sustainability organizations to share best practices, encourage international collaborations and inspire the next generation of creators. SPF offers a total of seven sessions with previously announced keynote speaker Helle Bank Jorgensen (United Nations Global Compact Network of Canada), and industry leaders Lisa Day (20th Century Fox), Jeremy Mathieu (British Academy of Film and Television Arts), Clara George (producer, "the Magicians"), Zach Lipovsky (ShotLister; director of Freaks playing at VIFF this year), and Greg Reitman (BlueWater Entertainment, director of Fuel).
Films+:

Facility fees and online service charge apply to all ticket prices.

An Evening With Jane:
Film Screening and Conversation with Dr. Jane Goodall | October 6

Sustainable Production Forum (SPF) presented by Creative BC | October 5 – 6
Vancity Theatre (1181 Seymour Street)
Industry Registration (motion picture industry only): September 6 – 12
General Registration: September 13 – October 4
For more information
http://goviff.org/spf
Sessions:
Sustainable Physical Production – What's happening on production in BC? explores sustainable production practices in BC.
The Whirlwind of Commercials and Sustainable Production explores how sustainable production practices can be implemented in the advertising/commercial world.
Integrated Strategies in Location Stewardship, a collaboration of the Motion Picture Production Industry Association and Creative BC, brings decision makers at all levels of production together with local government partners and their international counterparts to speak in the interest of promoting the location stewardship that continues to distinguish BC as a leader in production-industry sustainability.
Sustainable Development Goals and Entertainment focuses on Sustainable Development Goals (SDGs) and the role of entertainment.
The Hollywood Effect explores how to affect audiences' green consciousness through storyline and onscreen behaviour.
Systems Thinking and the Studio Lot explores the concept of system thinking and how our facilities can enable a sustainable production.
Disruption Breeds Innovation explores the way changemakers are implementing new sustainable practices and how the film industry will operate in the future.
Feature Films 
VIFF Impact Awards: Films in Competition
Central Airport THF (dir. Karim Aïnouz, Germany/France/Brazil) – Canadian Premiere
Dawnland (dirs. Adam Mazo, Ben Pender-Cudlip, USA) – Canadian Premiere
The Devil We Know (dir. Stephanie Soechtig, USA)
Eldorado (dir. Markus Imhoof, Switzerland/Germany) – Canadian Premiere
In My Room (Israel) (dir. Ayelet Albenda, Israel) – Canadian Premiere
The Oslo Diaries (dirs. Mor Loushy, Daniel Sivan, Israel/Canada)
Samouni Road (dir. Stefano Savona, France/Italy) – North American Premiere
The Serengeti Rules (dir. Nicolas Brown, UK) – Canadian Premiere
The Silence of Others (dirs. Almudena Carracedo, Robert Bahar, Spain/USA)
What Comes Around (dir. Reem Saleh, Lebanon/Egypt/Greece/Qatar/Slovenia (NFF)) – North American Premiere

Insights
Baikonur (dirs. Earth,Andrea Sorini, Italy/Kazakhstan) – World Premiere
Chris the Swiss (dir. Anja Kofmel, Switzerland/Croatia/Germany/Finland) – North American Premiere
Cuban Food Stories (dir. Asori Soto, Cuba/USA) – Canadian Premiere
The Distant Barking of Dogs (dir. Simon Lereng Wilmont, Denmark/Sweden/Finland)
Dolphin Man: The Story of Jacques Mayol (dir. Lefteris Charitos, Greece/Canada/France) – Canadian Premiere
Dreaming Under Capitalism (dir. Sophie Bruneau, USA/France)
The Image You Missed (dir. Donal Foreman, Ireland/USA/France) – Canadian Premiere
Inside My Heart (dir. Debra Kellner, Canada/France) – World Premiere
Jamilia (dir. Aminatou Echard, France/Kyrgyzstan)
John McEnroe: In the Realm of Perfection (dir. Julien Faraut, France)
The Lost City of the Monkey God (dir. Bill Benenson, USA) – World Premiere
Putin's Witnesses (dir. Vitaly Mansky, Latvia/Switzerland/Czech Republic)
Science Fair (dirs. Cristina Costantini, Darren Foster, USA)
Shirkers (dir. Sandi Tan, USA)
Theatre of War (dir. Lola Arias, Argentina/Spain) – North American Premiere
The Washing Society (dirs. Lizzie Olesker, Lynne Sachs, USA) – Canadian Premiere
Wine Calling (dir. Bruno Sauvard, France (NFF)) – World Premiere

Additions to M/A/D

Whistleblower of My Lai (dir. Connie Field – USA) – World Premiere
---
About Films+
Launched in 2016, the Films+ program features live interdisciplinary performances, industry talks, workshops, VR and other unique experiences, all celebrating the achievements and innovations of screen-based storytelling. Each VIFF programming stream offers a Films+ program.
Founded in 1982, the Greater Vancouver International Film Festival Society is a not-for-profit cultural society and federally registered charitable organization that operates the internationally acclaimed Vancouver International Film Festival (VIFF) and the year-round programming of the Vancity Theatre at the Vancouver International Film Centre. VIFF produces screenings, talks and events that act as a catalyst for the community to discover the creativity and craft of screen storytelling. For its 37th year, VIFF welcomes the world to Vancouver from September 27 – October 12, 2018 as it showcases the top international, Canadian and BC films and plays host to industry professionals from around the globe.
Programming Announcements: Released weekly throughout August and September. See previous media releases here.
Press Conference: September 5, 2018 at the Vancouver International Film Centre (1181 Seymour St)
Tickets: Passes and ticket packs are available online at noon on August 23, 2018. Single ticket prices range from $13 – $22 and can be purchased online starting at noon on September 6, 2018 and in-person at the Vancity Theatre Box Office starting September 13, 2018. Visit viff.org for more information
Volunteer Registration: Each year VIFF relies on the hard work of more than 1,000 volunteers to assist in running the festival. Volunteer registration is now open at goviff.org/volunteer.
---
Stay connected with VIFF for updates and announcements by following us on:

Discover more viff.org