Latest Addition to the Coop Features Juke's Signature Fried Chicken and Ribs,
New Milkshakes, Sides in Fully Licensed Counter-Service Space​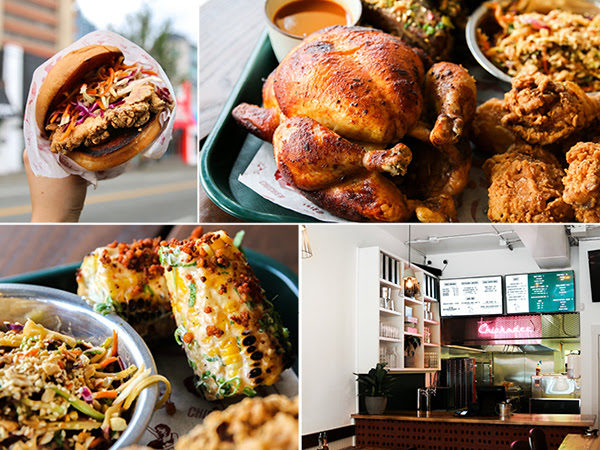 Juke Fried Chicken will rule the roost in a new neighbourhood when the popular fried-chicken-and-rib joint officially opens its second location — a.k.a. 'Little Juke' — in the heart of Vancouver's West End neighbourhood at 1074 Davie Street.
Open seven days a week from 11 a.m. to late, Little Juke is the latest project for partners and industry veterans Justin Tisdall, Chef Bryan Satterford and Cord Jarvie, who recently marked the second anniversary of the original Juke Fried Chicken location in Chinatown. Featuring the same casual, laidback atmosphere and mouthwatering, southern-inspired fare as its predecessor, Little Juke offers a fully licensed counter-service space with seating for 22 as well as take-out or delivery options.
Serving up Juke's trademark gluten-free, non-GMO-grain-fed and free-range regular and spicy fried chicken available in various drums-and-thighs sizes, Little Juke will also offer new menu items including quarter, half or whole rotisserie chickens, Vietnamese-inspired nuoc cham ribs, 'Big Boy' fried chicken sandwiches, and sides like mac & cheese poppers and roast potatoes, as well as weekend brunch options on Saturday and Sunday.
At the bar, Little Juke will add thick milkshakes to the menu as well as wine, cider, a selection of local craft beer from Postmark, Strange Fellows, Superflux and Moody Ales, and rotating batched cocktail creations such as Moscow Mules, Old Fashioneds and Negronis created by Bar Manager Cass Darmanovic.
"We've had our sights set on a second location for a while, but have been waiting to find that perfect fit," said Tisdall. "We can't wait to introduce Juke to a new neighbourhood and join one of Vancouver's most colourful communities."
For more information on Juke Fried Chicken or to stay up to date on all the latest developments at both locations, go to www.jukefriedchicken.com, become a fan of /jukefriedchicken on Facebook or follow @jukefriedchicken on Instagram.
---
ABOUT JUKE FRIED CHICKEN | Juke is the reason the chicken crossed the road. Launched at 182 Keefer Street in 2016 by Justin Tisdall, Chef Bryan Satterford and Cord Jarvie with a new counter-service outpost at 1074 Davie Street opening in August 2018, Juke has quickly carved out a reputation for serving up an elevated-yet-fun menu comprising the city's best Southern-inspired fare. Beyond its trademark gluten-free, non-GMO-grain-fed and free-range fried chicken and sticky pork ribs available to eat-in or take-out, Juke's two locations also feature a mouthwatering selection of seasonal snacks, salads and sides as well as an array of signature cocktails, wine and local craft beer available by the pint, bottle and bucket served up in casual, inviting spaces that encourage guests to turn up, tuck in and kick up their heels. | www.jukefriedchicken.comJuke Fried Chicken: 182 Keefer Street, Vancouver BC  V6A 1X4 | 604-336-5853 | Open seven days a week 11 a.m. – 11 p.m. | Saturdays & Sundays 10 a.m. – 11 p.m.
Little Juke: 1074 Davie Street, Vancouver BC  V6E 1M3 | Open seven days a week 11 a.m. – late
Facebook: /jukefriedchicken | Instagram: @jukefriedchicken