Thousands of British Columbians across the province to participate in open rehearsals, workshops, discussions, tours and collaborative art projects, as part of the nation-wide Culture Days celebration, September 28-30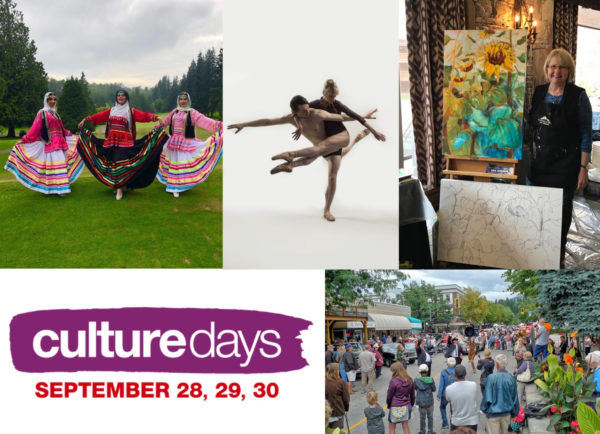 BC Culture Days is back and bigger than ever in honour of its ninth anniversary season, taking place across British Columbia and the nation, September 28-30, 2018.
Whether fans of the arts, interested in a specific skill, or looking to become more involved in the cultural life of your particular community, people from across the province of British Columbia are invited to take part in this national celebration of arts, culture and heritage. Thousands of free, hands-on and behind-the-scenes opportunities are on offer, such as workshops, open rehearsals, tours, collaborative art projects and panel discussions — all hosted by local arts groups, individuals and municipalities.
A community-specific, grassroots event that is also a national celebration of arts and cultural engagement, BC Culture Days will be showcasing hundreds of events in every corner of British Columbia: from Vancouver and Victoria, to small communities in the Northern and Eastern regions of BC. Examples include:
Northern BC
Cariboo-Chilcoten
Thompson Okanagan
Kootenays
Vancouver Island
Sea to Sky
Fraser Valley
Sunshine Coast
Metro Vancouver
BC Culture Days will officially launch in British Columbia on Wednesday, September 19 in Nelson, BC, from 4pm to 6pm with a parade to City Hall courtyard, proclamations, a flash mob, and a celebratory dance party on Hall Street. Media in the region will receive more information as it becomes available.
A complete list of events across the province of British Columbia is now available online at bc.culturedays.ca. The list is updated regularly to reflect new additions. Updates and highlighted events can also be found on our Social Media Channels:
Facebook: @BCCultureDays / @CultureDays
Twitter: @BCCultureDays / @CultureDays
Instagram: @BCCultureDays / @CultureDays
CALL TO ACTION: Community members, artists and groups looking to host their own BC Culture Days event may visit the website (bc.culturedays.ca) and click on Register your activity or event!