Award-Winning Restaurant Brings Signature Peruvian-Meets-Japanese Cuisine to
North Shore in Fully Licensed Dining Room, Crudo Bar, Heated Patio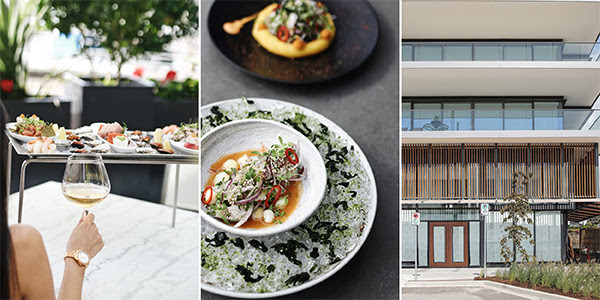 Ancora Waterfront Dining and Patio will bring its signature brand of Peruvian-meets-Japanese 'Nikkei' cuisine to Vancouver's North Shore later this fall when the award-winning restaurant opens a second location at 1351 Bellevue Avenue in West Vancouver's Ambleside.
Overlooking the waterfront in the high-profile Grosvenor Ambleside development with panoramic views of notable Vancouver landmarks like the Lions Gate Bridge, Stanley Park and Vancouver's West Side, Ancora's new location will feature seating for 104 in its expansive dining room and bar and 38 on its patio.
The opening of Ancora's newest outpost coincides with the third anniversary of its original location, which launched on the False Creek Seawall in Vancouver in 2015 and was lauded as one of Vancouver's '10 Best New Restaurants' by The Globe and Mail and also made enRouteMagazine's 2016 shortlist of Canada's Best New Restaurants.
Ancora's new seaside destination will be led by a team of industry veterans that includes General Manager and Sommelier Steve Edwards (Boulevard Kitchen & Oyster Bar, Whistler's Araxi Restaurant + Oyster Bar, Bearfoot Bistro) anchoring the front of house and Executive Chef Ricardo Valverde overseeing kitchen operations at both locations.
The restaurant will offer guests a taste of the popular Nikkei style of cuisine, which showcases Japanese- and Peruvian-inspired flavours prepared with the very best local, seasonal and sustainably sourced ingredients from the Pacific Northwest. The space will also offer a crudo bar featuring fresh ceviches, causas and sushi, and a beverage program comprising an extensive wine and sake list and signature and classic cocktails with a focus on South American spirits.
"From day one, Chef Valverde's Peruvian roots have added an authentic South American flavour to Ancora's Nikkei-influenced menu," says Edwards. "We're extremely excited to be able to introduce his unique take on West Coast cuisine to a new neighbourhood this fall."
Further details regarding Ancora's new location will be released in the coming weeks. For the latest news about Ancora, register for the restaurant's e-newsletter at www.ancoradining.com, become a fan of /AncoraDining on Facebook or follow @ancoradining on Twitter and Instagram.
---
ABOUT ANCORA WATERFRONT DINING AND PATIO | Launched in 2015 on Vancouver's False Creek Seawall with a second location slated to open this fall in West Vancouver's Ambleside, Ancora Waterfront Dining and Patio embraces the harmony of Peruvian and Japanese cuisines while incorporating the very best local, seasonal and sustainably sourced ingredients that the Pacific Northwest has to offer. Paired with an exceptional array of wines, a selection of classic and signature cocktails and a décor that evokes a serene-yet-sophisticated West Coast feel, Ancora offers unique dining experiences that celebrate international flavours and culinary artistry. Since its opening, Ancora has been singled out for numerous accolades, including The Globe and Mail's '10 Best New Vancouver Restaurants 2015', enRoute's 2016 shortlist of the Best New Restaurants in Canada as well as consecutive mentions on the prestigious annual ranking of Canada's 100 Best Restaurants in 2016 and 2017.
1600 Howe Street, Vancouver, BC  V6Z 2L9 | 604-681-1164 | www.ancoradining.com
Hours: Lunch noon to 2:30 p.m. Monday – Friday | Cocktail Hour 4 to 5 p.m. Monday – Friday | Dinner 5 p.m. to close daily | Brunch 11 a.m. to 2:30 p.m. Sunday
Opening soon: 1351 Bellevue Avenue, West Vancouver BC
Twitter: @ancoradining | Facebook: /AncoraDining | Instagram: @ancoradining