---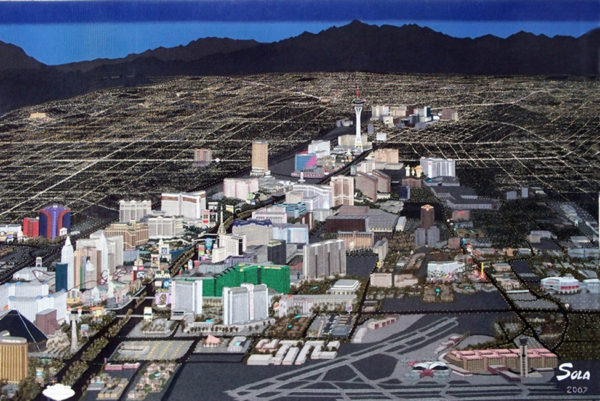 "Leap and the Loom Will Appear" is an upcoming exhibition by 82-year-old, world-renowned Canadian Fibre Artist Sola Fiedler, known for her intricately woven tributes to cities that have hosted Olympic Games. Each hyper-realistic tapestry took the artist as much as five years to complete. Self-taught, Sola's method is as impressive as the final piece: Using yarn from recycled sweaters, she meticulously weaves large-scale cityscapes in pinpoint detail, from the number of floors in a building to the colour of the trees and water. Her work captures the architectural elements and spirit of each city at that moment in time.
"Even a year or two after I've finished a tapestry, it becomes a historical document because [the cities have] already built a number of new buildings," Sola says in her promotional video. "When I did the Las Vegas tapestry – because that was a nighttime portrait – I went out at night, and I was trying to actually weave light, and that was incredibly difficult."  
The show – which takes place in a 1500 square feet gallery on Granville Island – is part of the Textile Walking Tour on Granville Island, presented in conjunction with the Textile Society of America's 16th Biennial Symposium on September 19 to 23, 2018.
Leap and the Loom Will Appear runs from Friday, September 21 to Tuesday, October 2, 2018, 11:00 am to 6:00 pm daily and Friday, September 21, it will be open from 11:00 am to 9:00 pm at 1359 Cartwright Street on Granville Island, Vancouver, B.C., V6H 3R7.
The Opening Reception occurs on Thursday, September 20 from 6:00 to 9:00 pm. The artist will be in attendance.