Vancouver Moving Theatre with Carnegie Community Centre & Association of United Ukrainian Canadians and a host of community partners presents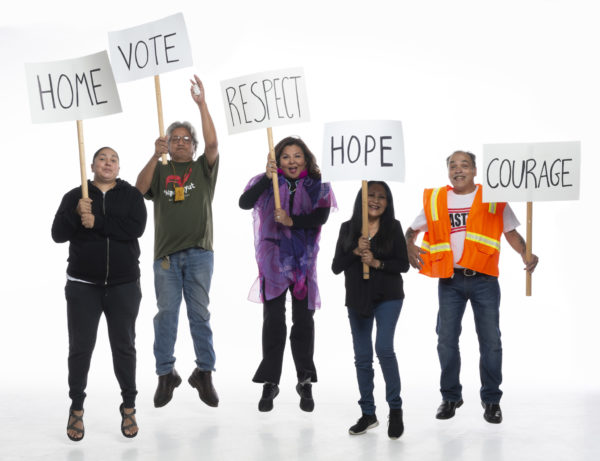 The 15th Annual Downtown Eastside
Heart of the City Festival
Wednesday October 24 to Sunday November 4, 2018
Featuring over 100 events at over 40 locations throughout the Downtown Eastside
Tickets and Info: www.heartofthecityfestival.com
With more than 100 events scheduled over 12 days at over 40 locations throughout the Downtown Eastside, the 15th Annual DTES Heart of the City Festival (October 24 – November 4, 2018) has a cornucopia of cultural events and artistic activities to attend, participate in, and enjoy. Here are thirteen exciting Top Festival Picks. 
1. Songs of Justice, Songs of Hope: This evening of stirring sing-along activist songs launches the Festival and this year's theme Seeds of Justice, Seeds of Hope. Led by musician, composer, conductor, and 2018 Festival Artist in Residence Earle Peach (2017 Mayor Arts Award), this evening of song features, among others, social justice Solidarity Notes Labour Choirsinging about historical and current events and issues; and accordionist-extraordinaire Geoff Berner, whose powerful and biting social satirical songs can make you laugh or weep – often at the same time. Come ready to sing!
Wednesday Oct 24, 7pm. Carnegie Theatre, 401 Main. Free
2. Battle of Ballantyne Pier: Experience Vancouver labour history in the making. Join local playwright Sherry MacDonald and composer Earle Peach as they present an excerpt from their new musical in-development Battle of Ballantyne Pier. This musical explores the uniquely Vancouver story of the longshore workers' strike of 1935 and the bloody confrontation that took place in and around the Downtown Eastside waterfront. With additional music by Lil'wat Nation songwriter Russell Wallace; directed by local theatre director Peter Jorgensen; presented with the participation of ILWU (International Longshore & Warehouse Union) Local 500.
Thursday Oct 25, 3pm. Maritime Labour Centre, 1880 Triumph. Free
Friday Oct 26, 1pm. Carnegie Theatre, 401 Main. Free
3. Hope Matters, An Evening with Lee Maracle and Columpa Bobb: Acclaimed award-winning writer and elder Lee Maracleand award-winning actor, playwright, photographer, poet and teacher Columpa Bobb read from their upcoming book, Hope Matters. Written over a number of years by Lee with her two daughters, Columpa and Tania Carter, Maracle says, "in the end our voices blended into a song of hope and reconciliation." Lee Maracle is a member of the Stó:lō Nation, an Officer of the Order of Canada, and one of the first Indigenous female authors to be published in Canada. Presented in partnership with Massy Books.
Thursday Oct 25, 7pm. Massy Books, 229 E. Georgia. Free
4. A Double Bill – The Real Story of the Talking Freds & Woody Sed
This double bill of theatre, song and story focuses on activist artists who repurpose popular music to address community and political issues.
The Real Story of the Talking Freds, features John Black and Downtown Eastside resident Jim Sands recollecting their days in the 1980s as a comic satirical music duo who performed at events in the Downtown Eastside, including among others, against the Expo-related evictions and the fight for CRAB Park.
Woody Sed, performed by Vancouver actor and creator Thomas Jones, explores the life and turbulent times of singer-songwriter Woody Guthrie. A prolific and provocative writer, Woody Guthrie was the father of the 1960s folk revival and, according to Billy Bragg, the first 'alternative' musician. With songs and stories, Jones bundles up a cascade of colourful characters and tells a true to life tale of this legendary singer-songwriter: a man who wrote on his guitar, 'This machine kills fascists'.
Thursday Oct 25, Friday Oct 26, 8pm. KW Production Studio, 111 W. Hastings. Suggested donation $10
5. Material Witness: The Festival is honoured to present Material Witness, an international co-production between renowned Spiderwoman Theater of New York City, the longest running Native American women's theatre company in the United States, and Aanmitaagzi, an Indigenous multi-disciplinary-arts company from Nipissing First Nation, Ontario. Material Witness brings together three generations of Indigenous women performers, including the legendary actor Muriel Miquel, in a funny, biting and searing production that conveys personal stories of violence, healing and renewal, told with "energy, strength and goodwill" (New York Times).
Friday Oct 26, Saturday Oct 27, 8pm. Ukrainian Hall, 805 E. Pender.
$20/$15. Tickets at door or advance tickets: https://materialwitness.eventbrite.ca
6. Emerging Heritage Fair 1928-2018-2108: Join the Festival and the Japanese Language School to celebrate the shared 90thanniversary of the Japanese Hall and of Japan/Canada diplomatic relations; and to laud the 15th anniversary of the groundbreaking Downtown Eastside Community Play: In the Heart of a City.
   1pm – Opening Ceremony and Education Fair
The taiko dance group Vancouver Okinawa Taiko opens the celebration, and we welcome Shoichi Nejime, the award-winning Japanese children's poet and novelist from Tokyo, brought to Vancouver by the Tasai Artist Collective. Afternoon activities include talks, workshops and displays with Tonari Gumi, Landscapes of Injustice, Kayla Isomura and The Suitcase Project,Highway Legacy Sign Project and much more!
   7pm – Performances and Family Dance
A packed evening of music, poetry and dance: Tasai Artist Collective and Soramaru Takayama present a dramatic and interactive poetry performance; the Downtown Eastside's own award-winning Dalannah Gail Bowen shares songs from the DTES Community Play: In the Heart of a City; Sawagi Taiko, an all-women Japanese drum group collaborates with Tzo'kam, aLil-wat family performance group led by composer and traditional singer Russell Wallace, to present a fascinating performance of world culture and Indigenous rhythms; and jazz vocalist Angela Verbrugge, backed by her cool band, performs classic swing, jazz and bebop to dance the night away.
Saturday Oct 27, Education Fair 1pm, Performances 7pm
Vancouver Japanese Language School & Japanese Hall, 487 Alexander. Free
7. Vetta Chamber Music, Seasons of the Sea weaves together contemporary classical music by award-winning Vancouver composer Jeffrey Ryan with a narrative written by Rosemary Georgeson (Sahtu Dene/Coast Salish), recipient of the 2009 Vancouver Mayor's Arts Award as Emerging artist/Community-engaged Arts. This original work, performed by Vetta Chamber Music and Rosemary Georgeson, describes the seasons on and by the sea, and is inspired by the thirteen moon season of the Coast Salish peoples who used the tides and seasons of the sea as their calendar. Presented in partnership with Vetta Chamber Music Society.
Sunday Oct 28, 3pm. Dr. Sun Yat-Sen Classical Chinese Garden, 578 Carrall. By donation to the Garden
8. East End Blues & All That Jazz: This hit production, produced by Vancouver Moving Theatre and written by the late Denis Simpson and Savannah Walling, is a soul-stirring evening of gospel and blues, jazz and memories that celebrates the life and contributions of Vancouver's East End historic black residential community and the legendary Gibson family. East End Bluesfeatures a stellar team of artists: Candus Churchill and Tom Pickett, two of Vancouver's finest gospel and blues singers; talented Emcee and singer Khari Wendell McClelland; musicians Bill Costin (piano) and Tim Stacey (bass); along with special guests Downtown Eastside's Dalannah Gail Bowen (Blues Hall of Fame), and Thelma Gibson who just celebrated her 90th birthday. 
Wednesday Oct 31 to Saturday Nov 3, 8pm, matinee Sat Nov 3, 2pm. Firehall Arts Centre, 280 E. Cordova. $25/20. Tickets at door or advance sales: 604-689-0926; [email protected]ca, or www.Firehallartscentre.ca
9. SRO Stars: Documentary theatre that sizzles with life from the mental health worldview of five writers: Jaeger Cormack, Ali Khan, Sandra Yuen MacKay, Lenore Rowntree and Ana Smith. Local actors stage the true stories of the writers with unabashedly honest insights. Developed with the support of Petra Thaddeus (stage manager), the Motivation Power & Achievement Society, and the Community Arts Council of Vancouver. Post-show talkback. 
Friday Nov 2, 7:30pm. InterUrban Gallery, 1 E. Hastings, entrance on Carrall. Free
10. Carnegie Jazz Band – A Tribute to Al Neil: The Festival is thrilled to invite jazz lovers to this musical tribute to Al Neil, the late Vancouver jazz man, longtime Downtown Eastside Strathcona resident, and recent recipient of the City of Vancouver Mayors Award for Lifetime Achievement. Joining the Carnegie Jazz Band, under the tutelage of multi-instrumentalist, composer and arranger Brad Muirhead, are three of Vancouver's finest creative musicians: Greg Simpson (drums) and Paul Plimley (piano), both of whom played with Al; and bass man Tommy Babbin. An evening of music featuring music that Al loved: jazz standards and off the chart improvisation and experimentation. This one's for you Al!
Friday Nov 2, 7pm. Carnegie Theatre, 401 Main. Free
11. Made in Canada: Where does our food come from? Who grows it? Who is nourished by it? Join playwright Pedro Chamaleand experience words and music from his play-in-progress that brings temporary foreign farm workers centre stage – the unseen people who plant, tend, and harvest. We will share food and stories in a family-friendly event that reveals some hidden links in Canada's food chain. Presented with PTC (Playwrights Theatre Centre).
Saturday Nov 3, 2pm. DTES Neighbourhood House, 573 E. Hastings. Free
12. Call Mr. Robeson – A life, with songs: The Festival is thrilled to build bridges internationally and present from Liverpool, England, Nigerian-born Tayo Aluko in his award-winning one man play Call Mr. Robeson – A life, with songs. This inspiring piece of biographical musical theatre explores the remarkable life and rollercoaster journey of the legendary Paul Robeson, African-American actor and singer. The play highlights Mr. Robeson's pioneering and heroic political activism, and features fiery oratory, famous songs such as Ol' Man River, and a defiant testimony to the House of Un-American Activities Committee. Musical accompaniment by Elaine Joe, pianist, composer and teacher who has worked extensively with Downtown Eastside artists and organizations.
Saturday Nov 3, 8pm. St. James' Anglican Church, 303 E. Cordova.
$20/$15. Tickets at door or advance sales: https://call-mr-robeson.eventbrite.ca
13. Ukrainian Hall Community Concert & Supper: The festival ends on a high note at the east-end's historic Ukrainian Hall with lively music, invigorating dance and colourful costumes at Ukrainian Hall Community Concert & Supper. This annual favourite, produced with the Association of United Ukrainian Canadians, features the Barvinok Choir, Vancouver Folk Ensemble and the award-winning Dovbush Dancers.
To celebrate the Festival theme Seeds of Justice, Seeds of Hope we have invited the celebrated Canadian gospel trio The Sojourners. Singers Marcus Mosely, Will Sanders and Khari McClelland sing songs that reinforce the "links between the early spirituals, gospel and activist folk music which all arise from hope, faith and courage" says Marc Lindy of Gospel Train. To remind us of our strength and history, Solidarity Notes Labour Choir (conductor Earle Peach) shares the stage with the Barvinok Choir (conductor Beverly Dobrinsky) for a finale of rousing songs of social justice that inspire hope and possibility. Immediately following the concert is the always-delicious traditional Ukrainian Supper. The best full meal and concert deal in Vancouver!
Sunday Nov 4, concert 3pm, supper follows. Ukrainian Hall, 805 E. Pender.
$25. For advance tickets contact 604-254-3436
Most Festival events are free or by donation. Visit heartofthecityfestival.com for full details.
The 2018 Downtown Eastside Heart of the City Festival has been made possible with the generous support of Canadian Heritage, Canada Council for the Arts, BC Arts Council, BC Gaming, City of Vancouver Cultural Services, SFU Woodward's Cultural Programs, VanCity Savings, and media sponsors Georgia Straight, City TV and Omni Television.