Award-winning supplier of ethical and sustainable meats to celebrate one year since opening public-facing butcher shop and restaurant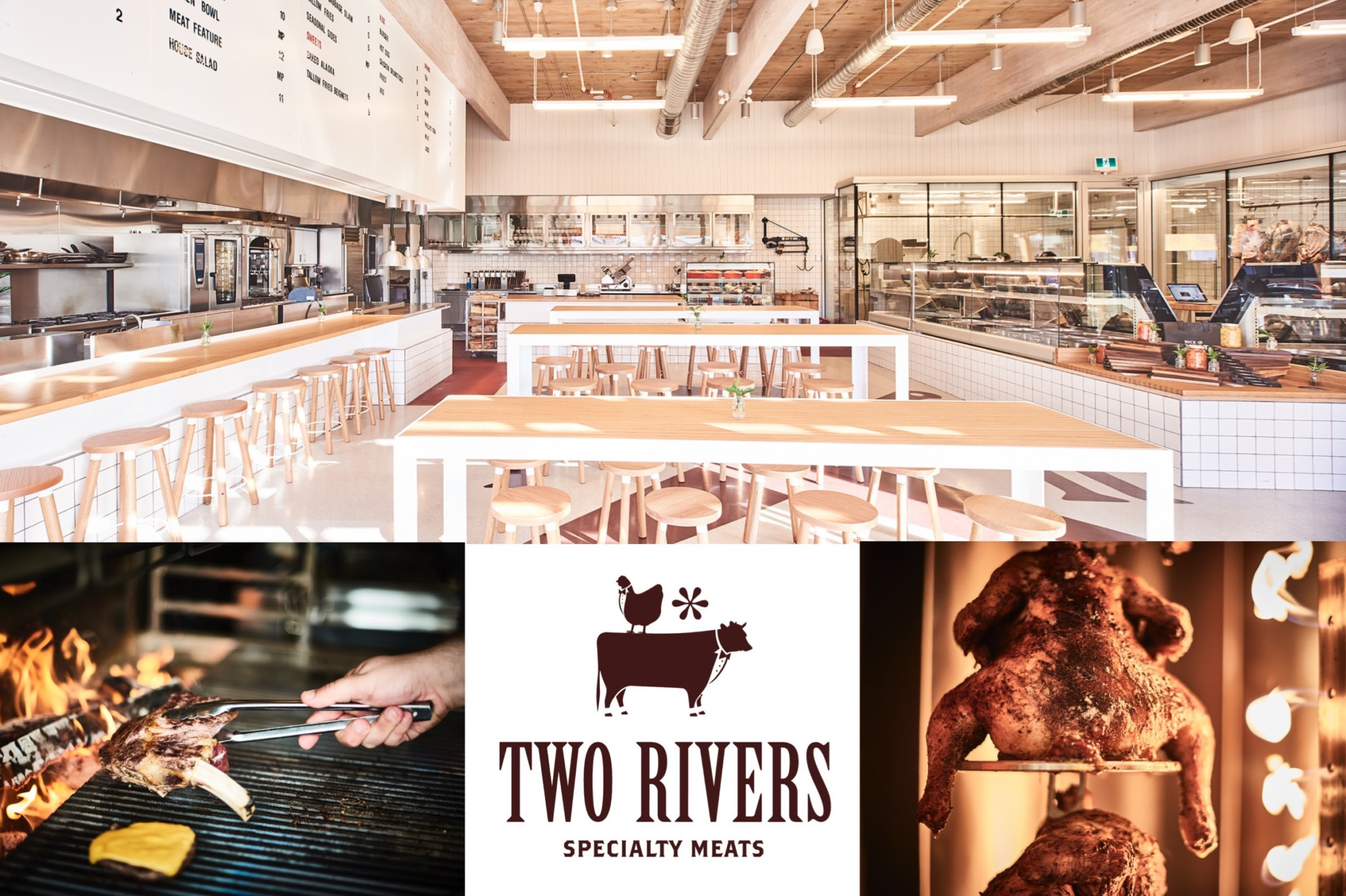 Two Rivers Meats— The Shop
 will celebrate the one-year anniversary of their public-facing butcher shop and eatery on Saturday, October 13 with the launch of their new menu and a number of customer appreciation offerings.
Two Rivers has been supplying restaurants and retailers across BC with quality local, natural meats since 2007. Since opening "The Shop" in October 2017, customers across Vancouver can now source their meat like the pros: purchasing hand-crafted sausages, dry-aged beef and hand-tooled cuts by Pasqual Stufano and his team, who employ time-honoured and traditional seam-butchery techniques for more authentic and flavourful results. The adjacent take-out deli counter also stocks house-made artisanal salumi and charcuterie.
Under the same roof, Chef Tony Starratt's kitchen and family-style eatery works in tandem with the butcher shop to highlight the best preparations for a multitude of products.
In celebration of their anniversary, Two Rivers will be offering a 45-day Dry Aged Beef Prime Rib rotisserie feature which they'll have cooking on display near the patio, 15% in-store discount on all items in the butcher case and wine and beer specials alongside the launch of their new menu. New menu items include the Crispy BBQ Pork Bites, Boss Burger made with two 65-day dry aged beef patties, a Natural Beef Foot Long Hot Dog, the return of their popular Ramen Bowl served with either pulled chicken or crispy pork and more.
Adjacent to the North Vancouver headquarters, Two Rivers Meats— The Shop boasts a traditional working butchery, complete with a glass-walled dry-age room; a European-style deli and take-away counter; and a 32-seat, eat-in restaurant — all laid-out on a terrazzo-floored, 2,500 square-foot industrial space with an additional 20-seat patio.
Starting October 13, Two Rivers Meats — The Shop will be open seven days a week, Monday to Saturday, 10am – 8pm and Sunday, 10am – 5pm.
ABOUT TWO RIVERS SPECIALTY MEATS
Founded in 2007 by Jason Pleym and Margot Millerd-Pleym, Two Rivers Specialty Meats became the region's premiere supplier to top chefs in B.C. A favourite with Western Canada's top chefs, Two Rivers Specialty Meats' commercial expansion, Two Rivers Meats — The Shop,will connect local farmers with everyday meat lovers as well as home cooks by supplying consumers with an ethical and sustainable product of unsurpassed quality and flavour.
TWO RIVERS SPECIALTY MEATS
180 Donaghy Avenue
North Vancouver, British Columbia
V7P 2L5 Canada
(604) 990-5288
www.tworiversmeats.ca
HOURS (starting October 13)
Monday to Saturday, 10am – 8pm
Sunday, 10am – 5pm
SOCIAL MEDIA
Instagram: @tworiversmeats
Twitter: @tworiversmeats
Facebook: /TwoRiversSpecialtyMeats