Wesbrook Village celebrates Christmas with free family-friendly festivities on Dec 1 & 2
Kick off the holiday season at the 2018 Wesbrook Village Winter Event & Etsy Vancouver Market! This free, family-friendly event will get the whole family into the Christmas spirit.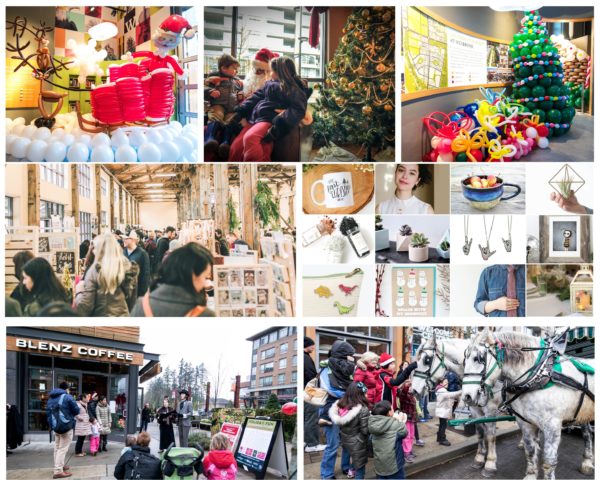 New to this year's Wesbrook Village Winter Event is the addition of the Etsy Vancouver Winter Craft Market which offers one-stop shopping for one-of-a-kind gift giving with gorgeous handcrafted goods made by local artisans. And for the first time ever, the Wesbrook Village Winter Festival will span two days for double the festivities.
Wesbrook Village is as packed as the goodies on Santa's Sleigh… and it's FREE:
HOLIDAY BALLOON DISPLAY EXTRAVAGANZA: Newly innovated and filled with hidden gems, this year's balloon winter wonderland display is even better than last year. Open from December 1 – December 8, 10:00 am-6:00 pm.
HORSE-DRAWN CARRIAGE RIDE: Back again this year is the community favourite, a horse-drawn carriage ride that will bring you throughout the Wesbrook Village winter wonderland! Saturday, December 1, 11:00 am-2:00 pm.
CHRISTMAS CAROLERS: Members from the UBC Theater Carolers will be roaming Wesbrook Village and serenading the community with festive cheer! December 1 – 2, 2:00 pm – 3:30 pm
PHOTOS WITH SANTA: Don't miss your chance to memorialize this holiday season for years to come with a photo with Santa Claus himself. Two dates & locations for Santa photos! Visit TD Canada Trust in Wesbrook Village on Saturday, December 1 (FREE with a donation of a non-perishable item for the food bank). Visit Blenz Coffee in Wesbrook Village on Sunday, December 2, 12:00 pm-2:00 pm (FREE).
HOLIDAY SCAVENGER HUNT: Explore Wesbrook Village to complete a fun scavenger hunt and you earn an extra gift from Santa. December 1 – 2, 11:00 am – 4:00 pm.
OUTDOOR LIGHT AND TREE DISPLAY: Decking Norman MacKenzie Square with holiday spirit in the heart of Wesbrook Village is a 32′ tree display and photo opportunity that you won't want to miss. From November 17 to January 2.
ETSY VANCOUVER WINTER MARKET: Discover handmade gifts and new local talents while you do your holiday shopping at the market. Attendees can expect to find gorgeous handcrafted goods including jewelry, home décor, skincare products, artworks and fashion. December 1 – 2, 10 am – 5 pm. Cost $3 per person (children under 12 Free). Wesbrook Community Centre.
What: Wesbrook Village Winter Event with Etsy Vancouver Market
Where:
Wesbrook Welcome Centre, 3378 Wesbrook Mall, Vancouver, BC V6S 0A8
Etsy Vancouver Winter Market: Wesbrook Community Centre, 3335 Webber Ln, Vancouver, BC V6S 0H3
When: Dec 1 & 2, 10 am – 5 pm
For more information about the Wesbrook Village Winter Event & Etsy Vancouver Market, visit Discover Wesbrook and Etsy Vancouver.
Media are invited to attend the event to film and take photographs. Please direct media inquiries to Lori McGrath lori.mcgrath@nullcrispmedia.ca / 778-228-7716.
About Wesbrook Village
Located south of West 16th Avenue and flanked by Pacific Spirit Regional Park and UBC Farm, Wesbrook is set on a pristine peninsula surrounded by spectacular sweeping ocean views. The ideal balance of urban village and natural setting, Wesbrook Village is made up of a collection of shops, residences, parks and playgrounds nestled beside a forest on the University of British Columbia's Vancouver campus. The growing community features a variety of rental apartments and ownership condominiums that all conform to UBC's sustainability guidelines and has great access to public transit. Learn more at www.discoverwesbrook.com
About Etsy Vancouver
Etsy Vancouver is a creative community that strives to support and promote local handmade sellers. It hosts pop-up events and workshops to help sellers to succeed in their businesses. For more information, visit http://etsyvancouver.ca/.
Media release and images provided by Lori McGrath, Crisp Media/Lori McGrath PR.