Our #FavouriteThings Holiday Gift Suggestion for Canadian whisky lovers has to be the second in a series from Beam Suntory, the iconic Canadian Club Chronicles 41 Year Old.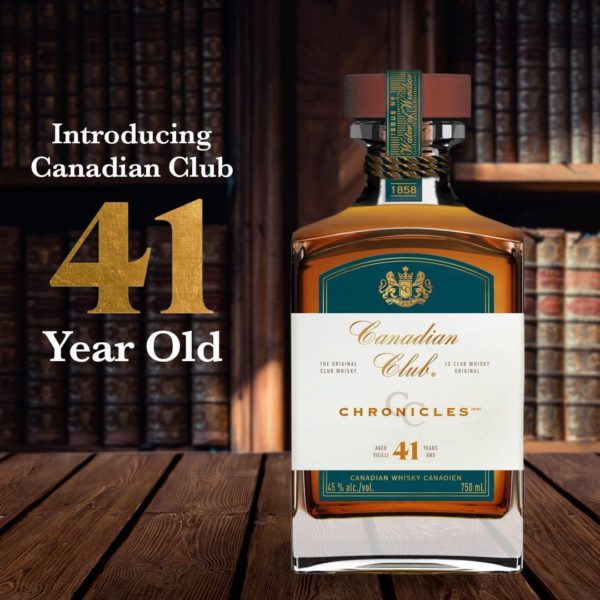 Canadian Club Chronicles 41 Year Old is a limited edition Canadian whisky that was batched and barreled in 1977 and was blended with small additions of cognac, rye and sherry. As of 2018 it is the oldest whisky ever released by Canadian Club. It is the first limited edition release within the new Canadian Club series meant to pay homage to the brands history: CC Chronicles. As part of that series this release is also known as CC Chronicles Issue No. 1: Water of Windsor. The name pays homage to the brand's origin of Windsor, Ontario.
On the palate it is silky-smooth and complex, with aromas and flavours of dried fruit, vanilla, caramel, tobacco and spice. Named Canadian Whisky of the Year for 2019 (Jim Murray, Whisky Bible). (announced October, 2018)
How this all began for me?
On  November 2, 2017 at L'Abattoir's No. 1 Gaoler's Mews the official Vancouver unveiling of an exclusive sampling of the one of a kind Canadian Club 40 Year whisky. Especially released in 2017 to commemorate and celebrate Canada 150.
Canadian Club 40 Year Old was the oldest aged expression released by the brand, and possibly the oldest in Canadian whisky history at that time. Canadian Club the brand is probably the best known and loved Canadian whisky, recognized and treasured internationally for decades.
The Iconic Canadian Club 40 which was left to mature for forty years in oak barrels. Once bottled, the aging process stopped. Distilled totally from corn stored entirely in American white oak barrels used previously to distill Kentucky bourbon.
Of course, for those looking to enjoy premium Canadian whisky, there are also a number of Canadian Club options and alternatives to choose from that are available at your local Liquor Store.