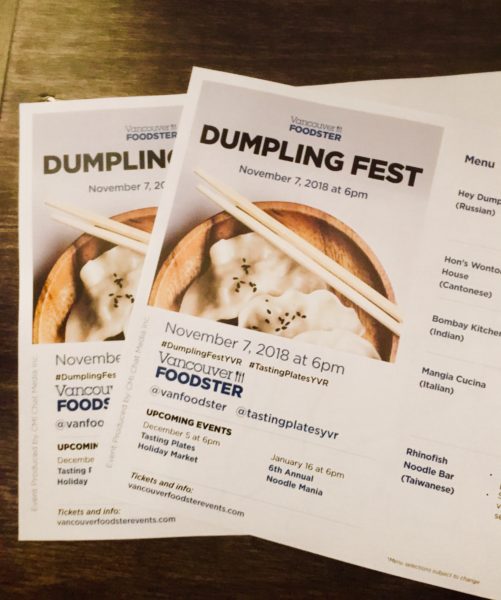 The dumpling is an international food.  Defined as: "a piece of dough, wrapped around a filling or of dough with no filling", it is found in cultures across the globe and means light, fluffy, comforting goodness.  Personally, on a cold winter night, I love nothing better than slow cooked, aromatic chicken and dumplings after day of skiing.  So we embarked on Vancouver Foodster's: Tasting Plates – Dumpling Fest to both explore the world of dumplings and.. eat a lot of carbs!  What could be better?
The event started at The Prado Café on Fraser Street. In this busy, urban coffee house, we were given our passports and assigned to our first restaurant.  This differed from previous Tasting Plates events I have been to, where diners could choose their route freely. The reasoning behind this was to stagger the number of participants at each restaurant and eliminate long waits.   I would say this strategy was, for the most part, successful.  The only line/wait we encountered was between the two restaurants closest together, where there was a convergence of both the first tasters and the second wave.  We solved this by choosing a different restaurant and coming back later.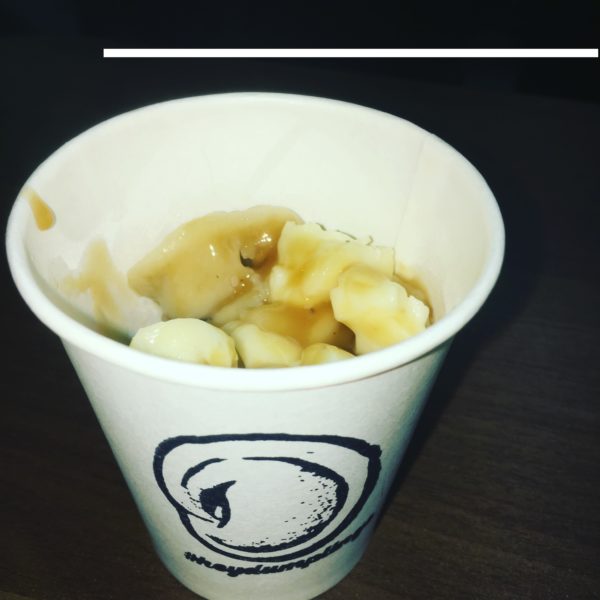 Our first stop was Hey, Dumplings! on Keefer Street, in the heart of the downtown Eastside.  In this tiny, cheerful restaurant, we were given a Russian version of a dumpling, a pelmeni, similar to a small pierogi.  Two cups were filled with hot stuffed dumplings.  One was a Poutine Dumpling with vegan gravy and cheese curds.  The other was a Spicy Ginger and Scallion Dumpling in a ginger-scallion sauce with a sriracha drizzle.  I am not a lover of poutine, (crazy, I know)  but I enjoyed the plump, steamy comfort of the dumplings.  I really liked the ginger-scallion dumpling, which was spicy and succulent.  It is labelled on the menu as 'secretly vegan'.  Although I liked the faux-meat, my favourite were the potato filled dumplings.  Somehow, they made a perfect little package and allowed the sauces to shine through.  The regular menu has many intriguing varieties and even a dessert dumpling!   A perfect venue for our first stop on the journey.
Next we travelled across the street to Rhinofish Noodle Bar, however the line was long, so we decided to try a different restaurant first and come back later.  Always a tricky move.  But, figuring out the 'best route' and taking risks are an integral part of the Tasting Plates adventure!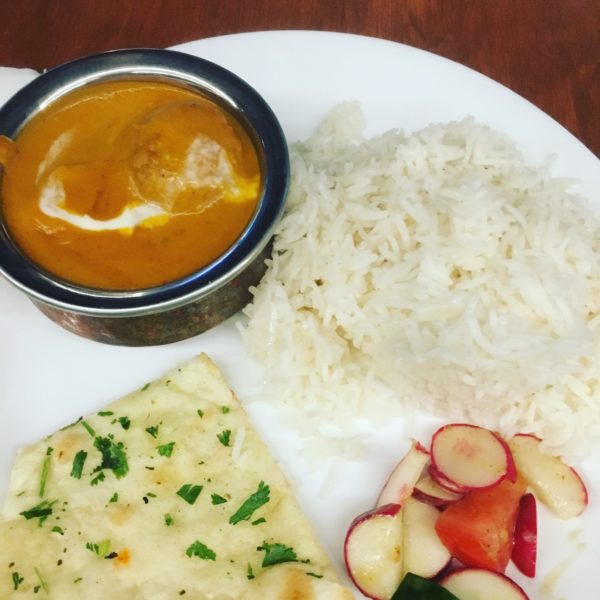 So we headed to Bombay Indian Kitchen and Bar on Commercial Drive.   We were seated right away and were able to enjoy a beverage while we watched all kinds of mouth-watering Indian food pass by us and arrive at the tables of other restaurant patrons.  The restaurant had a modern, yet comfortable feel.  Luckily, we didn't have long to wait before our food arrived, elegantly displayed and smelling fantastic.  We were treated to a small Malai Kofta – a dumpling made of mixed vegetables and paneer.  It resembled a meatball in shape and was covered in a divine tomato-cream sauce very similar to that of butter chicken.  The sauce itself was slightly spicy and when combined with the dumpling, rice and naan, made a delicious, if filling, plate!  We enjoyed every bite, but were a little concerned that we still had three restaurants to go!  How could we fit it all in?  This is just another challenge of the Tasting Plate experience!
Next, we headed to Mangia Cucina, an Italian Restaurant on Manitoba St.  This restaurant is a hidden gem located in an industrial area, which made the street quiet and the parking a breeze!